© 2023 Blaze Media LLC. All rights reserved.
"... Iran will have to take a variety of serious steps to significantly roll back their nuclear program before any sanction relief is offered."
TEHRAN, Iran (AP) — Iran's supreme leader said Thursday "there will be no deal" if world powers insist on suspending rather than lifting sanctions as part of a landmark nuclear agreement, and said it is up to Iran's parliament, and not him, to approve or reject it.
His remarks, read aloud by a state TV anchorman, mark the first official comment on the deal since U.S. President Barack Obama secured enough support to prevent the Republican-led Congress from blocking it.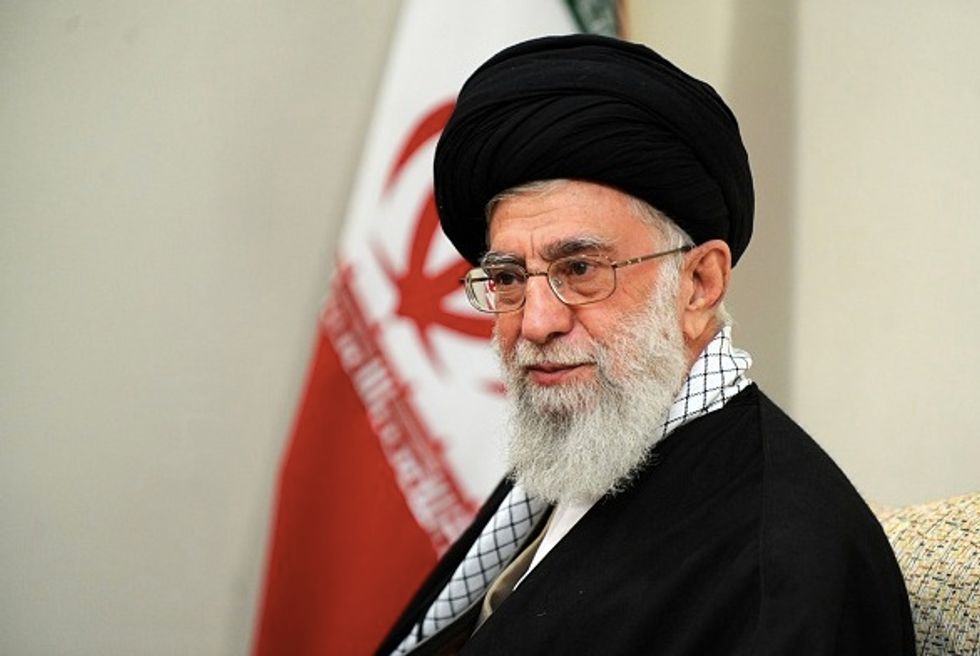 Iran Ayatollah Ali Khamenei (Image source; Pool/Iranian Religious Leader Press Office/Anadolu Agency/Getty Images)
Ayatollah Ali Khamenei has yet to express a clear opinion on the deal clinched in July, which would curb Iran's nuclear activities in exchange for relief from crippling sanctions.
Khamenei said some U.S. officials have spoken of the "suspension" of sanctions, which he said is unacceptable.
"If the sanctions are going to be suspended, then we will also fulfill our obligations on the ground at the level of suspension and not in a fundamental way," he said.
In response, White House press secretary Josh Earnest reiterated the Obama administration's stance that it would focus on Tehran's actions and not its words.
Washington has been "crystal clear about the fact that Iran will have to take a variety of serious steps to significantly roll back their nuclear program before any sanction relief is offered," he said.
Iran's supreme leader has traditionally had the final say on all important matters, but on Thursday Khamenei said lawmakers should decide on the deal.
"It is the representatives of the people who should decide. I have no advice regarding the method of review, approval or rejection," he said.
President Hassan Rouhani is opposed to letting parliament vote on the deal, which he insists is an understanding with world powers and not a treaty. Last week he warned that if parliament votes on the deal its provisions would be legally binding.
A special parliamentary committee has begun studying the deal, but it's unclear how far the process will go since the government has not prepared a formal bill. It's also unclear how much support the deal has in parliament.
Associated Press writer Nancy Benac in Washington contributed to this report.
—
Follow Dave Urbanski (@DaveVUrbanski) on Twitter
Want to leave a tip?
We answer to you. Help keep our content free of advertisers and big tech censorship by leaving a tip today.
Sr. Editor, News
Dave Urbanski is a senior editor for Blaze News.
DaveVUrbanski
more stories
Sign up for the Blaze newsletter
By signing up, you agree to our
Privacy Policy
and
Terms of Use
, and agree to receive content that may sometimes include advertisements. You may opt out at any time.