Republican presidential frontrunner Donald Trump beat leading Democratic candidate Hillary Clinton by 5 points in a head-to-head matchup, a new poll indicated Friday.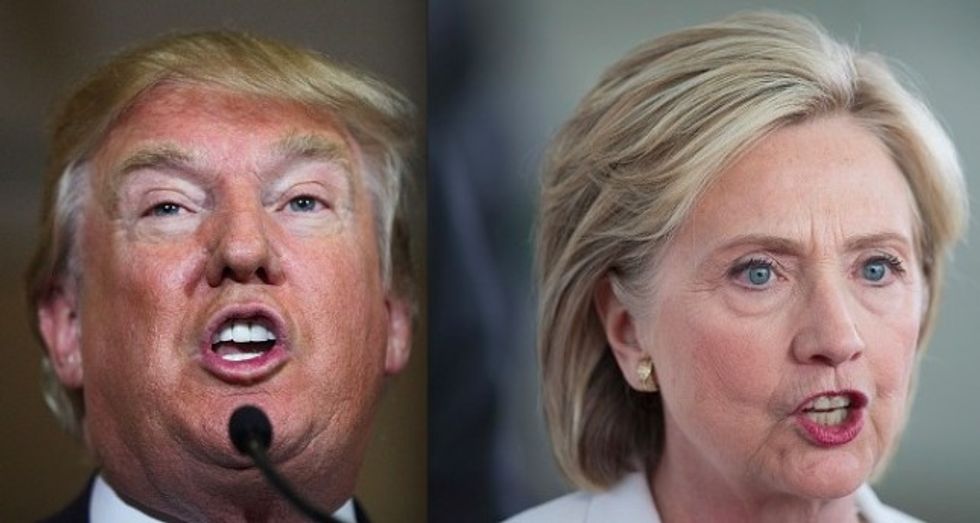 Donald Trump and Hillary Clinton (Image sources, left to right: Spencer Platt/Getty Images, Scott Olson/Getty Images)
SurveyUSA said Trump tallied 45 percent support compared to Clinton's 40 percent, The Hill reported, adding that it represented a "dramatic turnaround in the polls."
More from the Hill:
A CNN/ORC sampling of national voters in late June — just days after Trump entered the race — found that 59 percent supported Clinton to 34 percent picking Trump in a head-to-head race.

The same poll taken in July saw Clinton at 57 percent to Trump at 38 percent. And a version taken in August had Clinton with 52 percent support and Trump with 43 percent.

Trump has seen his campaign's popularity surge through the summer while Clinton's has struggled with voter concerns over her transparency and trustworthiness as secretary of State.
So how did Trump fare against other Democrats in the SurveyUSA poll?
He bested Sen. Bernie Sanders (I-Vermont), 44 percent to 40 percent, Vice President Joe Biden, 44 percent to 42 percent, and former Vice President Al Gore, 44 percent to 41 percent, the Hill noted.
In addition, the poll results said 30 percent of respondents believe Trump will be the Republican nominee in 2016 — the highest percentage among GOP candidates.
After Trump, former Florida Gov. Jeb Bush has 20 percent predicting he'll take the nomination. Trailing Bush, in order, are retired neurosurgeon Ben Carson, Sen. Ted Cruz and Sen. Marco Rubio, the Hill added.
The poll surveyed 1,000 American on Sept. 2 and 3; its margin of error is 3.3 percent, the Hill said.
(H/T: Drudge Report)
—
Follow Dave Urbanski (@DaveVUrbanski) on Twitter