Michael Derrick Hudson reportedly submitted his poem, "The Bees, the Flowers, Jesus Ancient Tigers, Poseidon, Adam and Eve," multiple times, but was rejected every single time.
Then Hudson came up with an idea that he felt would be an effective way of "subverting what he believes to be a politically correct poetry business."
He submitted the same poem under the pen name Yi-Fen Chou — and it was accepted.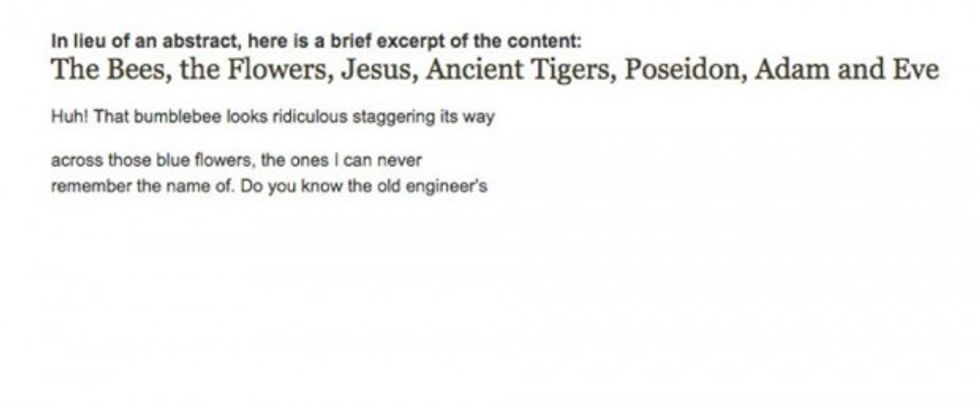 Yi-Fen Chou
The editor who ultimately accepted the poem to be included with an anthology of 75 other works, identified as noted author Sherman Alexie, said he ended up receiving a note from Hudson. More from ABC News:
"I chose a strange and funny and rueful poem written by Yi-Fen Chou, which turns out to be a Chinese pseudonym used by a white male poet named Michael Derrick Hudson as a means of subverting what he believes to be a politically correct poetry business," Alexie wrote in a blog post published Monday. "I only learned that Yi-Fen Chou was a pseudonym used by a white man after I'd already picked the poem and Hudson promptly wrote to reveal himself."

Some online commenters have called for the removal of the poem from the book, which is released this month by Simon and Schuster's Scribner publishing group.

"Although your reasons for publishing the poem MAY be defensible, the racist suggestion of the pseudonym is not," one online comment to Alexie's blog stated.
Hudson wrote on his own blog that changing his name has done wonders for his poetry career.
"There is a very short answer for my use of a nom de plume: after a poem of mine has been rejected a multitude of times under my real name, I put Yi-Fen's name on it and send it out again," he wrote, according to ABC News.
Obviously, the decision has earned Hudson a good amount of critics.
But at the end of the day, Alexie said he will not be removing Hudson's poem. Despite how it may appear, he claimed he chose the poem because he loved it, not because of the name attached to it.
(H/T: Washington Post)
---