According to a New York Jets player, many NFL players believe one deciding factor was the reason why Patriots' star Tom Brady's suspension was lifted — his race.
"The race card. There are a lot of players out there that believe that white players — specifically, at the quarterback position — are treated differently," Jets' wide receiver Brandon Marshall said while on Showtime's "Inside the NFL" panel.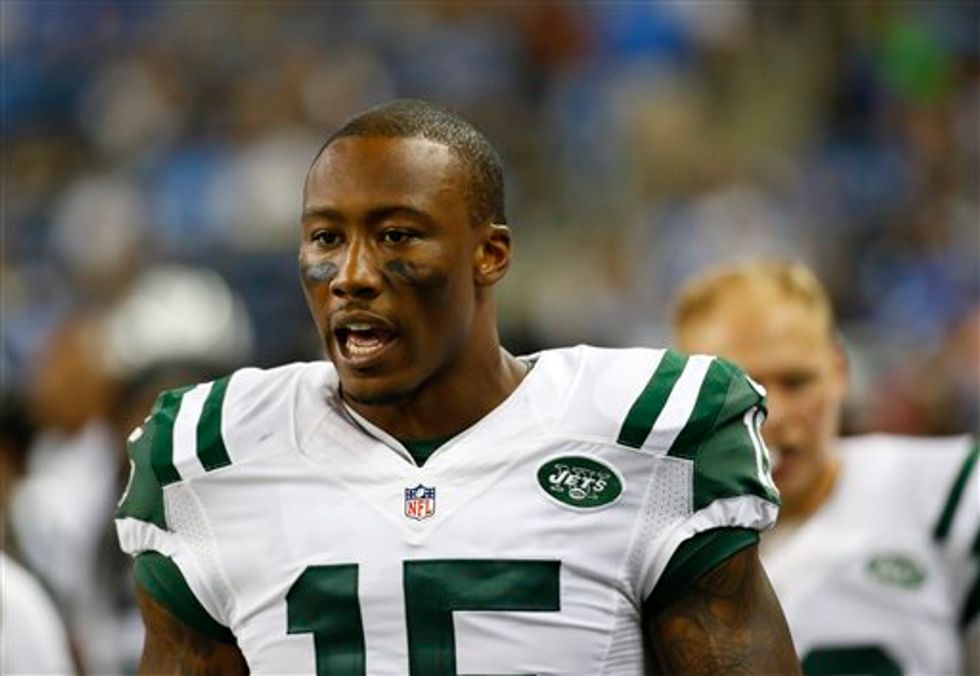 New York Jets wide receiver Brandon Marshall walks in the bench area during the second half of an NFL preseason football game against the Detroit Lions, Thursday, Aug. 13, 2015, in Detroit. (AP Photo/Paul Sancya)
According to ESPN, Marshall added that "absolutely, at times" black players in the league are held to a higher standard than their white counterparts, a sentiment he said is shared across the league among black and white players. Gathered from conversations he said he's had with other players, many believe Brady's suspension over "Deflategate" was because he's white.
"I think that there are three different types of players' views in this thing," he said of a federal judge lifting Brady's suspension. "No. 1 is the fighter. I think there are guys in the fight with Tom. When one player's rights are upheld, then all players' rights are upheld. It's not about what he did, if he's right or wrong. It's more about the process. Is it fair?"
"The second is cowards — I call them cowards," Marshall continued. "That's the guys that are afraid to face Tom Brady. They want him suspended; I don't believe in that."
The last type of player are those who played the "race card."
Former Jets quarterback and co-panelist on "Inside the NFL" Boomer Esiason questioned Marshall's remarks, according to NJ.com.
"So you're telling me that there are players out there, and I don't know if you believe this, that there are players out there, that if this was Cam Newton, that his suspension would be upheld and he would be there, that the judge would see Cam Newton differently because of the color of his skin?" Esiason asked.
"Well, when you look back at the history of this sport, you can build a case on that, yes," Marshall responded.
"I think that the important role that I play on this show is to give the viewers [an] inside look of the locker room," Marshall continued. "I am a player right now. This is not just from our locker room; this is from the locker rooms across the states. This is how guys are feelings. This is not just my opinion. These are conversations I'm having with guys."
ESPN reported that Marshall looked at his prepared notes while making his remarks about players' attitudes toward Brady. 
Tuesday's appearance was Marshall's first on "Inside the NFL" during the 2015 season, according to NJ.com. ESPN reported that Marshall is a weekly regular on the program.
The Patriots will host the Jets Sunday, Oct. 25.
---