The Islamic State group put out "for sale" ads for two foreign hostages in its English-language propaganda magazine, calling it a "limited-time offer."
The magazine Dabiq advertised the sale of a "Norwegian prisoner" and a "Chinese prisoner," including mug shot-like photos of the men in yellow jumpsuits taken from various angles.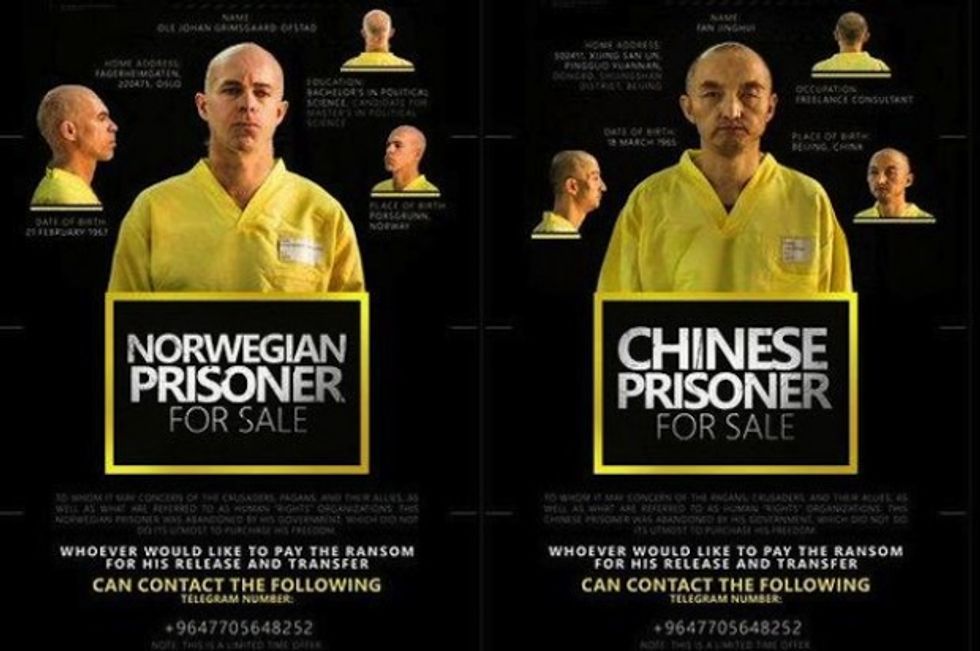 Image source: Islamic State group magazine
"Whoever would like to pay the ransom for his release and transfer can contact the following," the ad states, followed by a telegram number with an Iraqi country code.
It also says: "To whom it may concern of the Crusaders, pagans, and their allies, as well as what are referred to as human 'rights' organizations, this prisoner was abandoned by his government, which did not do its utmost to purchase his freedom."
The amount of the ransom was not specified.
The Islamic State named the Chinese hostage as 50-year-old consultant Fan Jinghui.
Norwegian Prime Minister Erna Solberg on Wednesday confirmed that 48-year-old university worker Ole-Johan Grimsgaard-Ofstad had been captured in Syria, Agence France-Presse reported.
The ad was issued just two days before the anniversary of the 9/11 attacks.
Solberg told reporters, "Norway does not pay ransoms. This is a principle we cannot depart from in the face of cynical terrorists."