Bryan Pagliano, the former State Department employee who set up Hillary Clinton's private email server before she took office as the secretary of state, will not, his lawyers repeat, speak to Congress without being granted immunity first.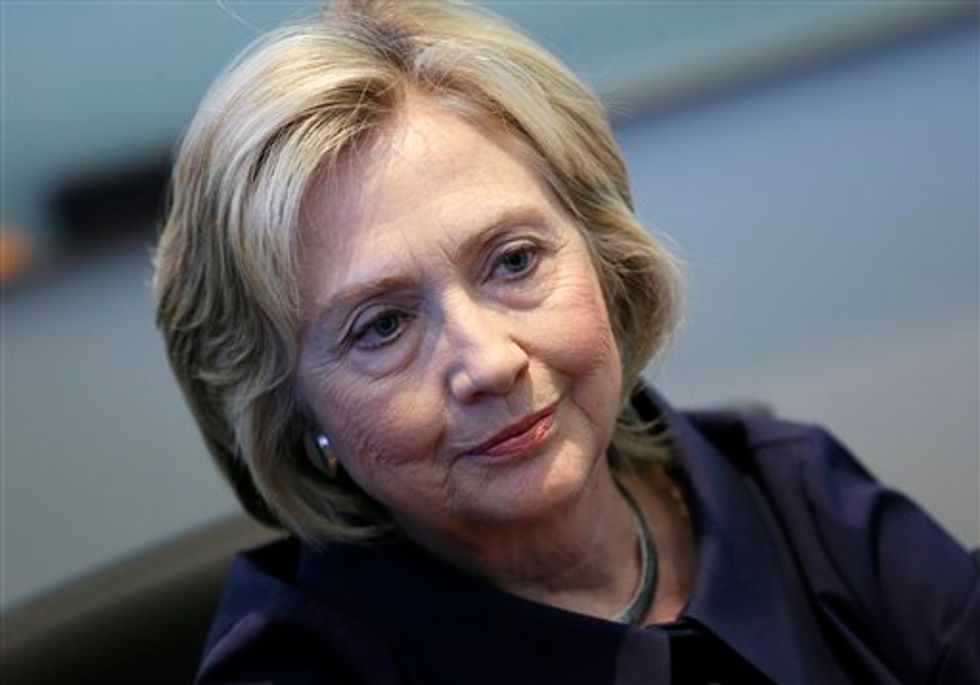 In this Sept. 7, 2015, photo, Democratic presidential candidate Hillary Rodham Clinton speaks during an interview with The Associated Press in Cedar Rapids, Iowa. Clinton says her use of a private email account was a "mistake," adding that she is "sorry" and takes responsibility for the decision. Clinton offers the apology in an interview with ABC News on Tuesday after declining to do so previously. On Sept. 4, she didn't apologize for using a private email system when asked directly by NBC News. In an interview with The Associated Press on Monday, she said an apology wasn't necessary because what she did was "allowed" by the State Department. (AP/Charlie Neibergall)
A letter obtained by Politico from Pagliano's lawyer Mark MacDougall to Senate Judiciary Chairman Chuck Grassley (R-Iowa) and Senate Homeland Security Chairman Ron Johnson (R-Wis.) declined the senators' request to hear what Pagliano would say in his testimony if granted immunity.
MacDougall announced last week that his client would invoke his Fifth Amendment right not to testify before the House committee on Benghazi Thursday.
"While we understand that Mr. Pagliano's response to this subpoena may be controversial in the current political environment, we hope that the members of the Select Committee will respect our client's right to invoke the protections of the Constitution," MacDougall said at the time.
Since then, the announcement has driven a significant amount of interest and speculation.
In a previous article, Politico explained Grassley and Johnson asked for a meeting with Pagliano and his lawyer to "explore how to obtain the unique information you possess while respecting your constitutional rights, such as the possibility of a proffer session so that we can better understand what your testimony would be without any waiver of your rights."
This latest letter from McDougall though states that his client did not ask for immunity, but if it is authorized "Mr. Pagliano will, of course, comply with such an order."
He will not, however, agree to a proffer session as the senators suggested. Here's more from Politico on why:
[...] MacDougall, an attorney at Akin Gump Strauss Hauer & Feld LLP, said such an exploratory discussion of what Pagliano knew had no basis in law and could open up his client to accusations that he "waived his right" to avoid self incrimination.

"Members of congressional committees and their lawyers have lately taken an expansive view of what constitutes a waiver by an individual citizen of his or her right under the Fifth Amendment," he wrote. "Any 'proffer session' or other disclosure by Mr. Pagliano — or his lawyers acting on his behalf — of the contents of his possible testimony creates the very practical risk that our client will later be said to have waived his constitutional protections."
Matt McDonald of Hamilton Place Strategies, a former adviser to GOP presidential campaigns, called Clinton's situation a classic example of what happens when IT experts don't have a big enough voice in big decisions.
"When people who don't have any measure of technological literacy are making decisions about technology, things can go sideways really quickly," he said.
A former chief master sergeant in the Air Force, who specialized in IT, though told TheBlaze that he believes Pagliano's announcement that he would be invoking his Fifth Amendment right should still "be setting off alarm bells."
"If you're an IT guy responsible for maintaining a server ... if you're doing that for federal government, then you've been briefed and trained on what all the requirements are," Eric Hennessey, who spent 27 combined years of active and reserve duty in the Air Force working in IT with a TS/SCI security clearance, said.
Hennessey said that he believes once Pagliano, who started with Clinton during her 2008 presidential campaign, joined her at the State Department, he "should have been briefed on" information that would have made it clear a private email server for such business was not sound. 
Henneseey said he thinks Pagliano will be pleading the Fifth because he either "knew everything they were doing with the email server was in direct violation of federal law" or because he wasn't properly trained. If the latter, Hennessey said it would fall on the State Department to answer as to why this person was not trained on proper procedures.
—
The Associated Press contributed to this report.