It started out simply enough: A Texas police officer noticed a pickup truck driver acting suspiciously on Tuesday, so he ran the license plate.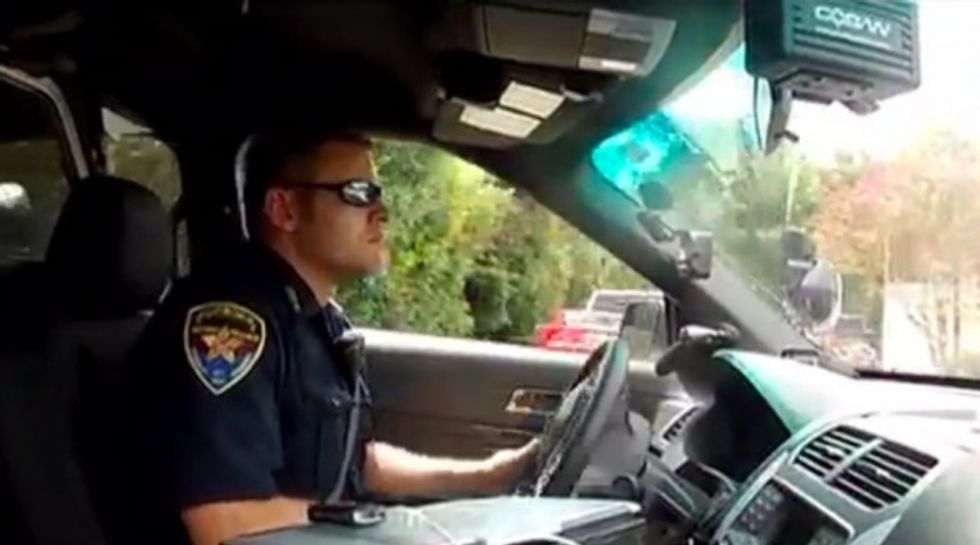 Image source: KHOU-TV
It turns out Officer Roye's suspicions were well-founded: The Chevy Silverado in question had been reported stolen six weeks ago. Naturally, Roye hit his siren.
But things ceased being simple at that point.
The driver quickly accelerated and snaked through traffic in Hedwig Village, KHOU-TV reported. Then at an intersection, he bolted from the vehicle — while it was still in gear.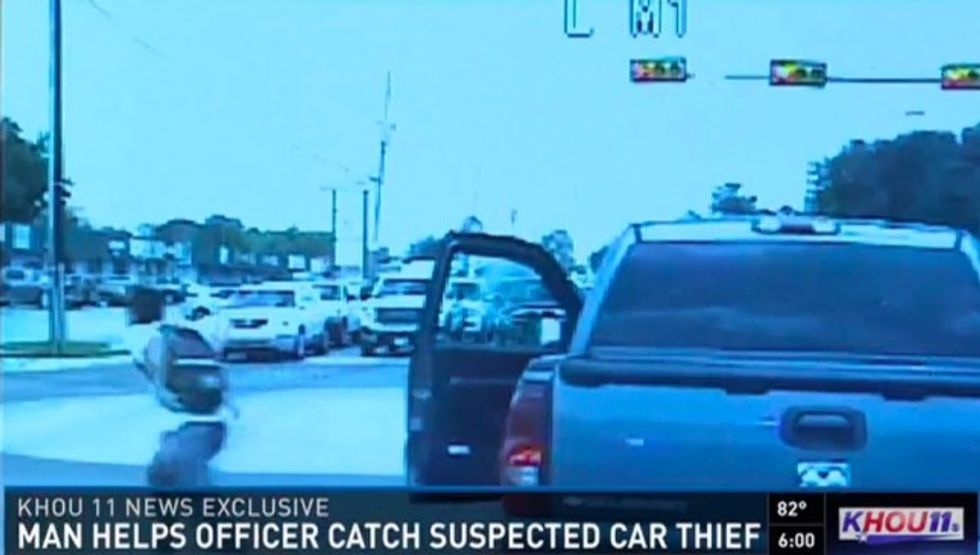 Image source: KHOU-TV
Roye ran after the suspect and began struggling with him after he became tangled in a barbed-wire fence.
"He was dead-set on escaping me," Roye told KHOU. "And we can't let that happen."
Enter Nick Montalbano, a 45-year-old construction contractor who was at a restaurant with his wife when he heard the sirens and then the moving pickup with no passengers.
Montalbano got to the truck, stopped it and removed the keys. Then he lit out to assist Officer Roye, now dealing with a suspect who was "putting up a pretty good fight."
With Montalbano's help, the 19-year-old suspect was safely on the ground — but not without some added drama he wasn't prepared for.
The suspect had a gun.
"The gun was on the ground, under the fence, out of reach," Montalbano told the station. "I said, 'It's over there out of reach. Don't worry about it.' And the whole time we were wrestling with the suspect ..."
Baltazar Ramirez-Martinez was booked into the Harris County Jail on charges of car theft, evading arrest and possession of cocaine, KHOU reported.
After the dust settled, Roye said Montalbano was a huge help.
"I was very grateful to have a citizen come and assist us because these are bad times for police officers, as we all know," he told KHOU. "First thing I did when we got the guy handcuffed is I shook his hand. I said 'Thank you. I appreciate it.'"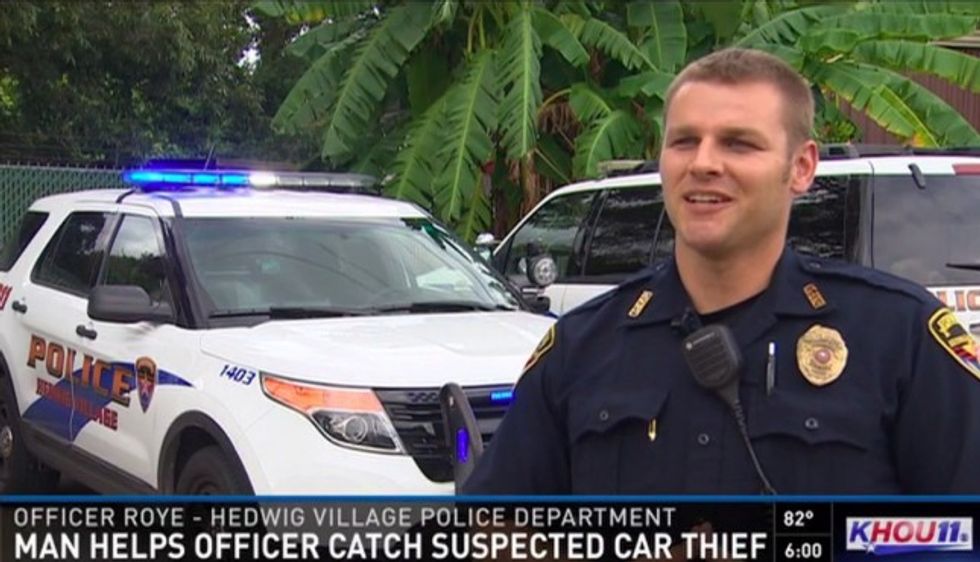 Image source: KHOU-TV
"I just reacted. That's my nature," Montalbano explained to the station. "I didn't think twice about it. The officer's struggling with the guy and a lot of people standing around kind of like it's a show, kind of watching. And I'm like, 'That's not going to happen.'"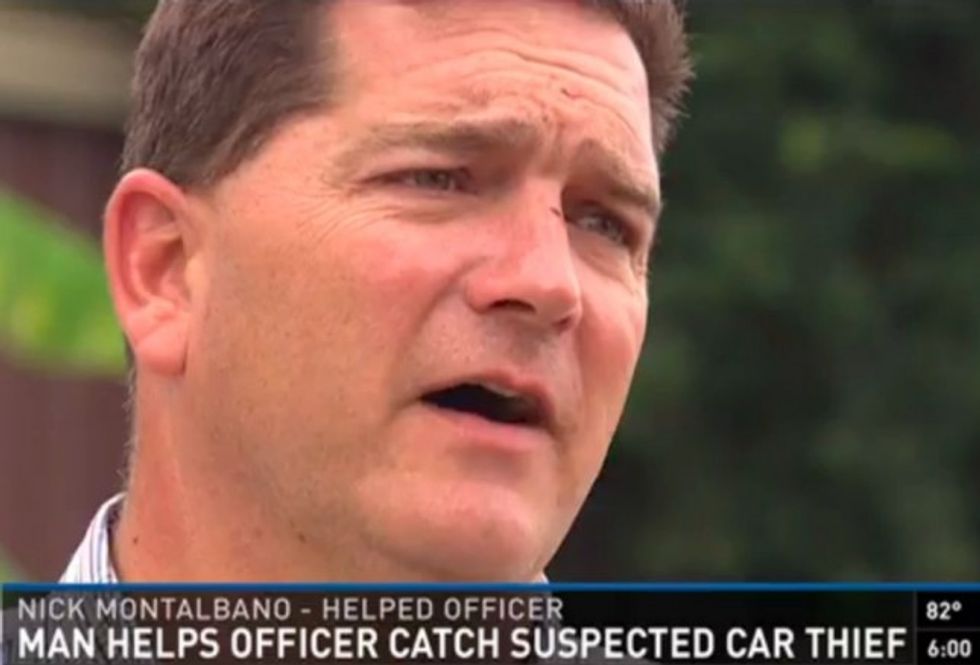 Image source: KHOU-TV
Montalbano's wife Tricia called her husband "my hero" and noted that he's done this kind of thing before — including rescuing a person from a burning car: "He's put himself in harm's way over and over again to help people."
The owner of the stolen pickup truck sees things the way Montalbano does.
"We should be there to back them up. They're backing us up," Clint Linder told KHOU regarding police officers. "I think we all need to step up now in these days and times. The civilians, citizens, need to step up and back the police."
"These guys have a tough job, kind of a thankless job at times," Montalbano said. "They're people and they need help and I'll do what I can to help them."
Officer Roye — who attended last week's funeral for slain Harris County Sheriff's Deputy Darren Goforth — said he's "grateful" for the kind of support Montalbano and others have shown.
"I'm grateful because at the end of the day we're people, too," he told the station. "I have a family to go home to, and that's what matters to every officer who puts on this badge. We just want to go home. At the end of the day, I'm not a policeman. I'm a father. And that's what matters to me."
—
Follow Dave Urbanski (@DaveVUrbanski) on Twitter