The leader of an activist group that is dedicated to "exposing the homosexual-bisexual-transgender activist agendas" is accusing a gay rights group of tricking supporters of defiant Kentucky clerk Kim Davis into visiting a website that supports gay marriage.
Peter LaBarbera, founder of Americans For Truth About Homosexuality, reportedly told One News Now that the website FreeKimDavis.com is redirecting to the homepage for Marriage Equality USA, a group that supports gay rights.
A separate and similar website — FreeKimDavis.net — had been setup to support Davis, leading to potential confusion among supporters who might be looking online for ways to help the embattled clerk.

A screen shot of a google search for FreeKimDavis.com
"This is all part of the effort to ridicule Kim Davis," LaBarbera told One News Now. "And to make fun of any Christian who opposes the Supreme Court's imposition of homosexual marriage on the nation."
The Christian News Network reported that the FreeKimDavis.com domain was purchased on September 3, and that it initially redirected to a donation page on the Human Rights Campaign website, which belongs to another pro-gay marriage group.
"Donate to HRC today. Or give the gift of equality to a friend or loved one," the original redirection page reportedly read. "Please note: An HRC sticker is included as part of your donation."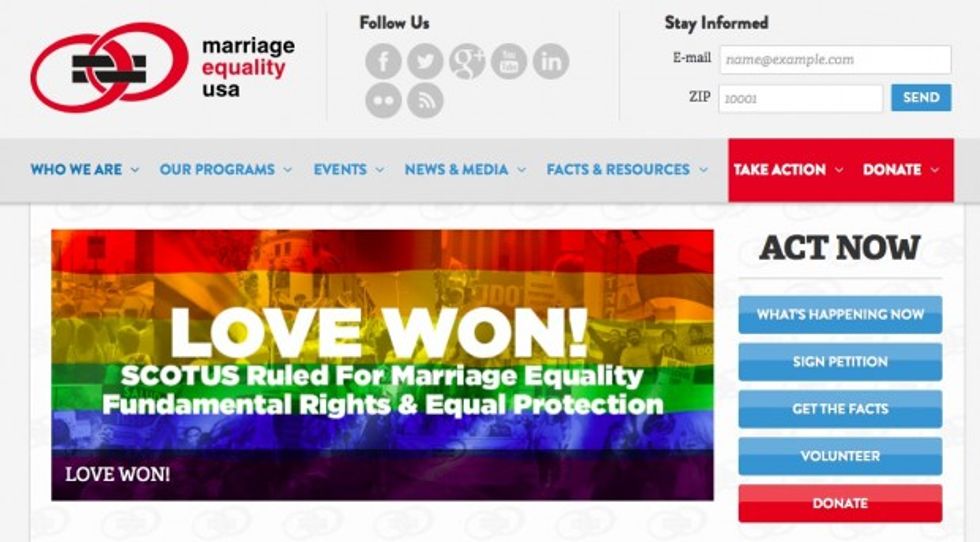 A screen shot of the Marriage Equality USA website
As of Friday morning, though, the domain is redirecting to the Marriage Equality USA main page. It is unclear who registered the domain, as the information is not publicly available through a WhoIs domain search.
Representatives for the Human Rights Campaign and Marriage Equality USA told TheBlaze on Friday that they did not register the domain.
(H/T: One News Now)