Numerous federal agencies – including the State Department and White House – have been hacked, while there is no evidence former Secretary of State Hillary Clinton's private email server was compromised, a pro-Clinton super political action committee notes in a new report.
Thus, her private server may well have been more secure than if she had kept a traditional state.gov account, according to a 12-page report that seems to reframe the email debacle that has dogged the Democratic presidential candidate for months as almost a public service.
"Among the news media's obsessive coverage of Hillary Clinton's email practices, a simple fact has been lost," says the report by the super PAC Correct the Record. "There is no evidence that Hillary Clinton's email was ever breached. On the other hand, the U.S. government has been hacked on numerous occasions, compromising even the most sensitive of information."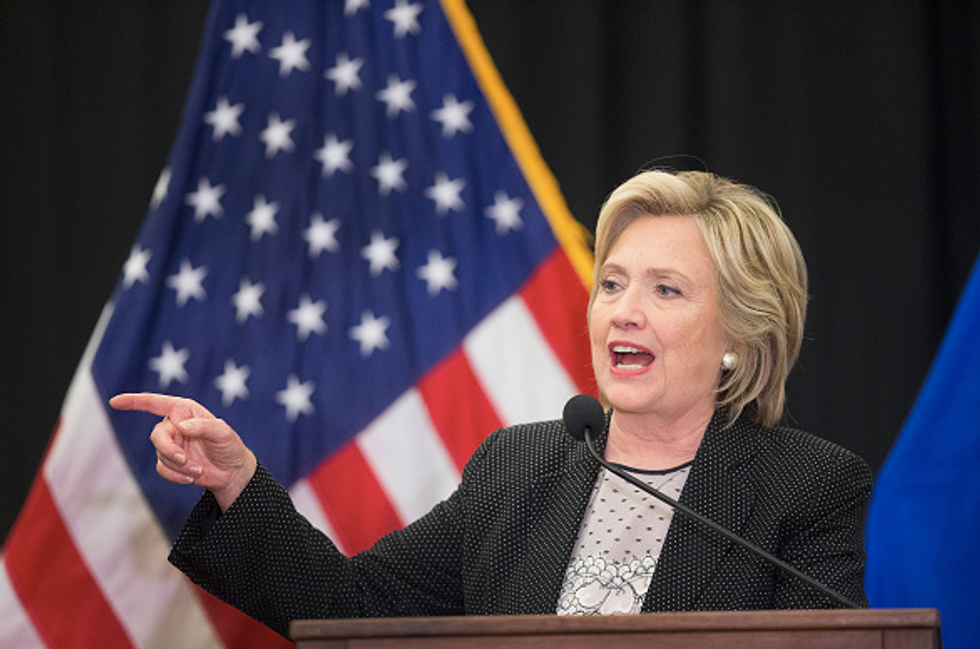 Democratic presidential candidate Hillary Clinton speaks to guests gathered for a campaign event at the University of Wisconsin-Milwaukee on September 10, 2015 in Milwaukee, Wisconsin. A recent poll has Clinton leading Senator Bernie Sanders (I-VT) by 12 points in the state. (Photo by Scott Olson/Getty Images)
Correct the Record is run by David Brock, a former Clinton enemy turned ally, who previously ran Media Matters, a liberal media watchdog group. The super PAC is independent of the Clinton presidential campaign and the two are prohibited from coordinating in anyway.
The FBI is investigating whether Clinton's private email server contained classified information, a topic that Clinton has been unable to put to rest. Mishandling classified information could violate several federal laws.
The report goes on to quote State Department spokeswoman Marie Harf, who said in March, "I don't think we're going to get into specifics of security on a former secretary's email, but I can say we have no indication that the email was compromised, the account was compromised or hacked in any way. But again, we're not going to get into specifics."
The report goes on to say, "No clintonemail.com messages were included in the Manning WikiLeaks dump, unlike thousands of emails from State Department servers."
In 2010, WikiLeaks obtained 250,000 stolen State Department communications, the report points out.
The State Department also had a cyber attack in the fall 2014 at the same time the White House was weeding out hackers, later suspected to have been Russians.
Among the largest breaches came when a Chinese hack of the Office of Personnel Management obtained information on 22 million federal employees.
Further, the report notes that the Energy Department was hacked in 2013, while tax information on 100,000 U.S. households was hacked at the Internal Revenue Service. Other agencies reportedly hacked included the Nuclear Regulatory Commission and the U.S. Postal Service.
The report goes on to cite Clinton's own words as evidence of the security of the email.
"Well, the system we used was set up for President Clinton's office. And it had numerous safeguards. It was on property guarded by the Secret Service. And
there were no security breaches," Clinton said at the United Nations press conference in March, where she took questions after the email scandal first broke. "So, I think that the -- the use of that server, which started with my husband, certainly proved to be effective and secure."