This 14th anniversary of the terrorist attacks on Sept. 11, 2001, which killed nearly 3,000 people, is a day of mourning and remembrance.
It's a day when many will share stories of where they were when they learned of two planes hitting the twin towers of the World Trade Center in New York City, of a third slamming into the Pentagon just outside of Washington, D.C., and of the heroism from the crew and passengers on Flight 93 who fought back, crashing a plane into a rural Pennsylvania field.
The images from that day and the months of recovery afterward are unforgettable. These are the images burned into our minds and our stories about where we were, what we want remembered and why we will never forget.
Scott Baker, Editor-in-Chief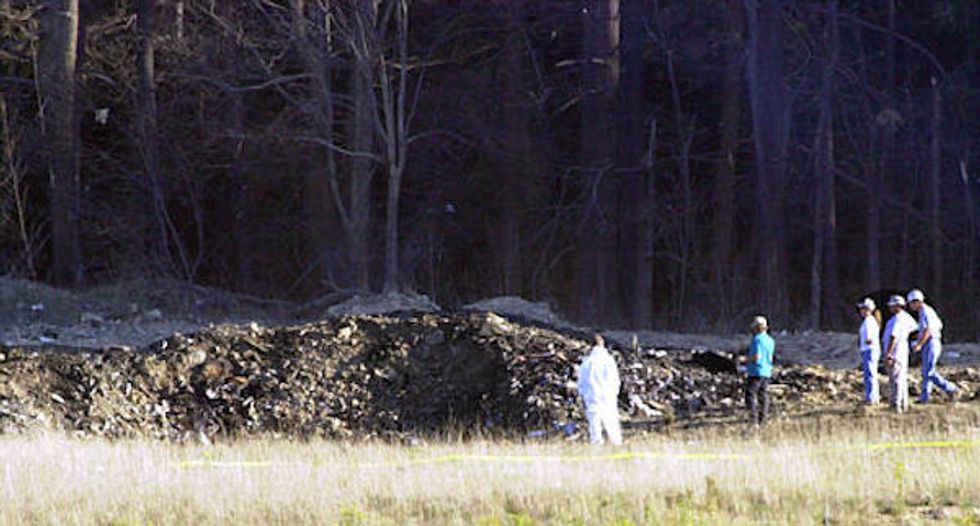 Emergency workers look at the crater created when United Airlines Flight 93 crashed near Shanksville, Pa., on Tuesday, Sept. 11, 2001. Radar showed the San Francisco-bound Boeing 757 from Newark, N.J., had nearly reached Cleveland when it made a sharp left turn and headed back toward Pennsylvania, crashing in a grassy field edged by woods about 80 miles southeast of Pittsburgh. (AP/Keith Srakocic)
On 9/11 I was a TV news anchor in Pittsburgh. After the planes hit the World Trade Center, I jumped in the car to head to the station. I remember driving through the center of Pittsburgh about the time that Flight 93 would have been passing over. I remember seeing and hearing some kind of fighter jet scream by. I have no idea if that jet was in pursuit of Flight 93 or not. But it startled me and I remember thinking that life was about to radically change. Somewhere above Todd Beamer was saying, "Let's roll!"
Madeleine Morgenstern, Managing Editor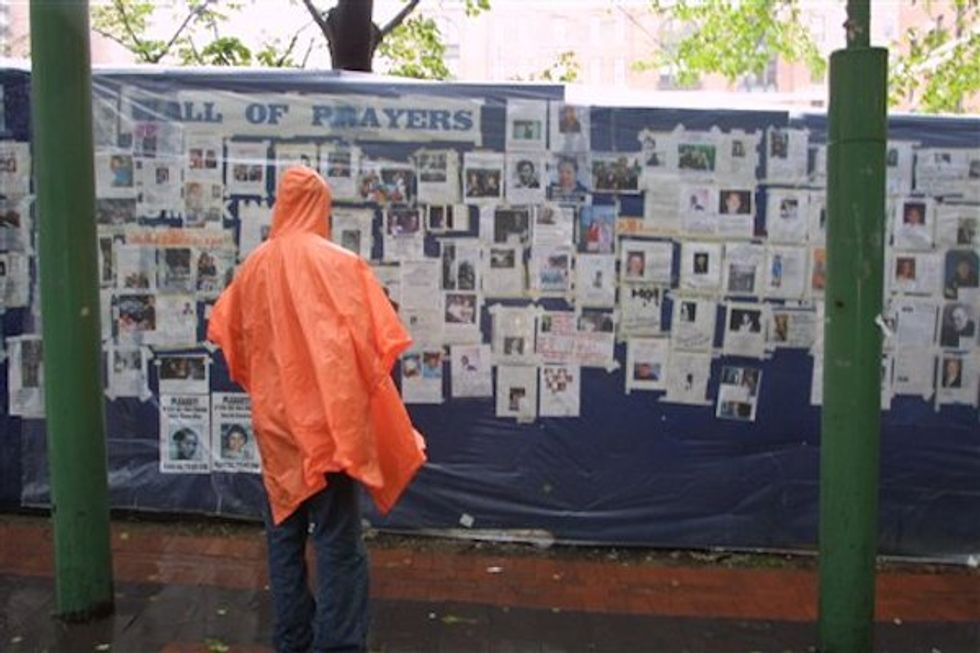 A woman looks at missing persons posters of victims of the Sept. 11 attacks. (AP/Robert Spencer)
Fourteen years ago I was a middle schooler in California, so the attacks had already taken place by the time I woke up. I think my parents had the TV on initially, but turned it off as my brothers and I were getting ready for school. I didn't know the extent of what had happened, only that my mom told my dad "be careful" as he headed for work in downtown Los Angeles. She told me a plane had crashed into a building in New York; I didn't learn more until I was in school. One of my teachers said she didn't want to hear anybody making any comments or blaming anyone they think might be responsible — I didn't understand until later that she was referring to Muslim students.
Even though I knew that this massive event was unfolding, I felt really disconnected from it on the other side of the country. Later, seeing the signs people had made looking for their missing loved ones was finally one of the ways that the magnitude started to hit.
Jason Howerton, Deputy Managing Editor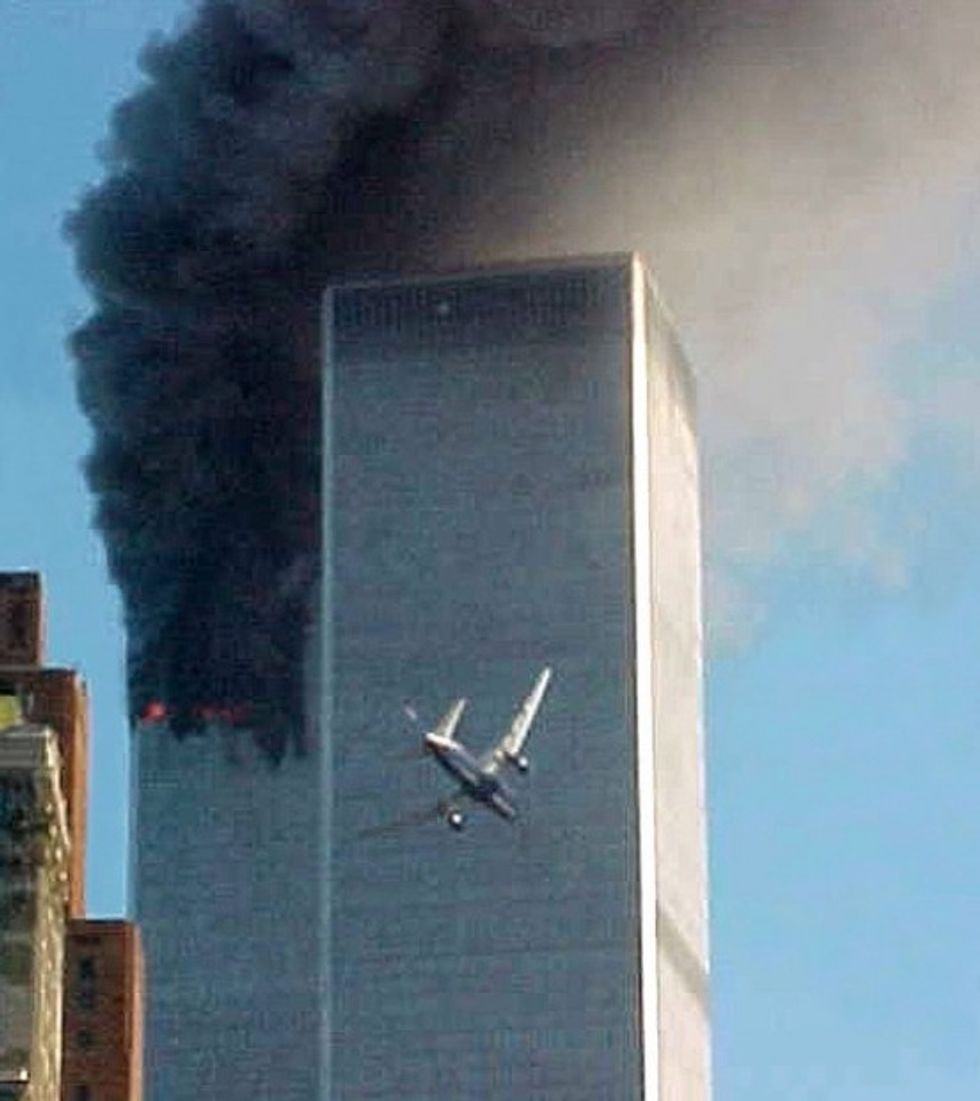 In this Sept. 11, 2001 file photo, American Airlines Flight 175 closes in on World Trade Center Tower 2 in New York, just before impact. (AP/Carmen Taylor)
Like millions of Americans, I remember exactly where I was when I saw the first images of the 9/11 World Trade Center terror attack. Though I first learned of the attack from my middle school teachers, it wasn't until I returned home and turned on the TV that I was exposed to the images that, unbeknownst to me at the time, would be forever seared into my mind.
The footage of the second plane striking the World Trade Center was seemingly played on an endless loop that continued in my mind long after I had turned off the television. I will never forget.
Mike Opelka, Director of News and Video Operations, Host of Pure Opelka on TheBlaze Radio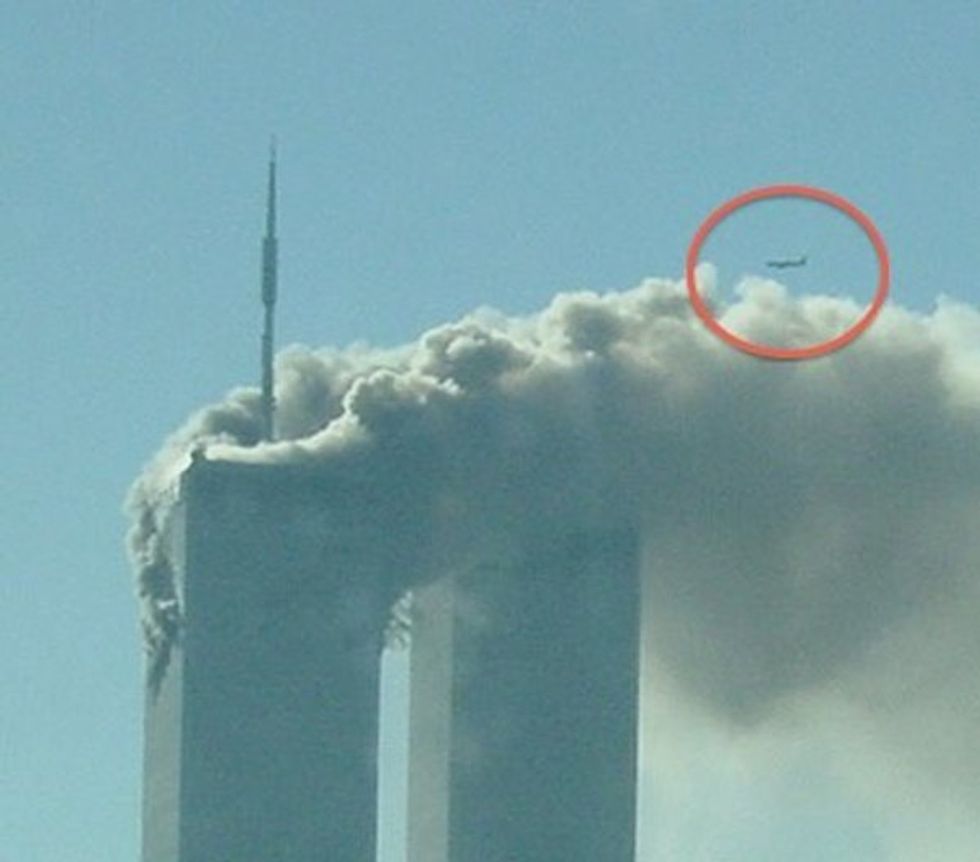 TheBlaze's Mike Opelka, who worked for WKTU radio, went outside with his colleagues after news of the first plane. He took this photo while looking across the Hudson River. (Photo credit: Mike Opelka)
Broadcasting on the WKTU morning show just 1.1 miles from the World Trade Center, at 8:55 a.m. we reported a horrible accident had taken place. A plane (then believed to be a cargo jet) hit one of the towers. We told the millions of KTU listeners, "Lower Manhattan was closed to all traffic — updates to follow." The three of us walked out of the studio and looked across the Hudson River. I started snapping photos and caught this shot of the second plane banking in to strike the south face of the South Tower. The moment has never left me. Everything in my life changed in that moment. Everything.
We were briefly evacuated from the building. I got as much cash out of the ATM as possible. No cellphone calls were going through. I could not reach my wife. While standing on the Jersey City banks of the Hudson River watching in horror as people leaped from the flames, hundreds of us heard a spine-tingling  sound — it was the screams of metal, glass and people as the South Tower collapsed before our eyes.
And then, I witnessed something amazing. We all dropped to our knees, praying and crying.
After the collapse of the second tower around 10:30 a.m., we were allowed to go back into the building. For the next 30 hours, I was trapped in the station. No way to get home. The city was closed.
I could not call my wife for hours, but I could call Chicago, Los Angeles and other cities and they were able to call into NYC.
Billy Hallowell, Faith Editor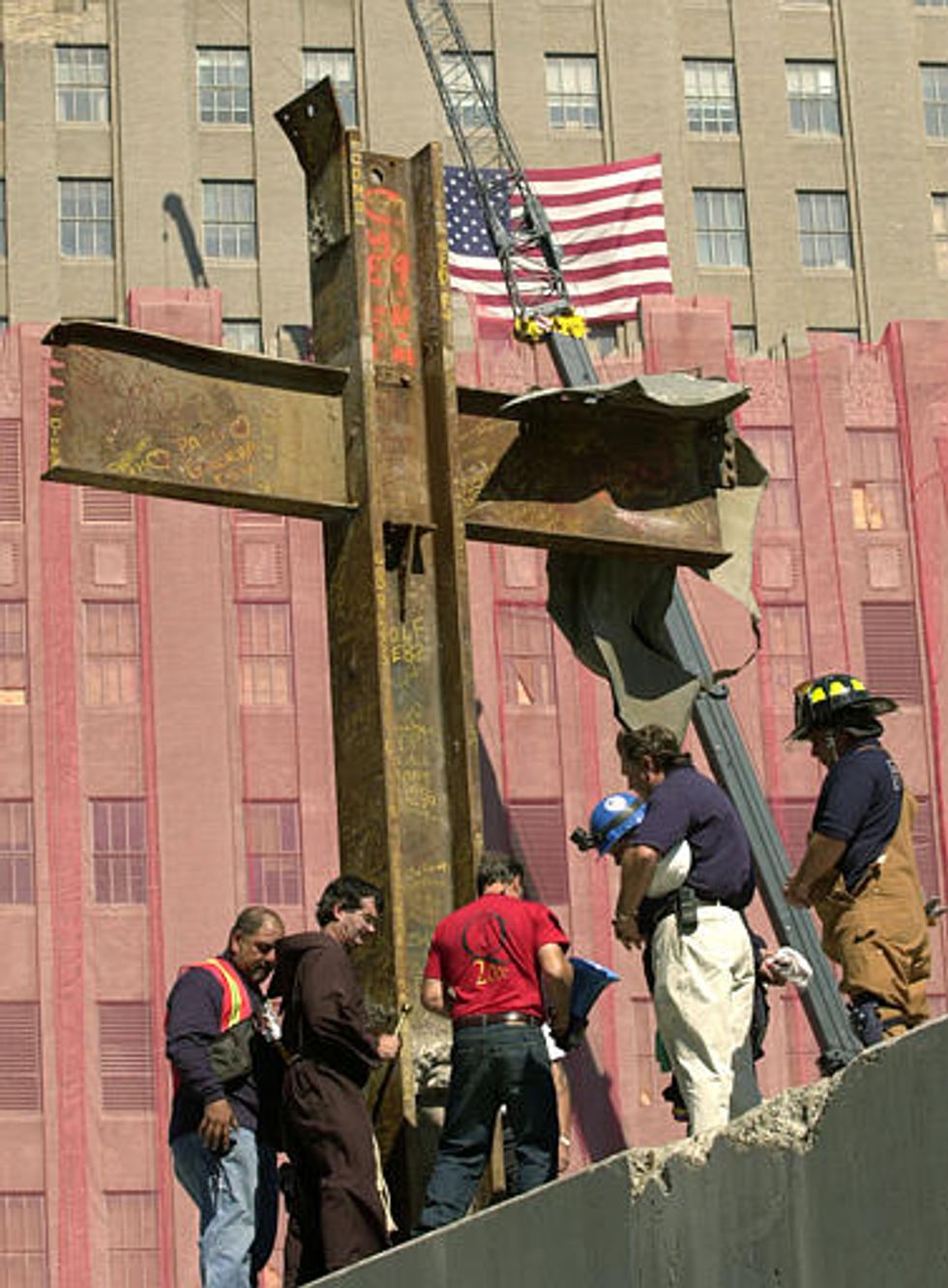 Father Brian Jordan, second from left, blesses, Thursday, Oct. 4, 2001, a cross of steel beams found amidst the rubble of the World Trade Center by a laborer two days after the collapse of the twin towers. The cross was from World Trade tower One, and was found in World Trade building Six and moved to its present location Wednesday. Other rescue and construction workers join Jordan for the ceremony. A protective mesh hangs on the building in the background. (AP/Kathy Willens)
"Never forget." Those aren't vacant, meaningless words; they hold profound meaning. After all, our nation, our world and our personal worldviews were profoundly shaken, shaped and changed as a result of the events of Sept. 11, 2001.
Fourteen years later, there are those who say that we shouldn't keep pondering, reflecting and discussing what happened that day — the horrific terror attack that forever transformed our nation and our world. But I disagree.
As sad and difficult as it is, I believe that it's appropriate for us to pray each year for the survivors and the families of those who lost so much, and to remember all that unfolded on that horrific day. The awful tragedy that is singed into our brains is anything but pleasant to recall, but we should truly never forget the loss of life and innocence.
The world, today, remains in many ways a terrifying place in which people — the same who perpetuated that attack and others like them — seek to do evil and cause destruction.
But in the end, Goodness wins. Prayer is key, as are knowledge and remembrance. All are essential for prevention. Join me in praying for the survivors and the families of those who lost so much on 9/11/2001.
Jon Street, Assistant Editor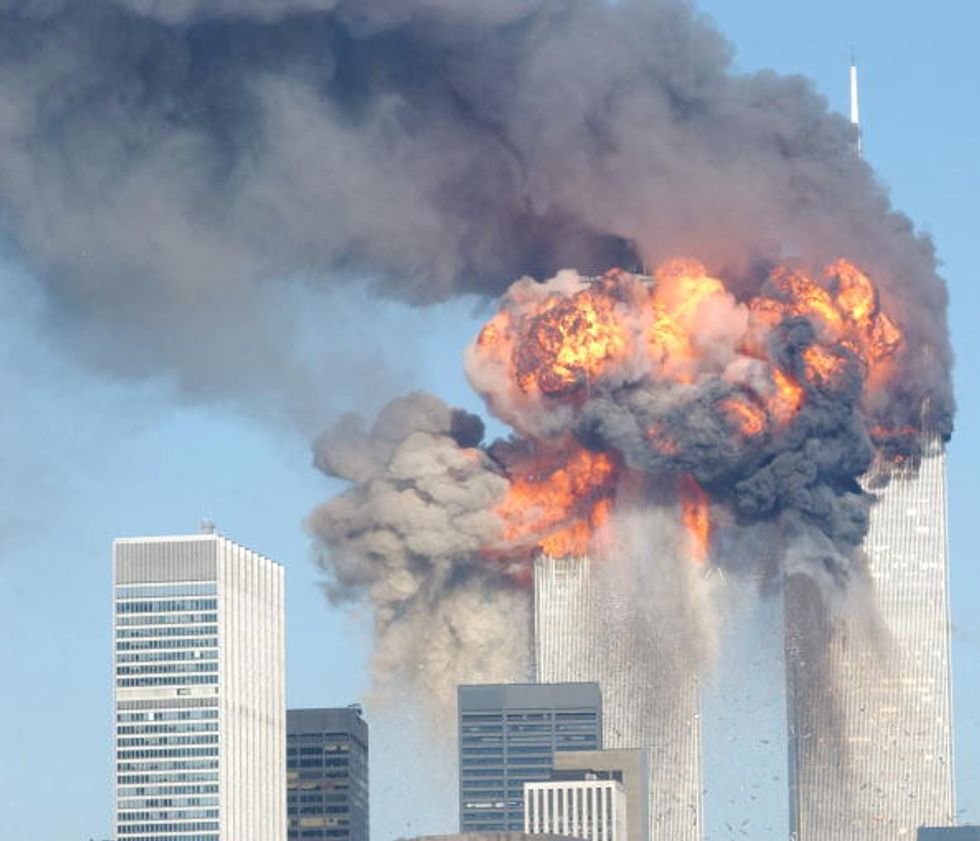 A fiery blasts rocks the World Trade Center after being hit by two planes September 11, 2001 in New York City. (Spencer Platt/Getty Images)
Fourteen years ago this morning, I sat in sixth grade science class having little idea of what the World Trade Center even was, much less the Pentagon. Ignorance? Perhaps. That's just elementary school, I suppose. But little did any of us know, that day would change the world we live in forever. More than a decade later, we continue to honor our loved ones who we've sent to war as a result of those deadly attacks (including my cousin, Jay, who returns from Iraq later this month, God willing). Let us #NeverForget those we lost in the twin towers, the Pentagon or that field in Shanksville, Pennsylvania.
Dave Urbanski, Assistant Editor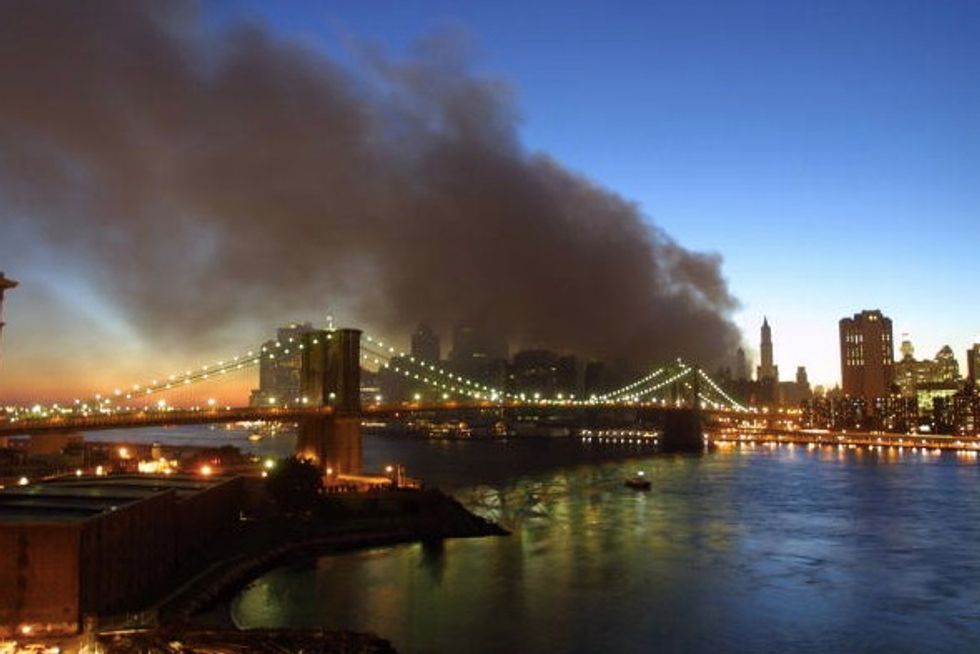 World Trade Center following terrorist attack by two hijacked airliners. Smoke lingering over the World Trade Center as dusk falls upon Manhattan. View looking south-west from the Manhattan Bridge. (Marion Curtis Haines/Timepix/The LIFE Images Collection/Getty Images)
The sky above the northeastern U.S. on September 11, 2001, was practically cloudless. A perfect day for pilots, who call such a day "severe clear." But the beautiful blue sky offered a strange backdrop to the horror over lower Manhattan that morning.
The balmy, sunny, cloudless day also meant we could see the second plane bearing down on the second World Trade Center tower from far away. We were afraid of what it might be — and waited helplessly as it got closer. Then the giant ball of fire, thick, black smoke, paper floating and people falling — all of that was set against this lovely blue sky. It didn't fit. Nothing did that day.
But when night came, the setting sun was something like a terrible mercy. A signal that this awful day was finally over. Of course the horror wasn't finished — but night falling over Manhattan seemed like a ringside bell telling a fighter the first round was done. We were badly battered, but the city — and America — came back swinging.
Erica Ritz, Assistant Editor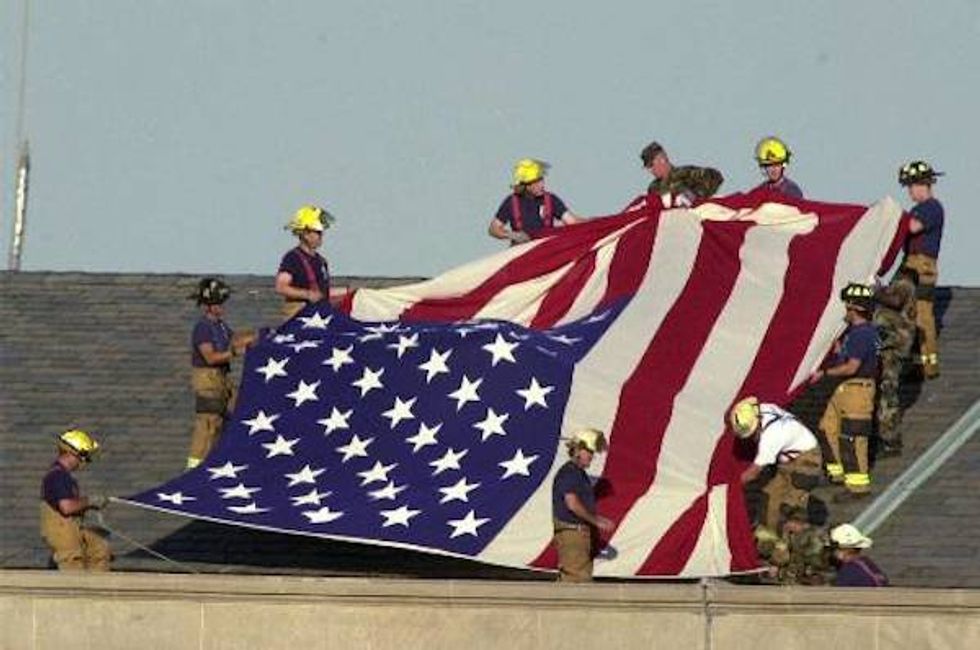 Military and fire personnel get set to unfurl a large American flag on the roof of the Pentagon, Wednesday, Sept. 12, 2001. A hijacked airliner crashed into the structure on Tuesday. (AP/Steve Helber)
9/11 profoundly changed all of our lives. I was just 11 years old and living in Minnesota at the time, and to be honest, I didn't even know what the twin towers were. But I knew what the coordinated crashes meant — we were under attack.
As a child looking on, the destruction and devastation was terrifying. We mourned for those who had lost family and friends, and wondered what the increasingly perilous future held. But amid all the chaos and heartbreak, it was America's first responders who assured me that the country would survive and, indeed, thrive. With the world crashing down, they risked and gave their lives for others, embodying all that is best of America. They never gave up, and we are forever grateful for their bravery and sacrifice.
Liz Klimas, Science, Health and Tech Editor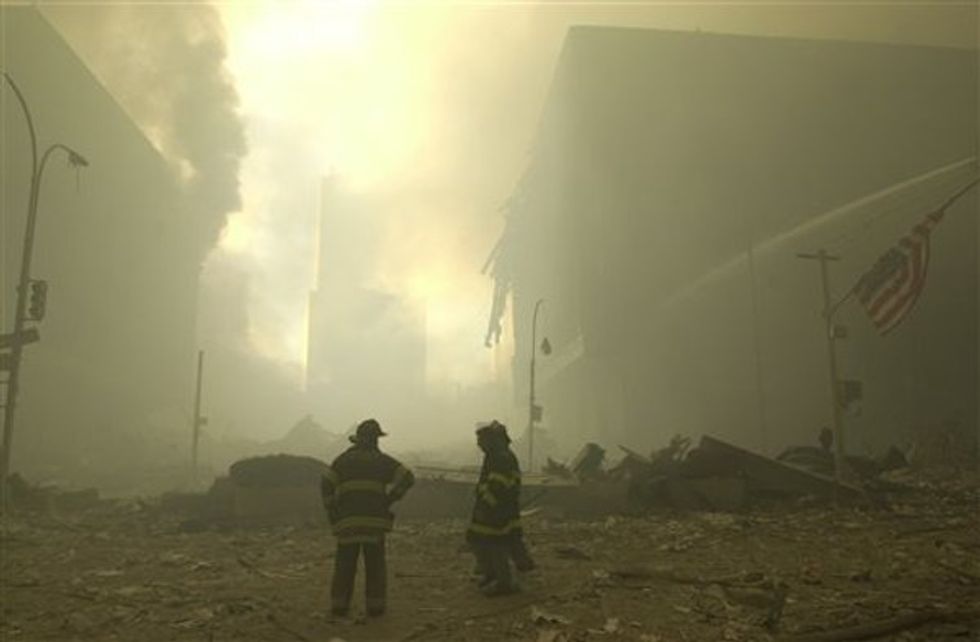 Emergency workers and a flag at ground zero on the evening of Sept. 11, 2001 after the September 11 terrorist attacks on the World Trade Center in New York City.(AP/Mark Lennihan)
I'll admit it. I played hooky on Sept. 11, 2001. Instead of sitting at my high school desk awaiting what was most likely a lesson in the difference between mitosis and meiosis (didn't everyone's science teacher hammer than one into their brains?), I had decided earlier that morning that I didn't feel quite 100 percent to head to class and somehow convinced my mother to agree. I was watching NBC's Today eating a bowl of cereal and watched live as the second plane flew into the World Trade Center.
The images and video of the crash, the explosion and the harrowing moment when the towers fell are heart-stopping, but the pictures that really get me the most are of the people in a cloud of dust. This was well before Instagram and apps that immediately put a filter on your photo. The haze in the pictures of those who ran away from the boom of dust and debris and those — the first responders — who ran who ran toward it was 100 percent indicative of the destruction caused by two 110-story buildings imploding.
And though the physical dust has long settled, the metaphorical dust will forever linger.
—
This story has been updated to correct a typo in the headline.