Republican presidential candidate Rand Paul announced Friday while speaking at Iowa State University that his campaign had met its goal of establishing 300 student groups within 30 days.
"My constitutional conservative message of liberty, individual freedom, and small government resonates with the youth of America. They are our future and without them, the Republican party cannot survive," the Kentucky senator said.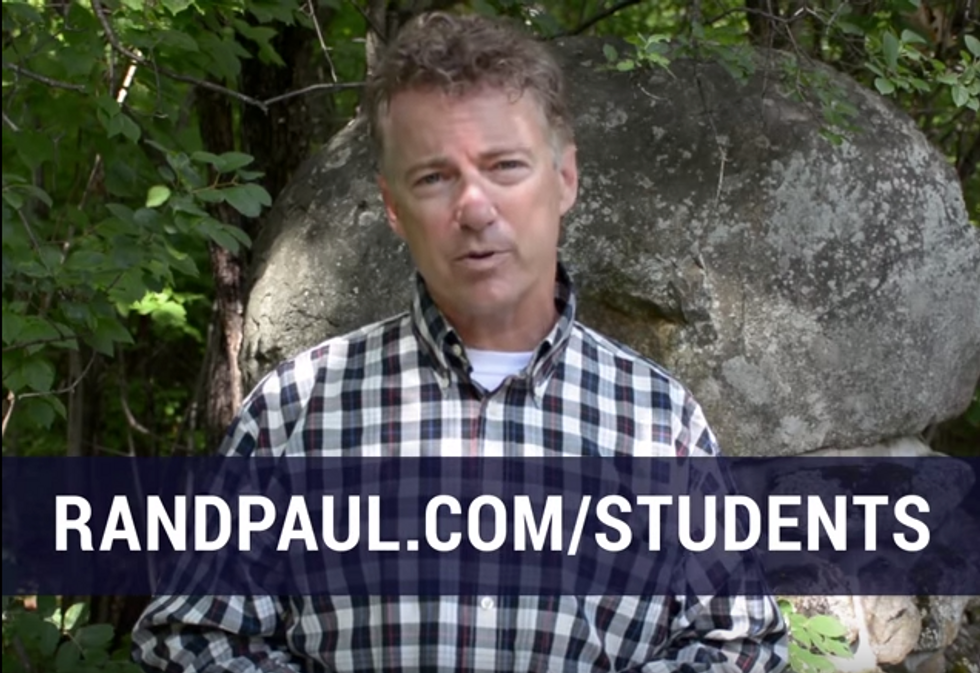 Image source: YouTube
According to press release from Paul's campaign, 339 Students for Rand chapters had been established nationwide.
According to their website, SFR is "the official youth effort of the Rand Paul Presidential Campaign to recruit, organize, and mobilize young people to elect Rand Paul as the next President of the United States." The group's mission, the website states, is to establish a group on every college campus in the nation.
Brady Bowyer, a sophomore at the University of Nevada, Las Vegas, told TheBlaze that a "candidate like Rand speaks to issues that have so much support among young people," such as 4th amendment rights, justice reform and the national debt.
"I think the Students for Rand effort will accomplish for his campaign what Reagan's student outreach did for him," Bowyer said. "We can add an energy that other campaigns lack, and show older generations what we look for in a Republican candidate and in the Republican Party. I think students can push Rand to victory, especially here in Nevada, where we're first in the West and caucus turnout is so low."
Cliff Maloney, the National Youth Director for SFR, said in a statement that the campaign is "rapidly expanding our efforts."
"Students for Rand is truly the secret weapon in Sen Paul's arsenal," Maloney said in the statement. "We set out to establish 300 SFR chapters in 30 days and we've blown past that, starting a total of 339 chapters.
In August, when the Paul campaign announced its goal of 300 student groups in 30 days, Maloney told the Washington Examiner that the students "are going to be able to help us get momentum again and serve as ground troops in all 50 states."
The latest Quinnipiac poll has Paul, the libertarian-leaning candidate, polling at 4 percent — far behind Republican presidential frontrunners Donald Trump with 27 percent and Ben Carson with 21 percent.
According to the Des Moines Register, Paul "made it clear" that he "considers college students an integral part of his campaign" while speaking at ISU Friday night. Prior to his speech, a student led the crowd in a "President Paul chant" to a crowd of almost 600 people.
Paul joined students for a tailgate before the University of Iowa football game against ISU Saturday morning.
Proud to be at Jack Trice Stadium today for the Iowa/Iowa State game! #cyhawk https://t.co/sDnhGhh7XE

— Dr. Rand Paul (@RandPaul) September 12, 2015