© 2023 Blaze Media LLC. All rights reserved.
Chris Christie Slams Congressional Republicans: 'What Have These Guys Done?
"And this is why people can't stand Congress."
Republican presidential candidate Chris Christie slammed Republican lawmakers in Washington, D.C. for not coming together to get things done while in Congress.
Appearing on NBC's "Meet the Press" Sunday, the New Jersey governor said Congressional Republicans, specifically new Senate Republicans, have "under-delivered" when it comes to the promises they made to voters when they were elected.
"What have these guys done — these Senate candidates, new senators — that they promised to do?" Christie told host Chuck Todd. "We don't have tax reform on the President's desk, we don't have a repealed or replacement of Obamacare on the desk, we don't have any of the things that they ran on the desk. Make the President veto them. And this is why people can't stand Congress."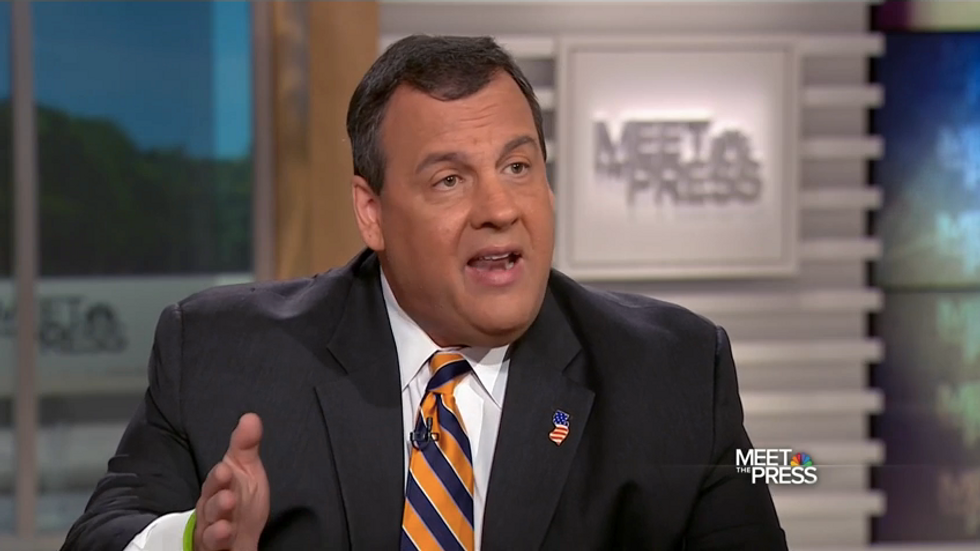 Image source: NBC News
"And the fact is, you would never as an executive, you would never be allowed to have this," the Republican candidate continued.
Todd said Christie's message of "let's work together" has not resonated with Republican primary voters who he said are less interested in compromise but instead interested in "burning the place down" when it comes to Congress.
Christie agreed, saying voters "want to burn Congress down because it doesn't do anything."
"You can stand up and be strong as I've done in New Jersey and still find a way to work together and compromise. But these folks on Capitol Hill have no interest in doing that. They care more about being on shows like this inside the Beltway and, you know, spouting off things."
Christie touted his record with American for Tax Reform, the taxpayer advocacy group that has said Christie "has vetoed more tax hikes than any other Governor in modern history."
Todd questioned Christie's recorded as New Jersey's governor, bringing up statistics that show the state as 50th in business tax climate and 46th for growth in 2014.
"Yeah, you should have seen what it looked like when I got there," Christie responded.
Christie and Todd also sparred over the infamous Bridgegate scandal with Christie comparing his handling of the situation to how Democratic presidential candidate Hillary Clinton has handled her own controversies from when she served as secretary of state.
The latest CNN/ORC poll, released on Thursday, Sept. 10, shows Christie polling at 2 percent among Republican and Independent voters. With Christie in 10th place, business mogul Donald Trump leads the pack with 32 percent. Neurosurgeon Ben Carson is behind Trump with 19 percent.
Want to leave a tip?
We answer to you. Help keep our content free of advertisers and big tech censorship by leaving a tip today.
more stories
Sign up for the Blaze newsletter
By signing up, you agree to our
Privacy Policy
and
Terms of Use
, and agree to receive content that may sometimes include advertisements. You may opt out at any time.