BEIRUT (AP) — Russian forces are expanding the tarmac of a major airport in Syria's coastal province of Latakia, a stronghold of President Bashar Assad and his minority sect, a prominent Syrian monitoring group said Sunday.
The report comes amid rising concern among U.S. officials of increased Russian military activity in Syria. President Barack Obama cast the buildup as an effort to prop up the country's embattled leader, warning Moscow against doubling down on Assad.
Russia, a longtime backer of Syria's government, denies it's trying to bolster Assad and says its increased military activity is part of the international effort to defeat the Islamic State group which has wreaked havoc in Syria and Iraq. On Sunday, the Russian foreign minister called for the international community to include the Syrian government in efforts to fight IS.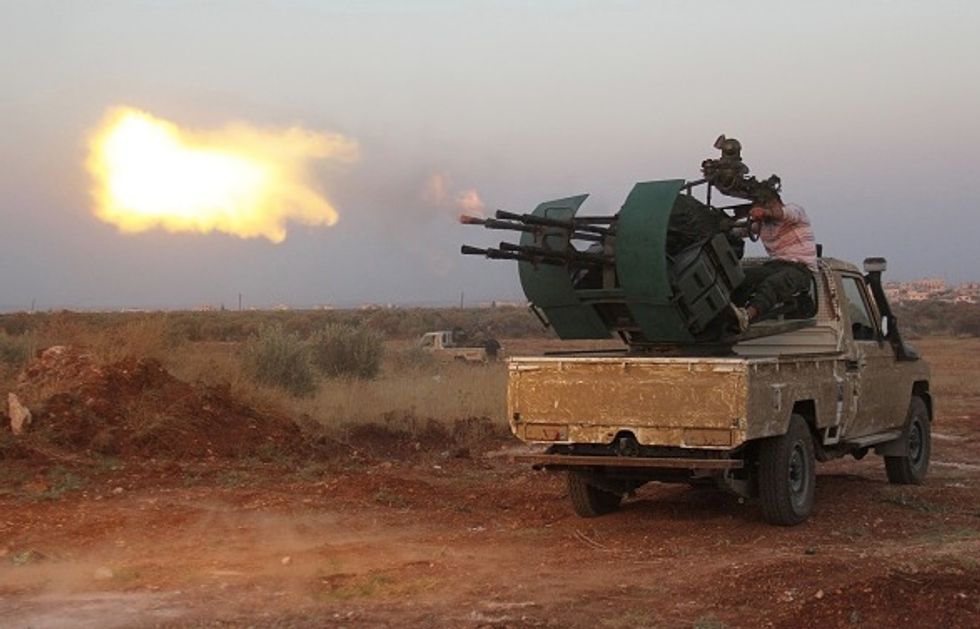 Rebel fighters fire a heavy machine gun during clashes with Syrian pro-government forces on the frontline facing Deir al-Zoghb, a government-held area in the northwestern Idlib province, on August 31, 2015. (Image source: OMAR HAJ KADOUR/AFP/Getty Images)
A former Lebanese general with knowledge of the Syrian military told The Associated Press last week that there are plans to build a military base in the coastal town of Jableh, about 15 miles south of Latakia city, where the airport currently under development is located. Israeli officials also say the aim appears to be a military base.
The airport, known by its old name Hemeimeem, already houses a military base and has come under shelling from advancing militants in the countryside.
After the Damascus airport, it's the most important functioning government-controlled airport in Syria. Officially named the Basel al-Assad International airport, after the president's brother who died in a car accident in 1994, it has one terminal, according to the Syrian Civil Aviation Authority website. The tarmac is currently 3,000 yards long and 49 yards wide.
The head of the Britain-based Syrian Observatory for Human Rights, Rami Abdurrahman, said witnesses, including officials inside the airport, reported that the tarmac was being expanded, apparently to allow for larger planes.
"It could mean there will be more supplies or that they want to turn it into an international airport," Abdurrahman said.
Witnesses told the Observatory no Syrian military or civilian officials are allowed near the tarmac. Abdurrahman said there are other plans to develop another rural airport east of Latakia city.
The Observatory relies on a network of activists on the ground to report on the Syrian civil war, now in its fifth year. More than 250,000 people have been killed and nearly half of Syria's pre-war population of 23 million has been displaced from their homes. About 4 million of them are refugees in neighboring countries.
In an interview with Russian state television aired Sunday, Russian Foreign Minister Sergey Lavrov said it was "absurd" for the West to exclude the Syrian armed forces from the fight against the Islamic State group.
He also criticized the West for saying it would welcome a contribution from Russia or any other country only if it did not strengthen Assad's position. Lavrov noted that Australia was expected to join Britain and France in bombing Syria.
"Sometimes I wonder, maybe they all want Russia, too, to announce that it will carry out strikes on the terrorists in Syria, without asking the president of this country," he said.
Assad has suffered a string of battlefields losses, costing him control of two major provinces in the country's north, and various other areas including airports and strategic towns that fell to Sunni Islamist groups and IS fighters.
The Alawite sect, from which Assad and his family descend, makes up about 13 percent of Syria's pre-war population. It has historically been centered in towns and villages of Syria's mountainous coast that make up the provinces of Latakia and Tartous. If the regime falls, that heartland could become a refuge for the community — and even for Assad himself — from which to fight for survival against a Sunni rebel insurgency.
Also Sunday, one of the most powerful Islamic groups fighting Assad's forces, Ahrar al-Sham, announced that it chose a new leader. The group said in a statement posted on social media that Mohannad al-Masri, who goes by the nom de guerre Abu Yahia al-Hamawi, was elected by consensus.
Al-Hamawi replaces Hashim al-Sheikh, who led the group for a year after its senior leadership was killed in a bombing last year.
Ahrar al-Sham was part of a coalition of rebels including al-Qaida's affiliate in Syria that seized the northern Idlib province from government forces. But the group's leadership has recently tried to distance itself from al-Qaida ideology, portraying itself in an op-ed published in the Washington Post as a moderate Islamist group.
Al-Hamawi, born in 1981, is a civil engineer by training who studied at a university in Latakia. He served time in Damascus' main prison until 2011, when the Syrian uprising began, according to Syria expert Aron Lund in an article published on the Syria Comment blog.
Associated Press writer Lynn Berry in Moscow contributed to this report.
—
Follow Dave Urbanski (@DaveVUrbanski) on Twitter