Fred Mayhew, with his World War II veteran hat atop his head, pulled his money out of his pocket to pay for his groceries on Sept. 2, but a young woman standing in line behind him had other plans.
"I was standing there, and I had two $20s in my hand to pay for my groceries when the girl behind me said, 'Put that back in your pocket. I'm gonna pay for that,'" Mayhew told the Bangor Daily News. "She told me, 'Lots of luck' and 'thank you for being a veteran.'"
"I've never seen her before in my life," Mayhew said. "I said, 'What's going on here?'"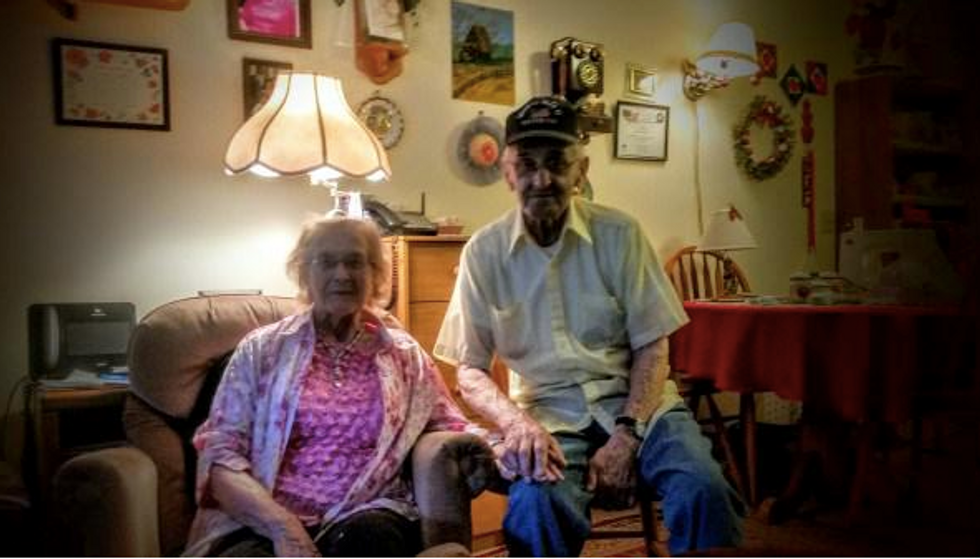 Image via Twitter @TheHoads
Mayhew, who will turn 89 in October, is a well-known resident of Hampden, Maine, according to the Bangor Daily News. The veteran regularly makes chocolate fudge which he delivers to local businesses, the fire department and senior citizen events.
But while he was standing in line at the Hampden Hannaford grocery store earlier in September, it was he who received a gift.
When he returned home from the store, Mayhew told his wife, Esther, that he hadn't paid for the groceries.
"I said, 'What did you do? Steal them?'" Esther, who has been married to Mayhew for eight years, said. "He said, 'No, a lady came up behind me and told me to put my money in my pocket.'"
Mayhew served as an infantryman with the U.S. Army in 1945 and 1946. He was sent to the Hawaiian Islands, Korea and Okinawa to relieve members of the Seventh Infantry Division, the "Bloody Seventh." He eventually returned back to the U.S. where he was honorably discharged.
The Bangor Daily News reported that his basic training completion certificate and discharge papers are proudly displayed in frames in his home.
Al Worster, a World War II Air Force veteran and the 88-year-old friend of the Mayhews, told the newspaper that he has experienced random acts of kindness as well.
"Good things still happen in the world," he said.
As for the unidentified woman, although the Mayhews do not know who she is, they said they wished to express their gratitude for her.
(H/T: Bangor Daily News)