© 2023 Blaze Media LLC. All rights reserved.
Gay Rights Group's Billboard Message Purportedly Uses 'Bible Scripture' Against Defiant Kentucky Clerk — but Which Verse Is It?
"The anti-LGBTQ movement is comprised of a substantial number of zealots..."
A newly erected billboard on display in Morehead, Kentucky, takes direct aim at Rowan County clerk Kim Davis' continued refusal to issue same-sex wedding licenses.
Paid for by gay rights and humanitarian group Planting Peace, the message — which cost $500 and will remain up for one month — features pictures of goats and a cow and reads, "Dear Kim Davis, The fact that you can't sell your daughter for three goats and a cow means we've already redefined marriage."
It's a billboard that Planting Peace said is intended to take aim at the oft-times "rigid" definition of marriage that a "substantial number of zealots" refer to when stating their rejection of same-sex nuptials.
"The anti-LGBTQ movement is comprised of a substantial number of zealots who unfailingly refer to their rigid interpretation of religious text to narrowly define 'traditional' institutions and values," read a statement from Planting Peace. "They pick and choose what they wish to convey as immoral and unacceptable, while seemingly sweeping lines of scripture just a few letters away completely under the rug."

Planting Peace
The organization said that there are many young people who are taking their lives over anti-gay messages that leave them feeling "broken," and that the organization is seeking to counter Davis' sentiment.
"Our message to our LGBTQ youth is simple: You are loved, valued, supported, and beautiful," read a statement from Planting Peace. "There is nothing wrong with you, and we will stand by you. You are not alone."
According to the Washington Post, the statement on the billboard is "an apparent reference to biblical verses that permit the selling of women." And Time adds that it is in reference to a "Bible scripture in Exodus that suggests women can be sold into a marriage."
An NBC report was more specific, linking to Exodus 21:7 and claiming that the statement addressed to Davis "appears to refer to a Bible scripture that says women can be sold into marriage as slaves."
Exodus 21:7-8 reads, "When a man sells his daughter as a slave, she will not be freed at the end of six years as the men are. If she does not satisfy her owner, he must allow her to be bought back again."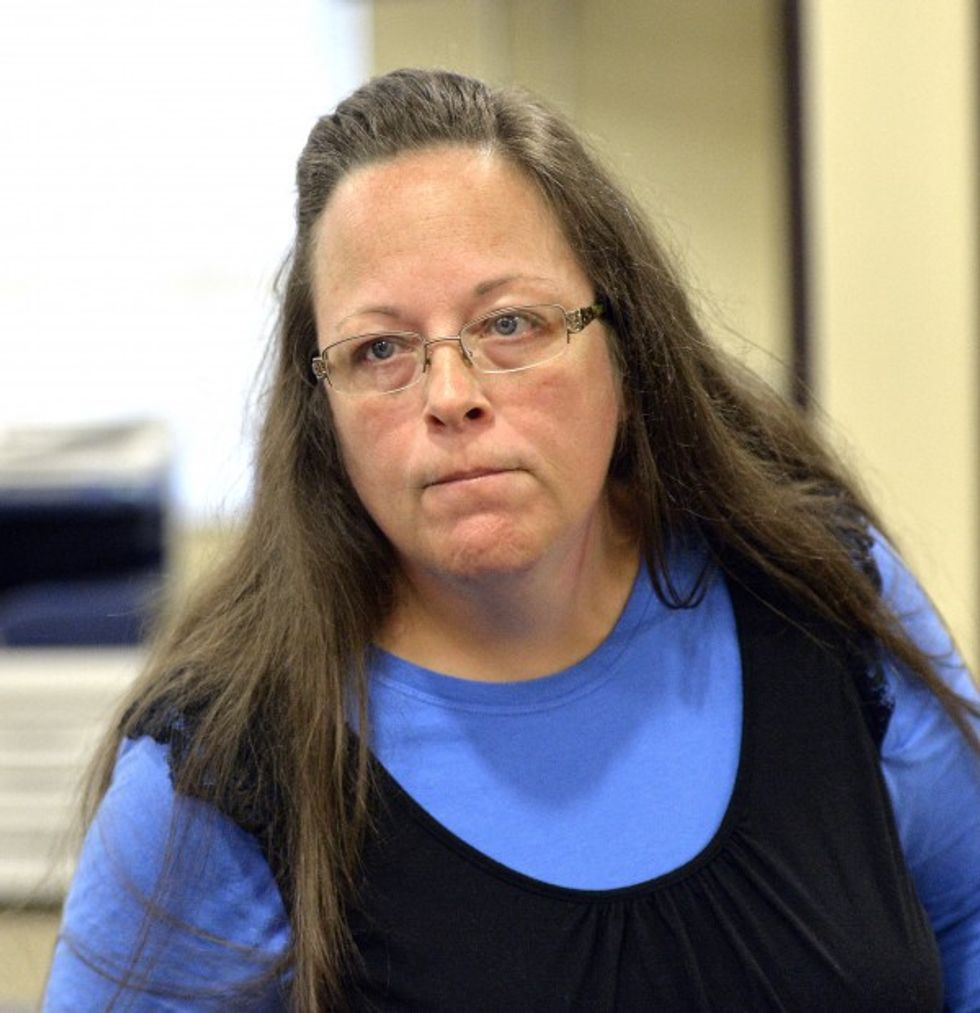 Rowan County Clerk Kim Davis listens to a customer following her office's refusal to issue marriage licenses at the Rowan County Courthouse in Morehead, Ky., Tuesday, Sept. 1, 2015. (AP Photo/Timothy D. Easley)
Debate has raged for eons over what these scriptures, among others, mean, and the discussion is likely to continue, as some scholars note that slavery in a biblical context was generally different from the modern-day paradigm.
Consider the explanation given by Christian website Compelling Truth:
A girl sold to a family for the eventual purpose of being married into that family had different rights (Exodus 21:7-11), although, to modern eyes, they look like restrictions. She was not to go free because working to freedom was never the intent. Once she was married to either the master or his son, she was no longer a slave, but a member of the family—a daughter (vs. 9) or a wife (vs. 10). If the master rejected or divorced her (vs. 8, 11), she and her birth-family were forgiven the whole debt.
Read more about the biblical slavery issue here.
A request for comment from Planting Peace was not immediately returned to TheBlaze.
(H/T: USA Today)
Want to leave a tip?
We answer to you. Help keep our content free of advertisers and big tech censorship by leaving a tip today.
more stories
Sign up for the Blaze newsletter
By signing up, you agree to our
Privacy Policy
and
Terms of Use
, and agree to receive content that may sometimes include advertisements. You may opt out at any time.