Hillary Clinton released a short video message to victims of sexual assault Monday to say, "we're with you."
"I want to send a message to every survivor of sexual assault," the Democratic presidential candidate said. "Don't let anyone silence your voice. You have a right to be heard, and you have a right to be believed."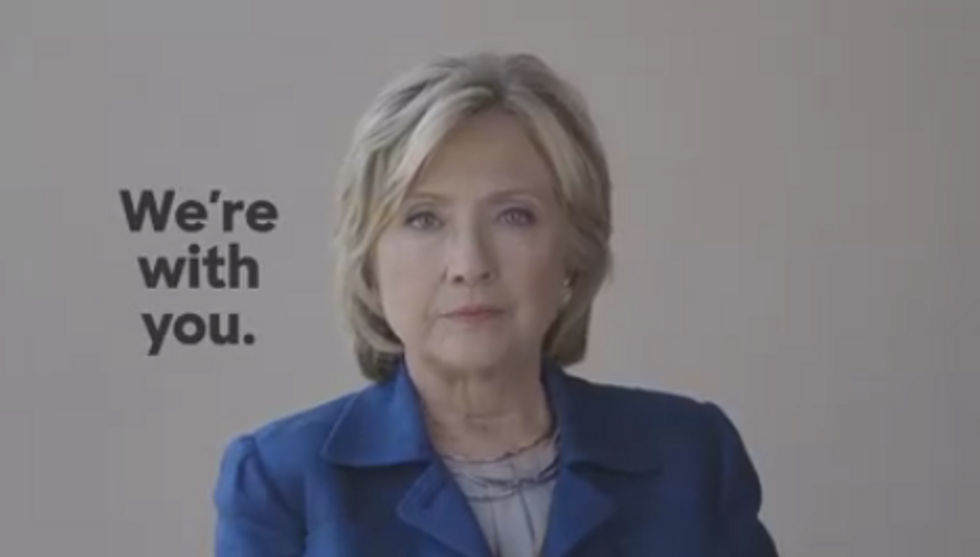 Screengrab via Facebook video
The 18-second video includes a link to Clinton's campaign page where campus sexual assault is listed as one of her key issues. Touting the contentious statistic that says one in five women will be sexually assaulted while in college, Clinton promised to "bring an end to sexual assault on America's campuses."
According to her issues page, Clinton's pledge to eradicate campus sexual assault is based on three points: provide comprehensive support to survivors, ensure a fair process for all and increase prevention efforts.
"Too often, the process of addressing a sexual assault on campus is confusing and convoluted. And many who choose to report in the criminal justice system fear that their voices will be dismissed instead of heard," Clinton's page said.
"This includes providing all parties involved with notice and transparency in campus disciplinary proceedings, and ensuring that complaints filed in the criminal justice system are treated seriously," it continues.
As for prevention efforts, Clinton announced that she would increase education programs on consent and bystander intervention in both college and secondary schools.
Clinton also praised the Obama administration on her page for starting a national conversation on campus rape. 
Hillary's message to survivors of sexual assault: We're with you.

Posted by Hillary Clinton on Monday, September 14, 2015