Two topless women were arrested in France over the weekend after they jumped on stage at a conference as preachers discussed the role of Muslim women.
The Femen protesters, 25- and 31-years-old, ripped off their Arab-styled cloaks, grabbed the microphones from the stage and shouted feminist slogans in Arabic and French, according to the Telegraph. Eventually the two were subdued by approximately 15 men who handed them over to police. One of the men appears to kick one of the women while she is on the ground.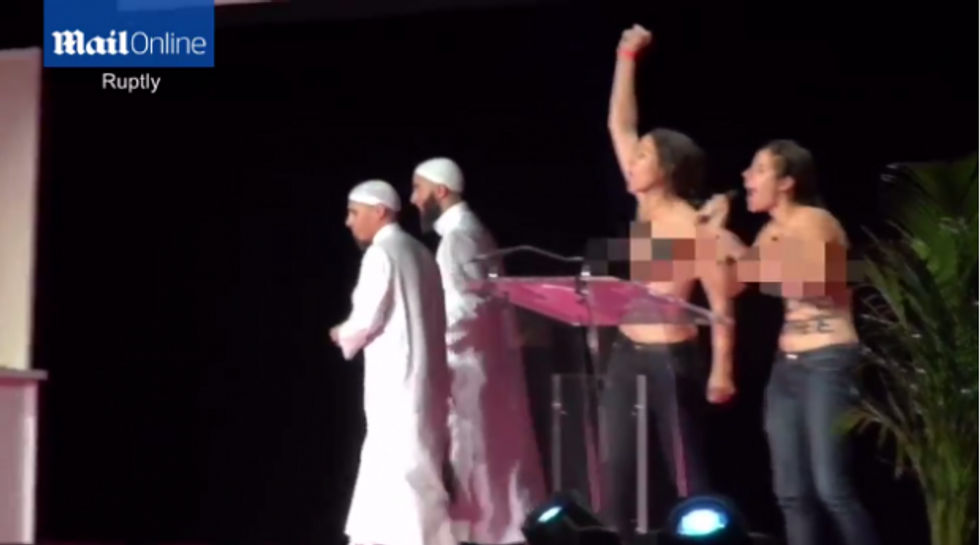 Image via screenshot
Inna Shevchenko, a spokeswoman for the protest group, told the Telegraph that the demonstration occurred while the fundamentalist preachers were discussing "whether wives should be beaten or not." One of the protesters had the words, "I am my own prophet" written across her chest. The other's chest read, "No one subjugates me."
Shevchenko said some of the men shouted "kill them" and "dirty whores." She thanked the police officers for keeping the two women safe after their demonstration.
The women have been questioned by prosecutors and released as an investigation is pending. Conference officials said they do plan to press charges.
The Femen protesters began in 2008 in Ukraine and have participated in many topless protests.
Warning: Strong content