The Islamic State doesn't produce its own tanks or procure weapons from a major power, but the militants do have a growing armory thanks to Cold War-era weaponry, according to a new report.
Fox News reported that experts have warned that there should be concern surrounding how well-armed the Islamic State is with both modern military weaponry and Cold War armaments captured from Syrian fighters. As Syria was supported by the Soviet Union during the Cold War, weapons from that time — ranging from assault riffles to battle tanks — are used by every side in the country's civil war.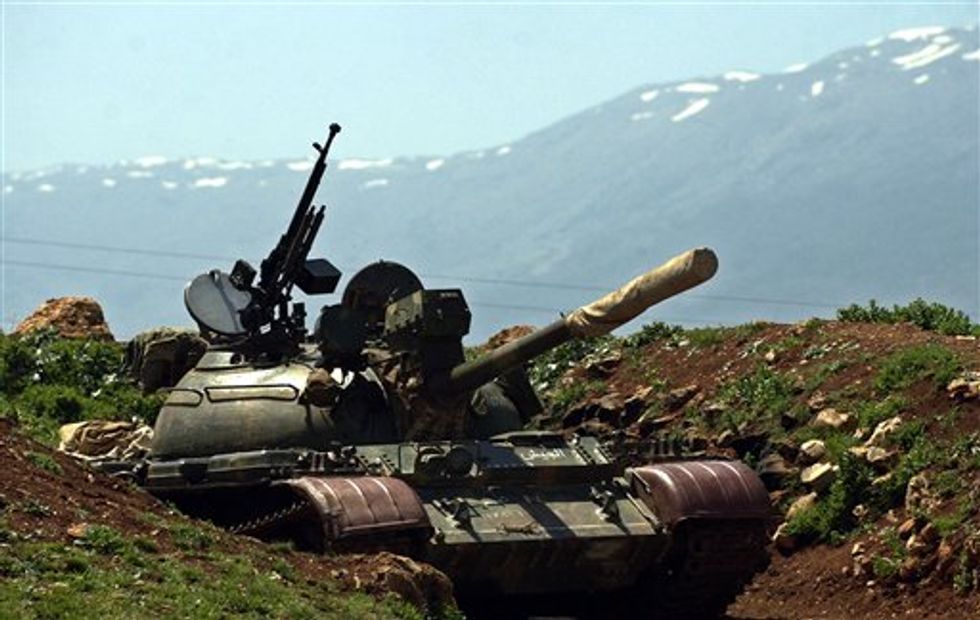 A Syrian T-55 Soviet made tank is positioned in the Bekaa valley near Masnaa, eastern Lebanon, Monday, April 11, 2005. (AP Photo/Darko Bandic)
"Syrian rebel groups probably make the most extensive use of heavy equipment at the moment, thanks largely to battlefield successes," Jeremy Binnie, Middle East/Africa editor for IHS Jane's Defence Weekly, told FoxNews.com. "But that is also a product of the Syrian military's vast inventory of Soviet-era weapons and equipment, (as well as) its inability to destroy this materiel after it has been captured."
Fox News reported that the Islamic State's Cold War-era tanks can especially be a problem as they don't require much upkeep and are more difficult to destroy. This would help explain why the Islamic State fighters have remained on the ground, Robert Farley, assistant professor at the Patterson School of Diplomacy and International Commerce, told Fox News — planes can only do so much compared to tanks. And while a tank does need fuel and spare parts, Farley said if a plane crashes, it's not much use.
"You drive a tank down the road, and if it breaks you still have a tank that you can repair and the crew, which can still fight," he said.
Because of their weaponry, Fox News reported that insurgent groups are able to act more like an actual army — allowing these groups to take and hold ground. For example, Islamic State militants have in their possession fixed anti-aircraft guns which threaten coalition aircraft and shoulder-mounted anti-aircraft weapons that can take down commercial airliners.
"Rocket-fired grenades and shoulder-launched missiles have long been available in black markets in the Middle East and Africa, but this higher-end stuff is coming from other sources," Seth Jones, director of international security and defense policy center at the RAND Corp. told FoxNews.com. "This really shows that conventional weapons are a reason for concern. In many ways we're largely past the stage of nuclear proliferation unless it was provided by a state, and that isn't likely to happen. However, these anti-aircraft weapon systems of all sizes are still a reason for concern."
Read more of the Fox News report on the Islamic State's arsenal here.