TheBlaze TV contributor Lawrence Jones freely admits that he used to be an avid supporter of President Barack Obama, sometimes even making 400 calls a day for the Obama campaign. But sometime in 2009 or 2010, Jones said he started to realize that "what [he] was sold wasn't actually true."
On Tuesday, Jones said he sees "dangerous" similarities between the presidential campaigns of Obama and billionaire businessman Donald Trump, who he said are both "prying on people's emotion."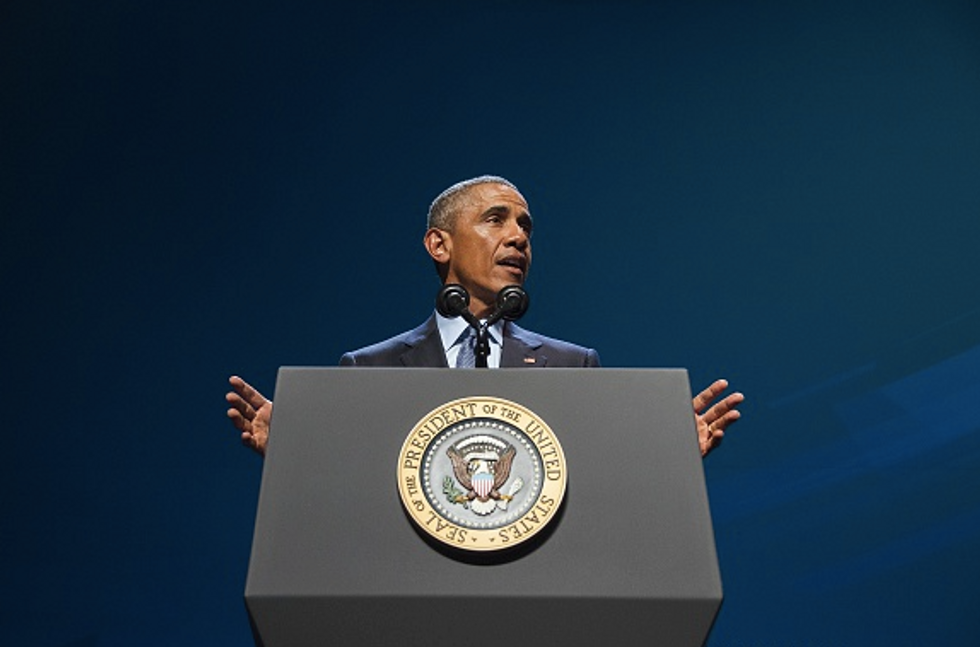 President Barack Obama speaks during the National Clean Energy Summit 8.0 in Las Vegas, Nevada, August 24, 2015. AFP PHOTO/JIM WATSON ( JIM WATSON/AFP/Getty Images)
"Hope and change -- people were hopeless. And they were looking for somebody to come in and save things and fix it," Jones said. "Now people are fed up. They're sick of it. They've tried the hope and change. They've tried the politicians, and now they're sick of all of it. They don't even want a politician to fix it anymore. They want somebody that's an outsider to come in and fix it."
Jones said when he attended Trump's event in Dallas on Monday, the similarities solidified when started speaking to Trump supporters.
"I started asking them policy questions ... and they had no answers," Lawrence remarked. "All they could say is, 'He's talking about things that traditionally wouldn't be talked about ... It doesn't matter right now. What matters is, I feel like I'm being heard.'"
"This is dangerous, Glenn. I've lived this," Jones concluded. "I was a young man and I gave all my support to Obama. I did not care [about his positions]. ... And now we've got a president that has fundamentally changed America. Let's not repeat history this quickly."
The full episode of The Glenn Beck Program, along with many other live-streaming shows and thousands of hours of on-demand content, is available on just about any digital device. Click here to watch every Glenn Beck episode from the past 30 days for just $1!