© 2023 Blaze Media LLC. All rights reserved.
An Elementary School Principal Saw This Homeless Man Sifting Through the Trash. The Events That Transpired Next Has His Picture Going Viral.
"This is a God thing."
What started as an encounter at a black garbage can outside of a Best Buy in Mobile, Alabama, could change a homeless man's life ... if he can be found again.
John Brantley, an elementary school teacher, left the electronics store Tuesday evening when he saw something that is not exactly uncommon. There at the trash can along the side of the building was a man sifting through the refuse, looking for something to eat. Brantley continued walking to his car, watching the man pull out and inspect items that had been discarded.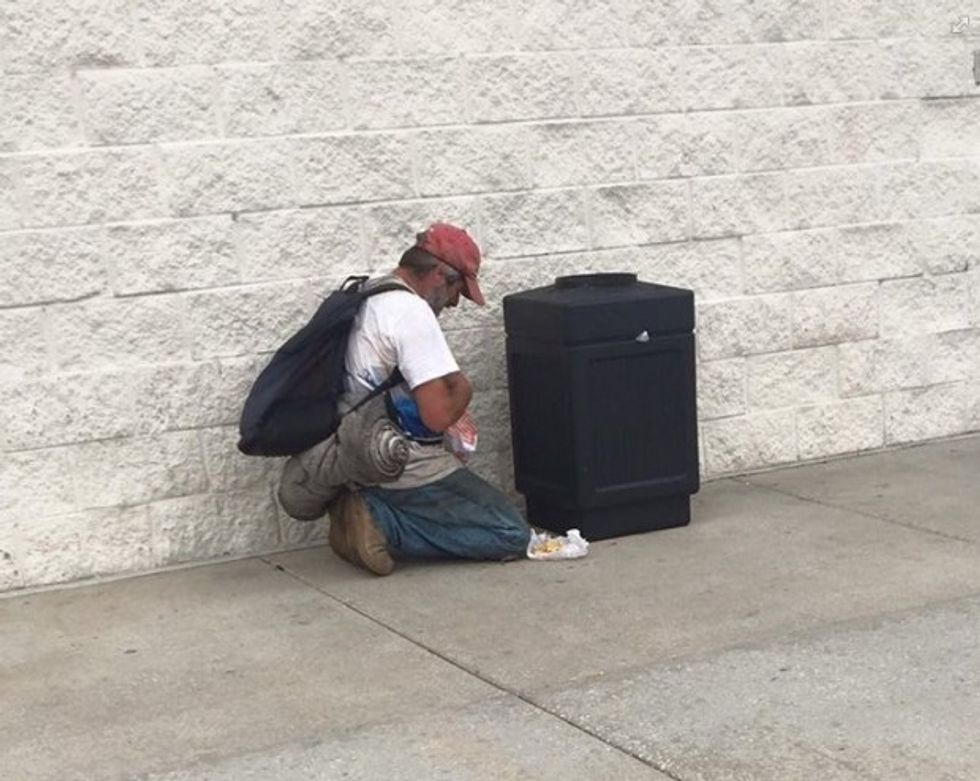 Photo credit: John Brantley
"He would find a few fries in one bag and a bite or two of a hamburger in another bag. You can see the hamburger wrapper by his knee where he was placing the food items he'd found," Brantley wrote in a Facebook post.
Unlike many who would ask for money or help, this man stayed silent, going about his business of sorting through what others had thrown away.
"My heart literally hurt for him. I am not someone who just hands out money or even helps homeless people because so many are not truly homeless. I don't guess I've ever seen someone actually go through a garbage can to try to find food to eat," he continued.
In a phone interview with TheBlaze Brantley said even after he had gotten into his car, he felt compelled to go back.
"I don't know if it was simple fact that he wasn't asking anyone for money or if it was that I saw him literally digging in the trash to get scraps of food out," Brantley said. "I've never experienced a feeling like that before in helping someone."
Brantley got back out of his car and walked toward the man who he would later learn was named Steve.
"I got out of my car and asked him if I could buy him something to eat. He told me he would appreciate anything I could get him," Brantley wrote.
"I bought him the biggest meal they had on the menu. The only request he gave me for his order was if I could get him a big glass of sweet tea to go with his meal!" Brantley's post, which since being posted Wednesday has amassed over 500,000 shares on Facebook.
Brantley would later learn that Steve has been homeless for about a year since his sister died. The man who Brantley estimated to be perhaps in his late 50s, told him he had been trying to get off the streets "but it was so hard."
"I told him God loved him and I would pray for him. He told me again how much he appreciated the meal," Brantley wrote.
For many, the story would end here. As Brantley got back into his car again and drove away, he still couldn't shake Steve from his mind. So he went back again.
Catching Steve as he was riding away from the fast-food restaurant on his bike, Brantley pulled up along side him and asked if he could help further.
"He told me not really. He never asked me for money. I asked him if I could buy him a few meals and put it on a gift card for him. He told me that would be so kind. I drove to McDonalds and bought him some meals and gave him a gift card," Brantley wrote.
That's when Brantley learned that he was the answer to a prayer.
"He told me that he prayed for me today! I wasn't sure what he meant (I was assuming he was praying for me for what I did for him) so I thanked him. He said, 'No, you don't understand. I prayed that God would send someone to buy me a hot meal today...and he sent you!'"
At first, Brantley wrote that he didn't know what to say.
"I always pray over my food, but I've never prayed for a meal...its expected! I've never doubted that I wouldn't be able to eat...Tears began to fill my eyes! Oh my...how blessed am I... Maybe God used me to answer this man's prayer...to let him know that He cares for Him and knows what goes going through! But, maybe God used this man to show me just how blessed I am and what I take for granted," Brantley's viral post continued.
And then Brantley learned something else. Steve has cancer.
"He pulled up his shirt and pointed to a huge mass that was poking out from his stomach. He said said he knew it wouldn't be much longer," Brantley wrote. "I asked him if knew Jesus. He told me that he did. I asked if I could pray for him and he said that I could. We prayed right there on the sidewalk of McDonalds. Tears just poured from his eyes. He told me he knew that he was going to die and that he was ready to die. He was tired of being in pain and he would be better off dead because this was no life - living this way. I stayed and encouraged him for a few minutes trying to fight back my tears. My prayer is that I showed him the love of Jesus today...that something I said gave him a hope.
"You see, everybody has a story! I know Steve's story now...all because I felt compelled to help him...he ended up touching me today!"
Brantley told TheBlaze he was reluctant to even share this story. He had written it out and copied it to save, but then ended up hitting post.
"I didn't want people to think that I was bragging about what I had done, that was not my intention for doing the story. My intention was to show that God brought me to this man but God also brought this man to me."
Brantley said he thinks people have been so encouraged by his story because it shows the impact of such a small act of kindness, one that he hopes others will consider doing themselves.
"I have come to the conclusion that I am a selfish person. We as society are a selfish people. I think that when something is thrown in your face like that,when you see such a small act of kindness went such a long way to him ... people are so caught up in day-to-day life that we forget about what's important," Brantley said.
And while he might have fed Steve that night and for a few days, the help might not end there. Brantley said that he has been receiving calls from people offering to pay to put Steve up at a local home for the homeless and one woman even said her doctor agreed to help Steve with cancer treatment free of charge.
The principal added that the thinks he'll be able to relocate Steve and will keep us posted on how things develop from there.
"This is a God thing, it really is," Brantley said.
Want to leave a tip?
We answer to you. Help keep our content free of advertisers and big tech censorship by leaving a tip today.
more stories
Sign up for the Blaze newsletter
By signing up, you agree to our
Privacy Policy
and
Terms of Use
, and agree to receive content that may sometimes include advertisements. You may opt out at any time.