Palestinian Authority President Mahmoud Abbas on Wednesday asserted that all Christian and Muslim holy sites in Jerusalem belong to the Palestinians and vowed they would not be contaminated with the "filthy feet" of Israelis.
"Al-Aqsa is ours, and so is the Church of the Holy Sepulchre," Abbas said, referring to the church located where Christians believe Jesus was buried and resurrected.
Abbas went on to accuse Israelis of befouling Jerusalem holy sites, according to a Jerusalem Post report.
"They have no right to desecrate them with their filthy feet. We won't allow them to do so, and we will do whatever we can to defend Jerusalem," the Palestinian leader said at his Ramallah office.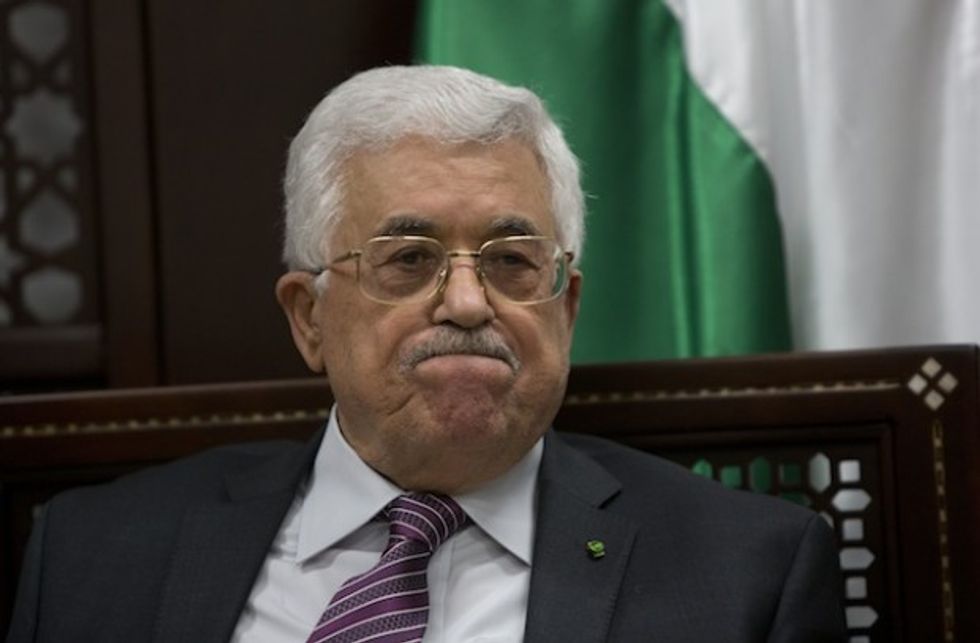 Palestinian President Mahmoud Abbas makes comments to journalists on the ongoing unrest at the Al-Aqsa mosque compound in Jerusalem, in the West Bank city of Ramallah, Wednesday, Sept. 16, 2015. Abbas condemned the clashes in particularly harsh language, insisting that none of Jerusalem's holy sites belonged to Israel. The site is revered by both Muslims and Jews and is a frequent flashpoint for tensions. (AP Photo/Majdi Mohammed)
"There will be no Palestinian state without Jerusalem," he stressed. "We are in Jerusalem and we will stay in it to defend our Islamic and Christian holy sites. We're not going to leave our country."
"We will remain holding every atom of soil in this homeland," he added, Al Arabiya reported.
Abbas praised Palestinians who have been confronting Israeli police as well as those who harass Jewish visitors and tourists daily at the Temple Mount, the holiest site in Judaism and third holiest site in Islam on which the Al-Aqsa mosque site.
"Each drop of blood that was spilled in Jerusalem is pure blood as long as it's for the sake of Allah. Every shahid (martyr) will be in heaven and every wounded person will be rewarded, by Allah's will," he said.
Earlier this week, Palestinian rioters clashed with Israeli police on the Temple Mount after the Palestinians were found to have been stockpiling rocks, firecrackers and pipe bombs for an attack apparently timed to the Jewish new year Rosh Hashana.