ExxonMobile has been accused of giving millions of dollars to so-called "climate deniers," but a new report based on eight months of investigation gives a historical look into the work the oil company did in the 1970s and 1980s in the field of climate change research.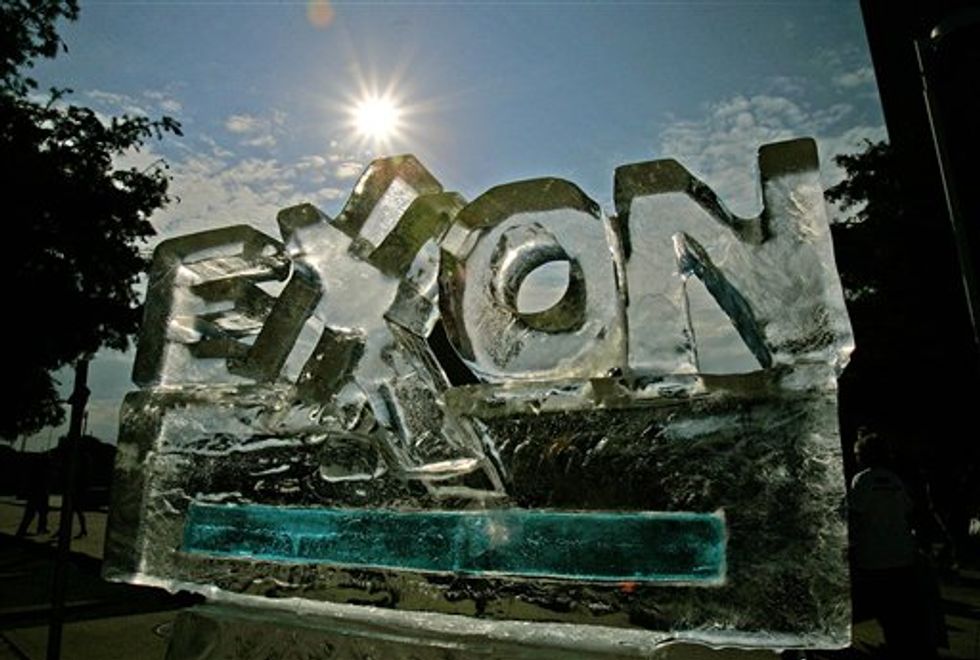 An ice sculpture fashioned by protesters slowly melts outside the Exxon Mobil shareholders meeting in Dallas, Wednesday, May 31, 2006. Shareholders gathered Wednesday for the oil giant's annual meeting while demonstrators claimed that the company is helping retard action against global warming. The protesters used the melting sculpture to demonstrate their view of how the company's policies are affecting the environment. (AP/LM Otero)
InsideClimateNews, releasing two parts of a three-part series this week, revealed, based on interviews with former employees and company document, that Exxon in the late 1970s and early 80s conducted extensive research on the role fossil fuels played in contributing carbon dioxide emissions into the atmosphere.
In a 1978 internal memo, Harold Weinberg with Exxon's Research & Engineering division wrote that the company's climate change research "may be the kind of opportunity that we are looking for to have Exxon technology, management and leadership resources put into the context of a project aimed at benefiting mankind."
InsideClimateNews' report details studies and conclusions drawn by Exxon researchers that linked the burning of fossil fuels to CO2 emissions and its impact on global warming:
When Exxon's researchers confirmed information the company might find troubling, they did not sweep it under the rug.

"Over the past several years a clear scientific consensus has emerged," Cohen wrote in September 1982, reporting on Exxon's own analysis of climate models. It was that a doubling of the carbon dioxide blanket in the atmosphere would produce average global warming of 3 degrees Celsius, plus or minus 1.5 degrees C (equal to 5 degrees Fahrenheit plus or minus 1.7 degrees F).

"There is unanimous agreement in the scientific community that a temperature increase of this magnitude would bring about significant changes in the earth's climate," he wrote, "including rainfall distribution and alterations in the biosphere."

He warned that publication of the company's conclusions might attract media attention because of the "connection between Exxon's major business and the role of fossil fuel combustion in contributing to the increase of atmospheric CO2."

Nevertheless, he recommended publication.

Our "ethical responsibility is to permit the publication of our research in the scientific literature," Cohen wrote. "Indeed, to do otherwise would be a breach of Exxon's public position and ethical credo on honesty and integrity."
Exxon's research was praised by an official in the Department of Energy.
"This represents very responsible action, which we hope will serve as a model for research contributions from the corporate sector," David Slade, manager the DOE's carbon dioxide research program, wrote in a 1979 letter to Exxon researcher Henry Shaw. "This is truly a national and international service."
Frederick Koomanoff, who InsideClimateNews reported succeeded Slade, said that Exxon "should be commended for their initiatives to investigate the carbon dioxide issue."
InsideClimateNews' second part of the series delves even more deeply into the "floating lab" Exxon developed, some say, to research atmospheric and oceanic CO2 along the route taken by one of its supertankers. Exxon spokesman Richard Keil said the project wasn't meant to focus on CO2 but to increase "understanding of the marine carbon cycle."
InsideClimateNews then described what it calls as an "about-face on climate change" by the company:
With alarm bells suddenly ringing, Exxon started financing efforts to amplify doubt about the state of climate science.

Exxon helped to found and lead the Global Climate Coalition, an alliance of some of the world's largest companies seeking to halt government efforts to curb fossil fuel emissions. Exxon used the American Petroleum Institute, right-wing think tanks, campaign contributions and its own lobbying to push a narrative that climate science was too uncertain to necessitate cuts in fossil fuel emissions.

As the international community moved in 1997 to take a first step in curbing emissions with the Kyoto Protocol, Exxon's chairman and CEO Lee Raymond argued to stop it.

[...]

Over the years, several Exxon scientists who had confirmed the climate consensus during its early research, including Cohen and David, took Raymond's side, publishing views that ran contrary to the scientific mainstream.
Keil said in a written statement to InsideClimateNews that the company "has committed itself to scientific, fact-based analysis of this important issue."
"At all times the opinions and conclusions of our scientists and researchers on this topic have been solidly within the mainstream of the consensus scientific opinion of the day and our work has been guided by an overarching principle to follow where the science leads. The risk of climate change is real and warrants action," Keil told the nonprofit online publication.
An Exxon representative was not immediately available to comment on these reports to TheBlaze.
When information earlier this summer made similar claims — that Exxon "knew of climate change in 1981" — Keil told the Guardian "the science in 1981 on this subject was in the very, very early days and there was considerable division of opinion."
As for accusations that Exxon has funded lawmakers and an organization considered skeptical of mainstream climate science, Keil told the Guardian "ExxonMobil does not fund climate denial."
On its own website, Exxon states "that it is prudent to develop and implement strategies that address the risks to society associated with increasing [greenhouse gas] emissions." It also states that addressing GHG emissions though is "one among other important world priorities, such as economic development, poverty eradication and public health."
"Throughout the world, national and regional policymakers are considering a variety of legislative and regulatory options to mitigate GHG emissions," Exxon stated. "In our view, assessing these options requires an understanding of their likely effectiveness, scale, and cost, as well as their implications for economic growth and quality of life."
Exxon emphasizes its belief that markets not regulators should drive technologies that would achieve these goals and meet needs. Exxon goes on to state that cost of climate policies that have been considered in the U.S. could be so expensive that it could "compete with other major policy priority areas including health, education, infrastructure and security. Poorly designed policies will needlessly channel funds and human resources into higher cost energy investments that could be used to address other pressing priorities."
When it comes to proposals to put a "cost on carbon," Exxon stated that it supports a carbon tax versus a cap-and-trade system.
"It is rare that a business lends its support to new taxes," the company said on its website. "But in this case, given the risk-management challenges we face and the policy alternatives under consideration, it is our judgment that a carbon tax is a preferred course of public policy action versus cap and trade approaches."
Read InsideClimateNews part 1 and part 2 of their three-part series.
Watch this PBS Frontline video that accompanied InsideClimateNews' report:
(H/T: Wired)