The New York Times is being slammed by pro-Israel media watchdogs for publishing an article Monday that not only had a "misleading" headline on a Palestinian rock attack that killed a Jewish motorist but also contained several factual errors that were corrected two days later.
The report focused on the killing of an Israeli man on his way home from a holiday dinner celebrating the Jewish new year Rosh Hashana. Alexander Levlovitz, 64, was killed in Jerusalem late Sunday night when he crashed his car into a ditch and hit a pole after coming under attack by Palestinian rock throwers.
But in its headline, the Times wrote only "Jewish Man Dies as Rocks Pelt His Car in West Bank."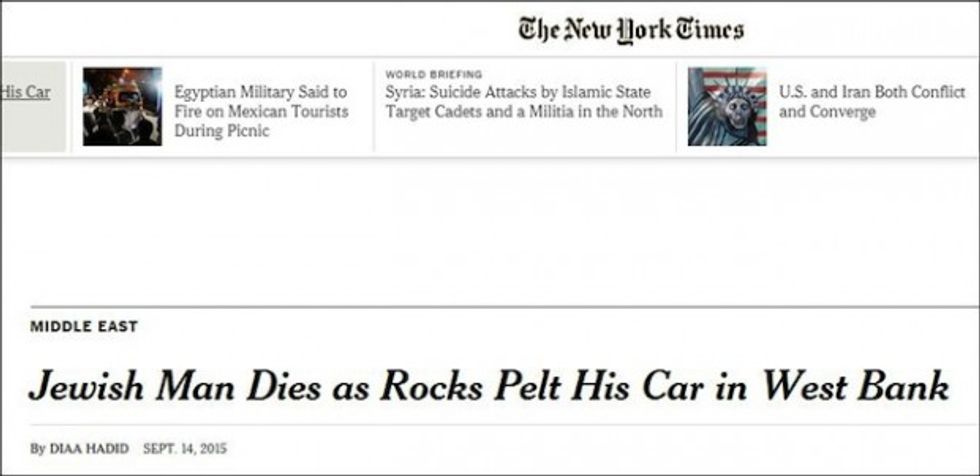 Source: NYTimes.com
The pro-Israel media watchdog Honest Reporting wrote that "the headline removes all Palestinian liability for the attack by virtue of its passive language."
"The Jewish man did not simply 'die' and rocks did not 'pelt his car' of their own accord. Palestinian attackers were responsible for hurling those rocks at the car," Honest Reporting continued, calling the headline "misleading."
That criticism was echoed by the Committee for Accuracy in Middle East Reporting in America, a longtime critic of the Times:
As is their wont, New York Times journalists have yet again attempted to conceal or whitewash Palestinian violence.  Both the reporter and the headline writer go to absurd lengths to hide the straightforward fact that Palestinian stone-throwers targeting Israelis succeeded in killing an Israeli Jew.  According to the headline, it was inanimate "rocks" that were pelting a car, while according to the lede, unidentified "attackers" were targeting a "road."
CAMERA pointed to a string of factual errors and omissions in the article, including a headline that initially misidentified the location of the attack as the West Bank, not Jerusalem (the body of the original article, however, correctly identified the location as Jerusalem); erroneously reporting that Israeli police entered Jerusalem's Al-Aqsa mosque to quell a riot there Sunday (police did not enter the mosque); failing to note that Palestinians were armed with pipe bombs and firecrackers at the mosque; and mentioning only that the Temple Mount site is the third holiest in Islam – without noting that it is holiest site in Judaism.
On Wednesday, two days after the article's publication, the Times issued corrections to the article pointing out that the Temple Mount is also "the holiest site in Judaism" and noting that police officers "fought with protesters on the perimeter of Al-Aqsa Mosque, but did not enter it."
In its correction, the Times additionally wrote, "The article also referred imprecisely to the area that Muslim women were barred from entering during the early morning. It is the entire compound, not Al-Aqsa Mosque itself."
While it amended the original headline to pinpoint the car crash to East Jerusalem, not the West Bank, the headline retains the passive language: "Jewish Man Dies as Rocks Pelt His Car in East Jerusalem."