The set of Dr. Drew's TV show on HLN got tense on Thursday night when a woman refused to stop shouting from the audience when she disagreed with a guest's opinion on the Black Lives Matter movement.
When asked why Black Lives Matter wasn't a focal point in the latest GOP debate, Breitbart's Alex Swoyer argued moderate Hugh Hewitt is big on "foreign policy," but said the issue will likely come up in future debates.
"I don't care about…foreign policy, I care about right now!" the woman shouted.
Swoyer continued to speak over the woman's screaming, claiming the Black Lives Matter movement started in Ferguson, Missouri, based on the "not true" claim of "hands up, don't shoot" in the officer-involved shooting death of Michael Brown.
The comment only incensed the woman more and Dr. Drew eventually had to angrily confront the audience.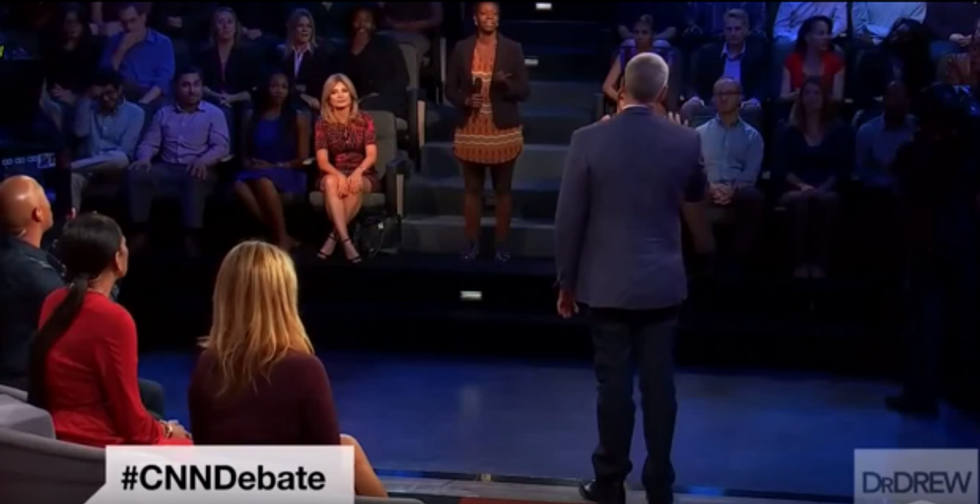 HLN
"I'm going to shut down this TV show and go to a test pattern unless people behave themselves and behave civilly," he said. "I'm not kidding."
"That's fine," the woman replied. "I don't care about the show!"
She was ultimately escorted out of the studio by security.
Watch the moment via HLN below:
(H/T: Mediaite)
---