PHOENIX (AP) — A landscaper suspected in a series of Phoenix freeway shootings told a judge Saturday that authorities have "the wrong guy" and he hasn't even had a gun for two months.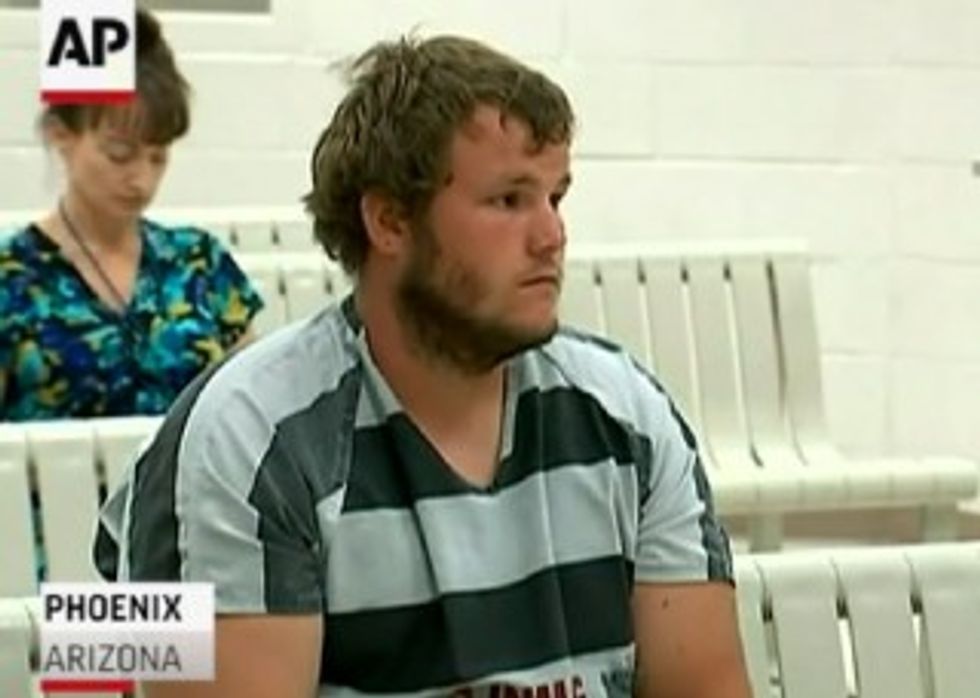 Leslie Allen Merritt Jr. (Image source: AP)
Leslie Allen Merritt Jr. was charged with counts including aggravated assault, criminal damage, disorderly conduct, carrying out a drive-by shooting and intentional acts of terrorism.
In a brief court appearance, a prosecutor said the 21-year-old landscaper should face a high bail after drivers spent the last three weeks on edge.
"The suspect presents a dramatic and profound threat to the community," said Ed Leiter of the Maricopa County attorney's office.
Superior Court Commissioner Lisa Roberts set bail at $1 million, and Merritt, who had remained quiet during the proceedings, asked in a soft-spoken voice to address the court.
"All I have to say is I'm the wrong guy. I tried telling the detectives that. My gun's been in the pawn shop the last two months. I haven't even had access to a weapon," he said as he stood handcuffed in a black and white striped jail uniform.
Merritt was arrested Friday evening after a SWAT team swarmed him at a Wal-Mart in the suburb of Glendale. Minutes later, Gov. Doug Ducey proclaim on Twitter, "We got him!"
Frank Milstead, director of the Arizona Department of Public Safety, said at a news conference late Friday that forensic evidence linked Merritt to the shootings of a tour bus, an SUV and two cars on Interstate 10 on Aug. 29 and 30.
Eleven cars in all were hit bullets or other projectiles, such as BBs or pellets, while driving along Phoenix freeways between Aug. 29 and Sept. 10. There have been no serious injuries, although a 13-year-old girl's ear was cut by glass when a bullet shattered a car window.
Milstead said the investigation continues. "Are there others out there? Are there copycats? That is possible," he said.
In an interview with The Associated Press, Merritt's father was adamant that his son had nothing to do with the shootings and anyone who says he was involved is a "moron."
Leslie Merritt Sr. said he believes his son is being made a scapegoat by police who were desperate to make an arrest under immense public pressure.
"He has way too much value for human life to even take the slightest or remotest risk of actually injuring someone," the elder Merritt said. He said his son likes guns but is not a criminal.
Here's a report from KNXV-TV on Merritt:
Merritt Jr.'s Facebook page, confirmed by his father, has two video clips that show him firing guns into the desert toward a palm tree, exclaiming "whoo" after squeezing off a round.
Phoenix City Councilman Sal DiCiccio, who received updates about the arrest from police, said the suspect tried to pawn the gun used in the shootings.
A man who identified himself as a manager at Mo-Money Pawn declined to comment Saturday beyond a post on a Facebook page that said detectives contacted the shop Wednesday looking for a certain caliber and make of handgun and examined several weapons.
The Wal-Mart where Merritt Jr. was arrested Friday is 6 miles north of where some of the shootings occurred along I-10, a major route through the city.
The shootings prompted several school districts to keep their buses off freeways, and some commuters altered their routes.
Sarah Madder, of Phoenix, said she'll stay off I-10 for a few more days despite the arrest.
"It seems like there had to have been more than one person," Madder said Saturday. "If it calms down for a while, I'll get back on."
Dustin Ramirez, who was getting fuel at a Phoenix gas station, said there are still a lot of open questions if Merritt is suspected of only four of the 11 confirmed shootings.
"It's a little unnerving, but you got to admire their ability to catch the guy in the first place," Ramirez said.
Meanwhile Friday, a judge ordered the release of a 19-year-old man who was arrested on an alleged probation violation Sept. 11 and questioned regarding the shootings. Authorities have declined to explain the man's connection to the case but said he was not a prime suspect.
Three young men also were arrested and accused of hurling rocks at cars with slingshots in a case that authorities called a copycat to the shootings.
Associated Press writer Bob Christie contributed to this report.
—
Follow Dave Urbanski (@DaveVUrbanski) on Twitter