German police are investigating claims that a Syrian migrant currently housed in a temporary shelter in Germany fought for the Islamic State group, Germany's Welt am Sonntag newspaper reported.
According to the Sunday report, the man told others at the shelter that he had fought and killed for the jihadist group.
Other residents of the Brandenburg shelter secretly used their cellphones to record the man's claims, security sources said.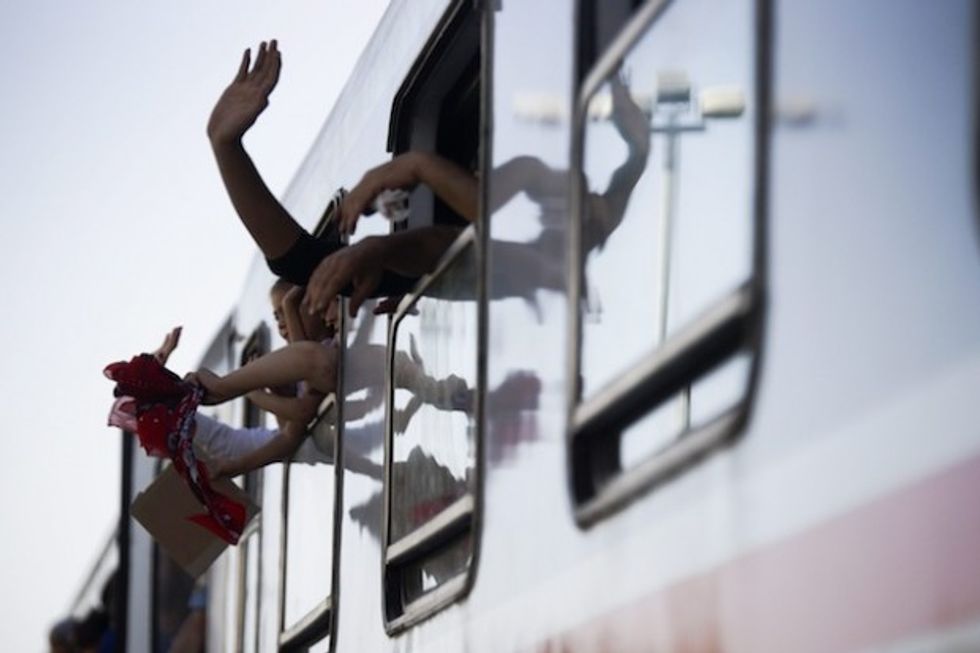 Migrants are seen on a train bound for Hungary at the railway station in Beli Manastir, Croatia, Friday, Sept. 18, 2015. (Zoltan Balogh/MTI via AP)
Welt reported that Germany's Federal Criminal Police (BKA) was examining photos posted online of suspected jihadists believed to be individuals seeking asylum in Europe. However, several such claims have been debunked in the media, including an examination of various photos last week by the Washington Post.
Even as they were said to be investigating the asylum-seeker in Brandenburg, federal police said they do not believe Islamists are secretly infiltrating the country from among the hundreds of thousands of migrants.
German officials estimate 800,000 migrants will arrive in Germany by the end of the year.
Secretary of State John Kerry announced Sunday that the U.S. would raise the number of refugees it accepts, from 70,000 this year to 85,000 in 2016 and 100,000 in 2017.
(H/T: Agence France-Presse)