White House press secretary Josh Earnest blasted Republican presidential candidate Ben Carson's comment that he "would not advocate that we put a Muslim in charge of this nation" as "disappointing," but in line with Republicans' willingness to embrace controversial views.
"The views articulated by Dr. Carson are entirely inconsistent with the Constitution that does actually guarantee the freedom of religion in this country," Earnest said Monday. "So ultimately there will be consequences. Certainly, those views will be taken into account by voters, both in the primary and in the general election."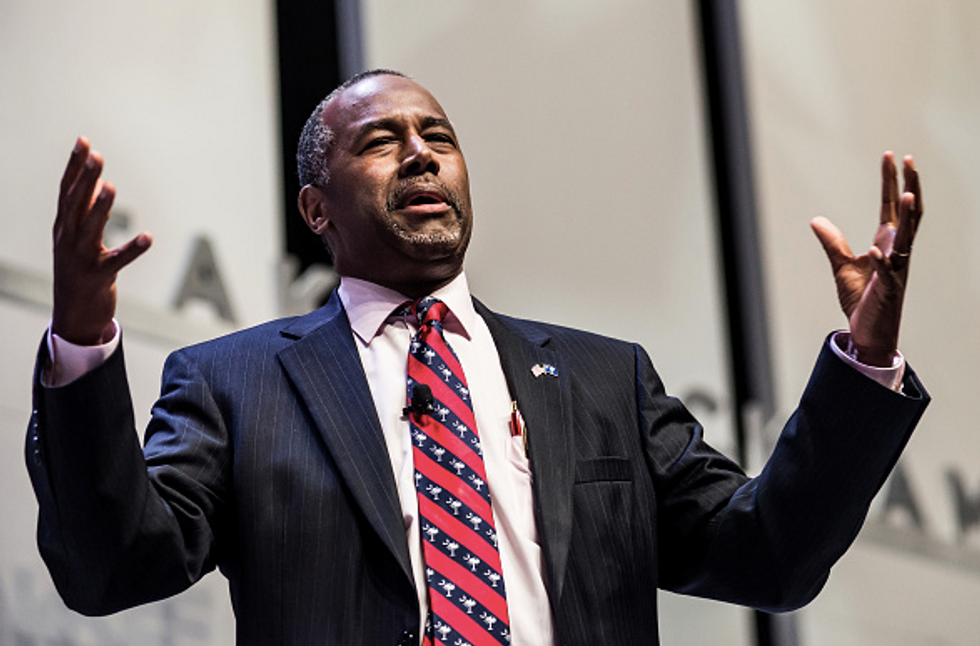 Republican presidential hopeful Ben Carson speaks to the crowd at the Heritage Action Presidential Candidate Forum September 18, 2015 in Greenville, South Carolina. Eleven republican candidates each had twenty five minutes to talk to voters Friday at the Bons Secours Wellness arena in the upstate of South Carolina. (Photo by Sean Rayford/Getty Images)
Carson said on NBC's "Meet the Press" Sunday that he doesn't believe Islam is consistent with the Constitution. An adviser of Carson's doubled down on Monday, insisting the retired neurosurgeon would not apologize for his words.
The Council on American Islamic Relations has called for Carson to drop out of the presidential race.
The Carson campaign did not immediately respond Monday to inquiries from TheBlaze about Earnest's comments.
On Friday, Earnest said that GOP presidential candidate Donald Trump's failure to correct a town hall attendee's charge that President Barack Obama was a secret Muslim was part of a bigger problem with the entire Republican party. Earnest made the same charge Monday with regards to the Carson comment.
"We have seen, not just a tendency, but a willingness on the part of some successful Republican politicians, let's face it, Dr. Carson in many of the polls ranks second or third, in elevating his status in the Republican party, and we've seen a willingness on the part of many of these candidates to countenance offensive views all in the pursuit of political support," Earnest said.