It was September 2009. A 16-year-old honors student named Derrion Albert, an innocent bystander, was caught in the middle of the fight between two rival gangs. Albert was beaten to death and the video taken by another person was broadcast nationwide.
It was an event that stung Hondre Outley all the way in Texas.
"It was something about that just stirred my soul. I thought, 'Man we've got to do something,'" Outley told TheBlaze.
That's when Outley and a friend decided to create a local group in Houston to "channel these boys in the right direction."
Outley started Mufasa's Pride (more on the name later) not long afterward. The "rite of passage" program meets every other Saturday for four hours each time, leading discussions and teaching young men age 12 to 17 everything from global issues to how to articulate themselves, how to dress appropriately, how to stick to a budget and how to interact with the police, among other things.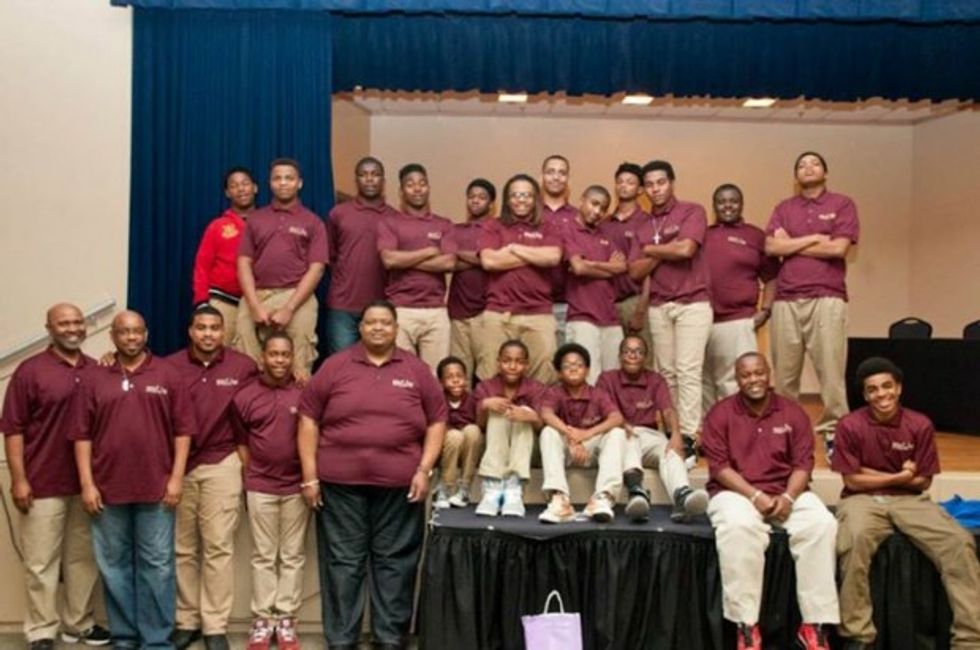 Image source: Mufasa's Pride/Facebook
"Our goal was to bring out what God has already put into them," Outley said. "We believe they already have what they need inside of them and we just help bring it out."
"We get them to really tap into their spirit man, into what was God thinking when he created you. It's really powerful and impacting theme to get them to start thinking about what's my purpose," Outley said.
Christian Pierre admitted to KHOU-TV that he signed up for Mufasa's Pride a year ago because they provided food every Saturday.
"Then I actually went to it and I was like, 'Wow! This is amazing,'" he told the news station.
Outley said he hopes that the program exposes these young men, many of them without a father figure in their lives, positive male role models. Here's how he saw it play out once on a group trip to New York City.
Outley explained that a mentor was chastising one of the younger men in public and he took offense to that.
"When we came together to meet about what occurred, that kid apologized to the mentor and said 'I thought about what happened ... My dad has been incarcerated for all of my life. I've never had a man to check me like that, talk to me like that. So I did not know how to even receive that.'"
Learning how to appropriately respond and express their feelings in encounters like these, putting their actions into perspective, is one of Outley's goals.
"When I first got into the group, I was always the hot head or the loud mouth," Miles Pierre, a junior in high school, told KHOU. "I still am loud, but I've learned how to control my energy."
Watch KHOU's report with more of the members talking about their experience with the group:
Outley said the ultimate goal of the program is for these men to "become everything that God created them to be."
"One of the things is that God created each of us to do many things and to do them well with a spirit of excellence and not to just settle," he said.
Now what's in the name Mufasa's Pride? While, yes, it stems from Outley's love of Disney's animated and stage productions of the "Lion King," the group's name goes deeper than that too.
He referenced the moment in the show when Mufasa, the father lion and leader of the pride, takes Zimba out into the wilderness and tells him that it would all someday all be his.
"Every young man wants to be the pride of his dad, whether he will admit it or not," Outley said. "God just hardwired us that way."
Someday, Outley said he'd like to see other chapters of Mufasa's Pride crop up nationwide, but for now he's taking the approach of trying to change one life at a time.