Republican presidential contender Carly Fiorina appeared on "The Tonight Show Starring Jimmy Fallon" Monday evening, where she predictably talked straight-faced politics, including making some comments about fellow White House hopeful Donald Trump, among other political issues.
But Fiorina also had a little bit of fun, performing a song that she sometimes sings to her dog, Snickers.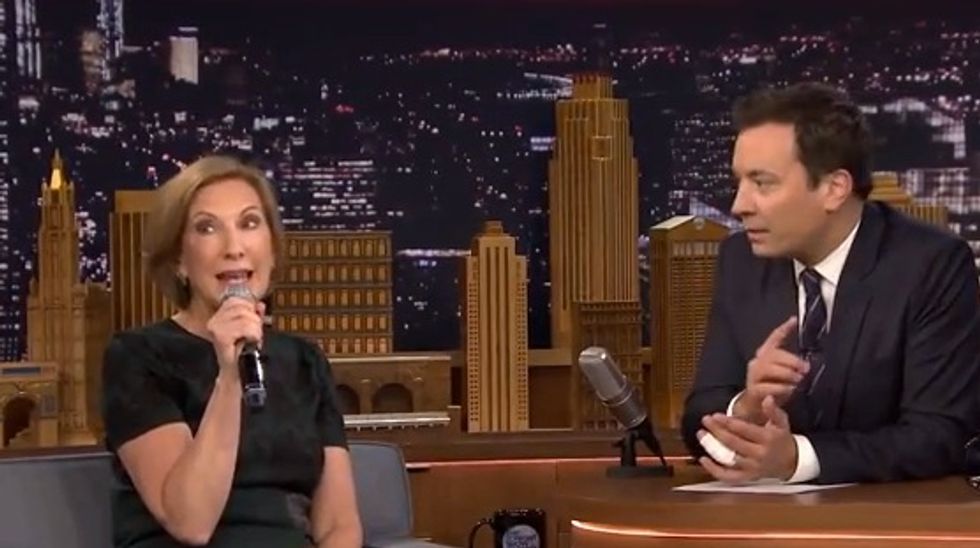 Image source: YouTube
"You want me to hum a bar or two?" she asked Fallon as they were discussing how she made up songs for her grandkids and her dog.
Fallon just so happened to have a microphone ready to go.
"My name's Snick and I'm lazy. Please don't take a walk with me," she sang to the tune of "Rock Around the Clock." "I'd rather stay right here at home instead. I want to lie back down in my nice warm bed. My name's Snick and you're going to have to carry me."
Watch Fiorina's jingle:
She also addressed the controversy surrounding fellow Republican presidential contender Dr. Ben Carson's claim that he wouldn't support a Muslim presidential candidate, calling him "wrong" on the matter.
"I actually believe that people of faith make better leaders. Whether they are Christians, as I am — my faith has sustained me through some very bad times," Fiorina said. "I've battled cancer, I've lost a child, I've been tested. But whether it's a person of Christian faith or Jewish faith or Muslim faith or other faiths, I think faith gives us humility and empathy and optimism. And I think those are important things."
Watch that segment:
Addressing her recent rise in the polls following the second GOP presidential debate, Fiorina added, "When people get to know me, they tend to support me. That's what you see in the polls."
TheBlaze's Liz Klimas contributed to this report.