A 22-year-old Texas man and his brother face charges for an incident involving a motorized  skateboard/scooter in a Houston mall over the weekend. They and their supporters, on the other hand, criticize a deputy's use of force and the arrest in general.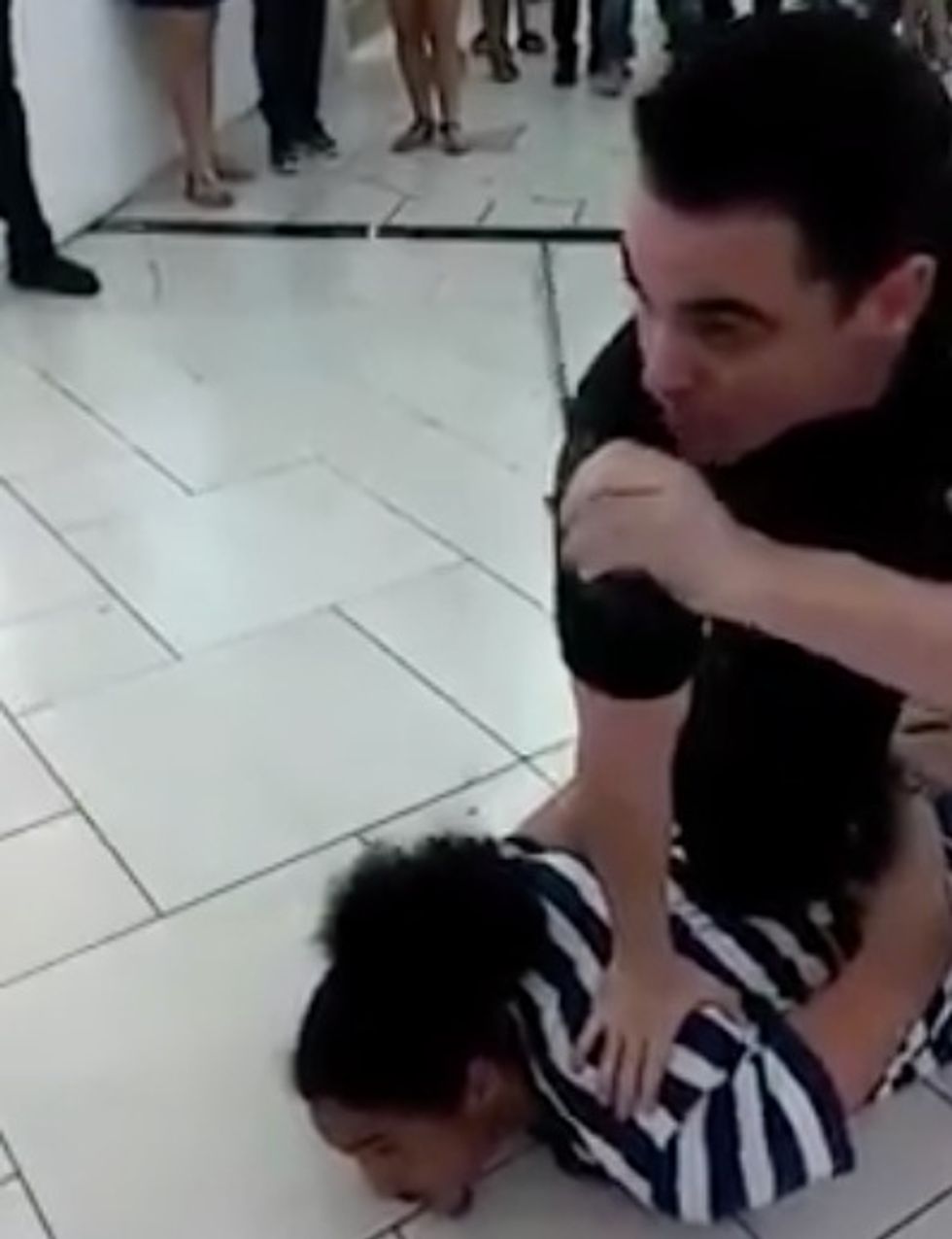 Image source: Facebook video screenshot
Video of the encounter already in progress shows Jesse Valdez on his stomach in Willowbrook Mall, his arms being cuffed by a Precinct 4 Constable deputy behind his back.
"What is the reason, sir?" Valdez and his brother, Michael Roulhac who was filming on his cellphone, asked several times. "What am I getting arrested for?"
The deputy in the video said he was being arrested for "ignoring a police officer's commands."
Roulhac and Valdez insist in the video that he did nothing wrong.
"He was just riding his Segway-like vehicle and you decided to come up and take him off," Roulhac said in the video, adding "it seems like you're in the wrong officer."
More officers arrived on the scene and asked Roulhac to back up. Roulhac, holding up the device Valdez was riding, asked if there were a law against it and was informed by another deputy that it was against mall policy. Roulhac went on to say that it seemed like the deputy was making up the policy on the fly.
One look at the mall's policy posted on its website though reveals that "operating unauthorized recreational and/or personal transportation devices in the shopping center" is considered a prohibited activity. Roulhac later posted on Facebook this same policy but wrote that they were never asked to leave and thus never refused to do so, which would have warranted an arrest.
Later in the video, Roulhac asked why a deputy had a Taser to Valdez' back as commotion in the mall started to escalate.
Watch the video (Content warning: strong language):
According to KHOU-TV, Valdez was charged with resisting arrest and Roulhac could be charged with interfering with an investigation and inciting a riot.
"The deputy was alerted to an individual riding a self-propelled device, which was a violation of rules at the Mall and created a safety concern for patrons," Precinct 4 said in a statement, according to KTRK-TV. "When the deputy confronted the subject on the device, the subject became belligerent and began to use profanity to the deputy with small children and parents nearby."
The statement continued that the deputy tried to detain the suspect for disorderly conduct and accused him of resisting. Because force was used Constable Mark Herman told KTRK that a force board would review the incident.
Valdez told KHOU seeing the video of what happened to him "brings tears to my eyes," while Roulhac wrote on Facebook, accompanying the video he posted Sunday, that he was to the "point of having steam come our  [sic] of my ears."
"I have mused over the situation time and time again, and no matter how i try to reconfigure the situation, there is no possible way my brother should have been detained without probable cause for arrest, and then taken to jail on false charges of evading arrest. My brother at no point in time during this tragic event attempted to flee the scene," Roulhac wrote on Facebook.
Derric Muhammad, identified by KHOU as a community activist, sided with these men, saying "Bottom line: He did nothing wrong."