The bones from up to 50 different skeletons were discovered in London's Westminster Abbey by construction crews demolishing a bathroom, which was originally built in the 1950s.
According to The Guardian, the bones were dated to likely be from the 11th or early 12th century. They were found under Victorian drainage pipes as crews were demolishing the lavatory block for a new tower.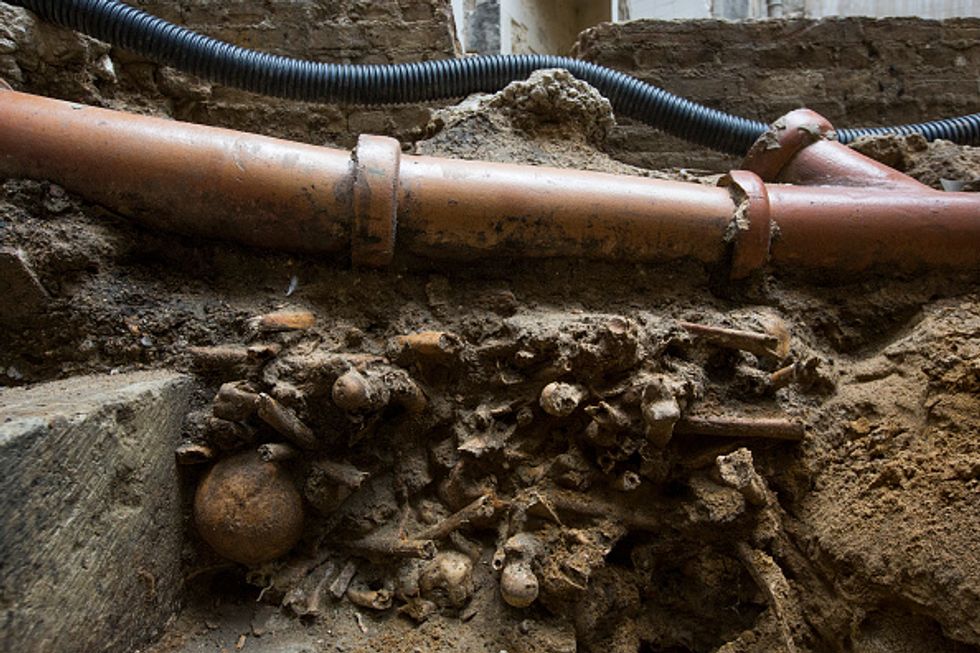 The footings were built from Reigate stone between 1246 and1250, during the reign of Henry III, and back filled with charnel material comprising mostly of femurs and skulls from earlier burials. The square hole on the skull is likely from pick axes used to dig out the bones in the 13th century. (Dan Kitwood/Getty Images)
Here's more from The Guardian on the history of the bones
Paw Jorgensen, who supervised the excavation by specialist firm Pre-Construct Archaeology, said they had originally been buried in a small burial ground just outside the south transept walls. The highest status individuals, the kings, queens and most senior clergy, would have been buried within the church itself, but the newly found remains were close enough to indicate they probably were those of senior clergy. When Henry demolished Edward the Confessor's church and began his own massive construction project, the land was dug up, and they were all reburied in a layer under the surface of what was the 13th-century masons' yard, littered with chips of the stone used to build a platform to take the enormous weight of the new building.

[...]

The skeletons found still lying in their graves, some carefully lined with chalk blocks in a style known from late Anglo-Saxon or very early Norman burials, were badly decayed by water trickling down from leaks in the Victorian pipes. But the bones of people moved by Henry's workmen are in good condition, and scientific tests could reveal more about their age, health, and where they came from.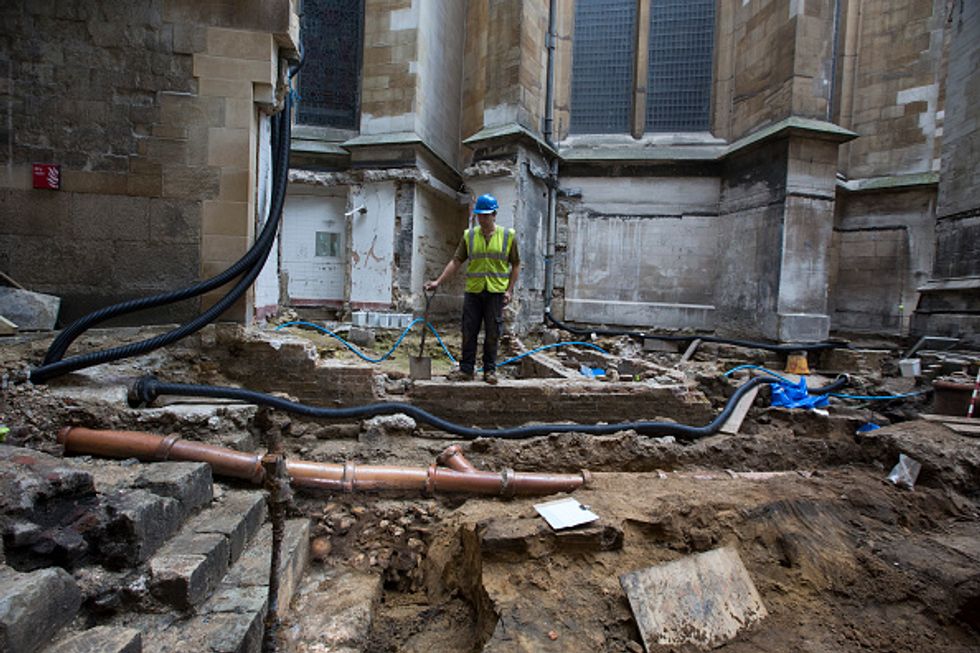 Archaeologist Paw Jorgensen stands above a collection of bones that were found among the stepped footings of Westminster Abbey's south transept, on September 21, 2015 in London, England. (Dan Kitwood/Getty Images)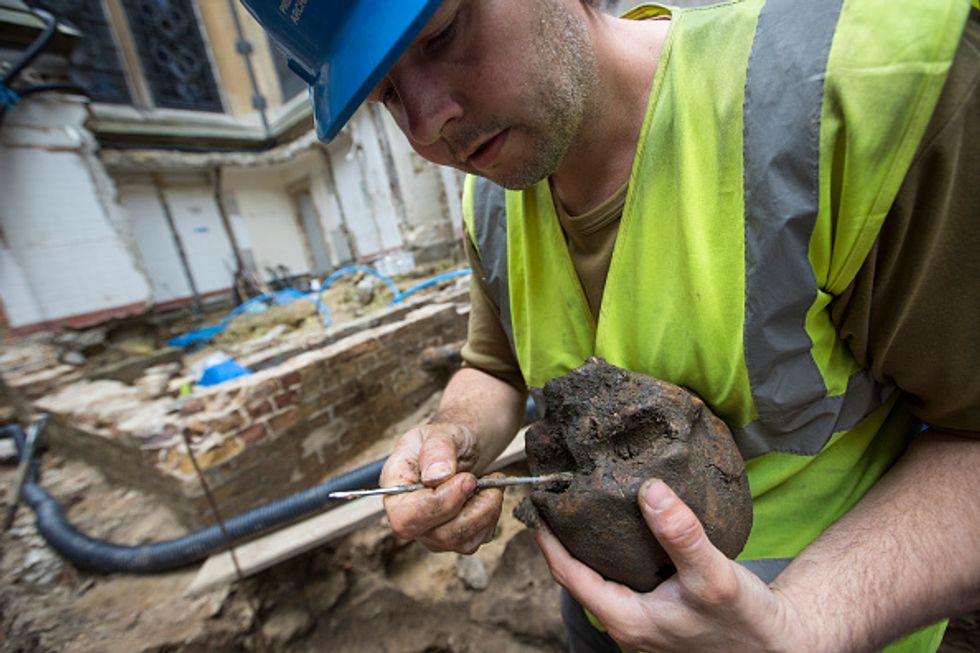 The area is currently being excavated as part of the transform of part of the 13th-century Triforium into a new viewing and gallery area that will be open to the public for the first time. As well as exhibiting many historical objects from the abbey, the new £19m GBP space will give visitors views down over the abbey buildings and the neighbouring Palace of Westminster. The work is due to be completed by 2018. (Dan Kitwood/Getty Images)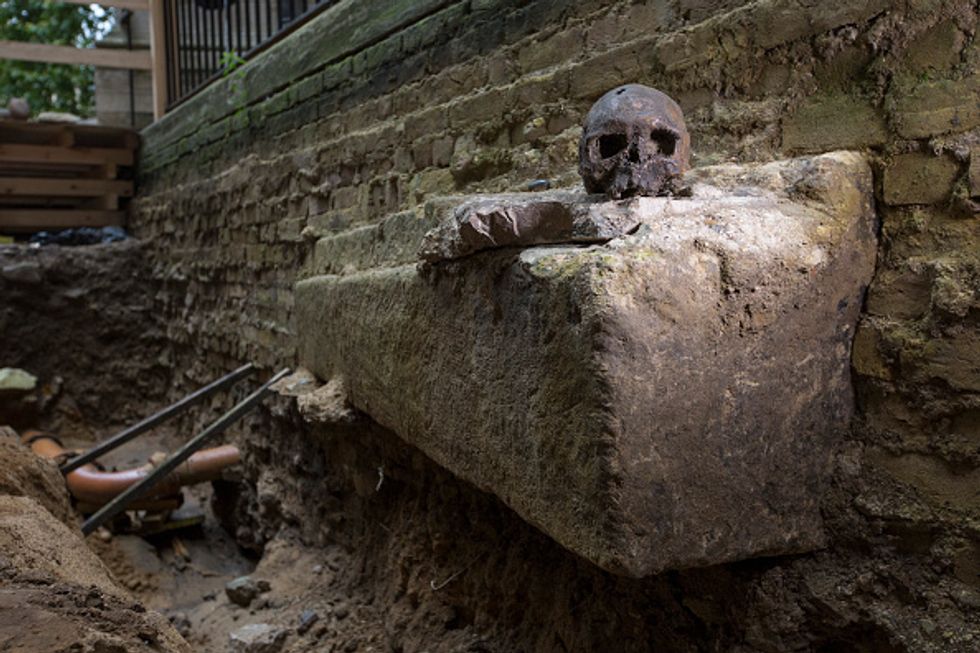 Dan Kitwood/Getty Images
Jorgesen told The Guardian he expects more bones will be uncovered as they continue with demolition of the lavatory block, which he said was "built as solidly as a nuclear bunker" and is "proving a nightmare to demolish."
The work on the new tower should be completed by 2018.
(H/T: Daily Mail)