The family of Ahmed Mohamed, the 14-year-old student arrested for bringing a "homemade" clock assembled inside a small case to school, has retained high-profile attorneys to "pursue Ahmed's legal rights and regain his science project from the Irving Police Department."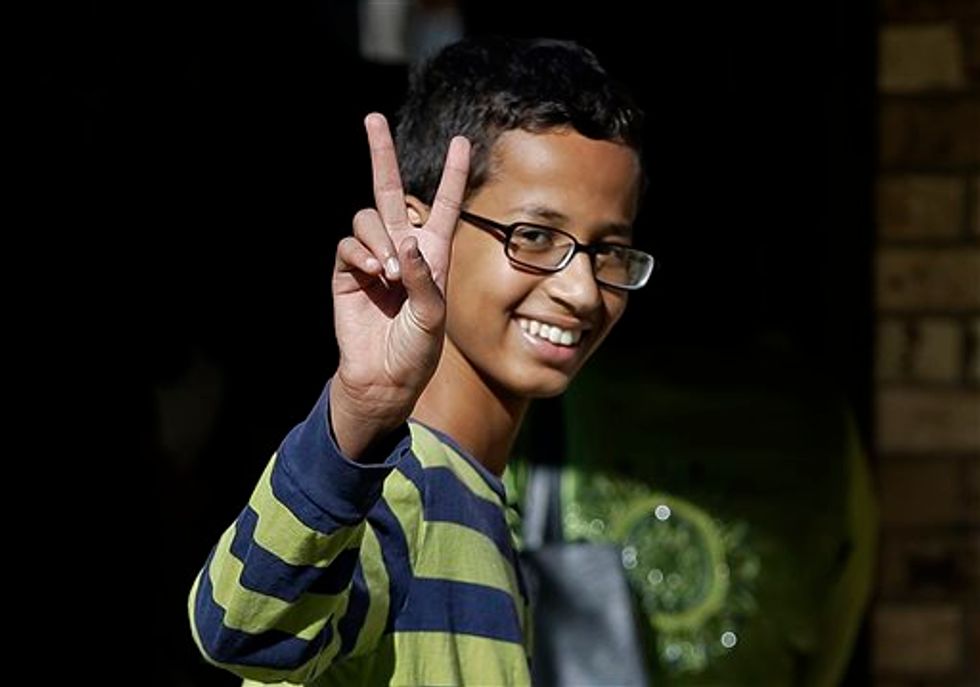 Ahmed Mohamed, 14, gestures as he arrives to his family's home in Irving, Texas, Thursday, Sept. 17, 2015. Ahmed was arrested Monday at his school after a teacher thought a homemade clock he built was a bomb. He remains suspended and said he will not return to classes at MacArthur High School. (AP/LM Otero)
In a statement provided to TheBlaze, Universal Media Group, the marketing company handling media inquiries for the Mohamed family, said the parents have pulled Ahmed and his two siblings out of the Irving Independent School District "because of religious persecution and made the decision to homeschool the children." The family claims their son has been "severely traumatized" by the incident.
The family's attorneys, Thomas Bowers and Reggie London, are "concerned that the proper protocol and procedures were not followed and that this will be a psychological blemish on the fourteen year old boy," according to the statement.
"The family wants justice and to ensure no family will ever have to experience what Ahmed went through again," the statement added.
Mohamed, a Muslim teenager, became an overnight celebrity after a teacher confiscated his clock and alerted school officials when it started beeping in one of his classes. On the chance it could be a "hoax bomb," officials involved police which ultimately ended in his arrest. Lesley Weaver, a spokeswoman for the Irving Independent School District told TheBlaze a "student" approached the teacher and said something to the effect of, "What do you think this looks like?"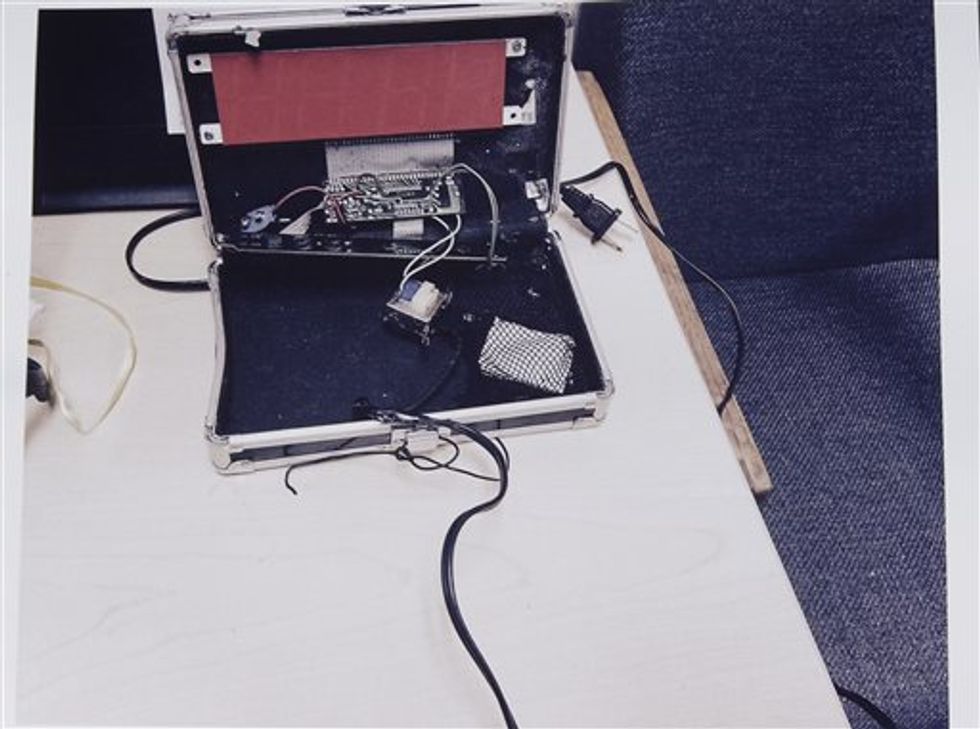 This photo provided by the Irving Police Department shows the homemade clock that Ahmed Mohamed brought to school, Wednesday, Sept.16, 2015, in Irving. (Irving Police via AP)
Weaver said the teacher and other school officials followed protocol and responded to the device, not the student's religious background.
Though the statement sent to TheBlaze by Universal Media Group refers to Mohamed's clock as a "science project," Weaver said it was not part of any project or assignment issued by MacArthur High School. The student previously claimed he wanted to impress his teacher.
The Mohamed family has declined to sign a release that would allow Irving ISD to provide their side of the story and additional information. Because Mohamed is a juvenile, the school district is legally prohibited from releasing any information on the student without parental consent.
Appearing on TheBlaze TV on Monday, the mayor of Irving, Texas, Beth Van Duyne said allowing the school district to share information would certainly "help to describe why" the incident "progressed as it did."
Citing her conversations with law enforcement officials, Van Duyne told TheBlaze in a followup interview that Mohamed was uncooperative and "passive aggressive" towards school officials and responding officers as they tried to assess the situation.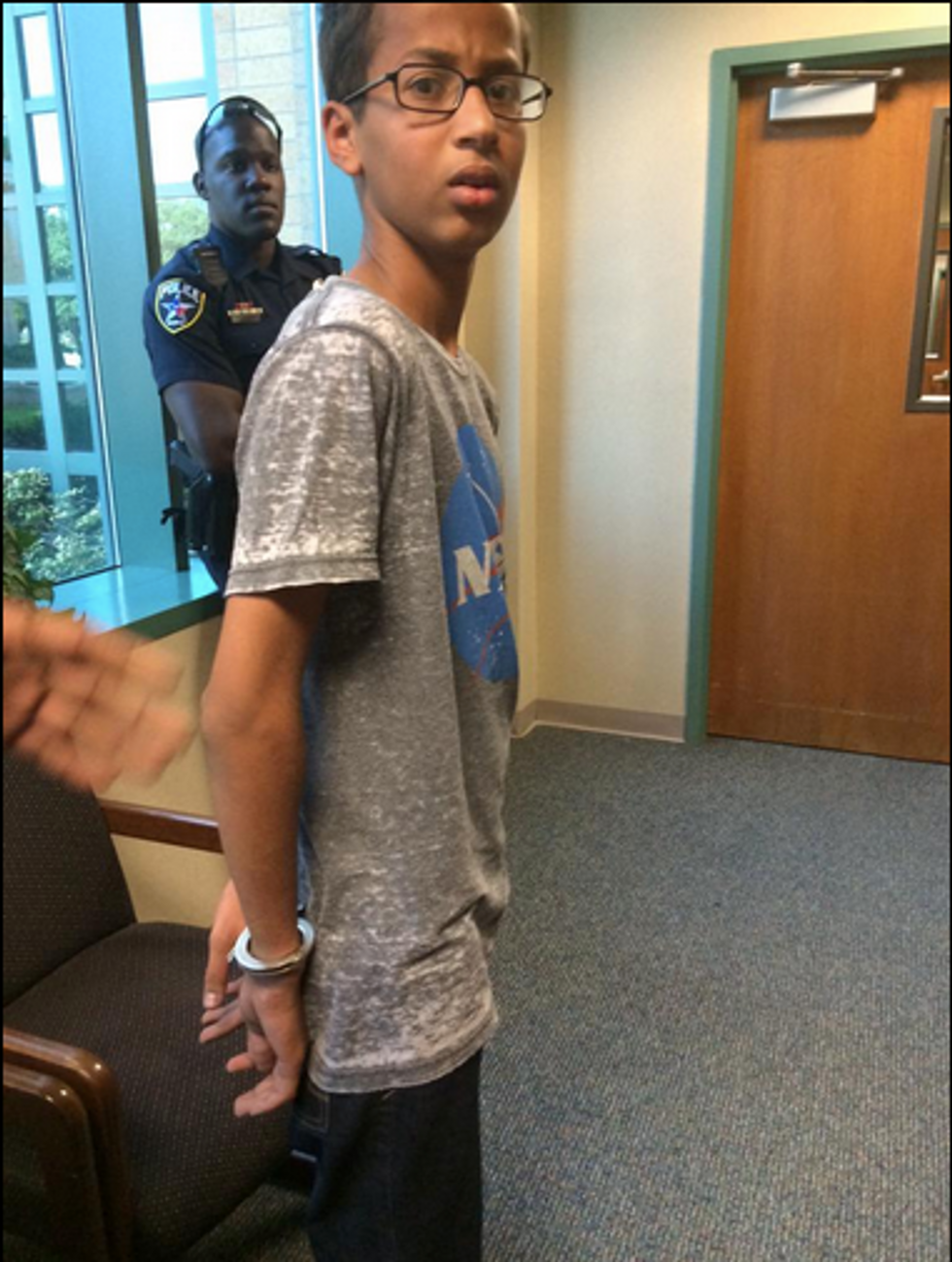 Image via Twitter @anildash
While Mohamed was within his rights in not answering any questions, she said, cooperation can help diffuse tense situations.
Van Duyne reiterated her support for school officials at MacArthur High School and police officers involved in the incident that has sparked allegations of "Islamophobia" from critics, including the Council on American-Islamic Relations, which has been working with the family.
In the days after the clock incident, Van Duyne claimed Mohamed's parents cancelled several scheduled meetings with the school district. She said the family ended up holding a press conference in their front yard during a time which they were supposed to meet with school officials to discuss the case.
All charges were ultimately dropped against Mohamed and the student has since been invited to the White House, Google Science Fair, Massachusetts Institute of Technology and other events for his clock creation, which has ignited a controversy of its own.
As previously reported by TheBlaze, YouTube user Thomas Talbot claimed in a video that the device Mohamed put in the metal case was a "commercial alarm clock that you would purchase at any department store and use at your bedside" and he didn't actually build anything.
"This is simply taking a clock out of its case," Talbot said in the video.
---