Thanks to a court ruling handed down Tuesday, "Happy Birthday to You" — arguably one of the most popular and memorable songs of all time — is now public domain, meaning it can be performed without payment.
Photo credit: Shutterstock
For the past 17 years, the copyright to the lyrics in "Happy Birthday to You" was held by the music publishing company Warner/Chappell, which generated an estimated $2 million a year licensing the song.
According to Variety, in 1988, Warner Brothers paid $25 million t0 the song's previous copyright holders, Birchtree. Through a series of corporate reorganizations in the 1990s, Warner/Chappell Music ended up as administrators of all music publishing for Warner.
The ruling was the result of a class action suit lead by Jennifer Nelson, a documentary filmmaker who was actually making a movie about the history of the iconic song. After paying a licensing fee to use the song and while researching the history of it, Nelson started questioning the legitimacy of Warner/Chappell Music's copyright.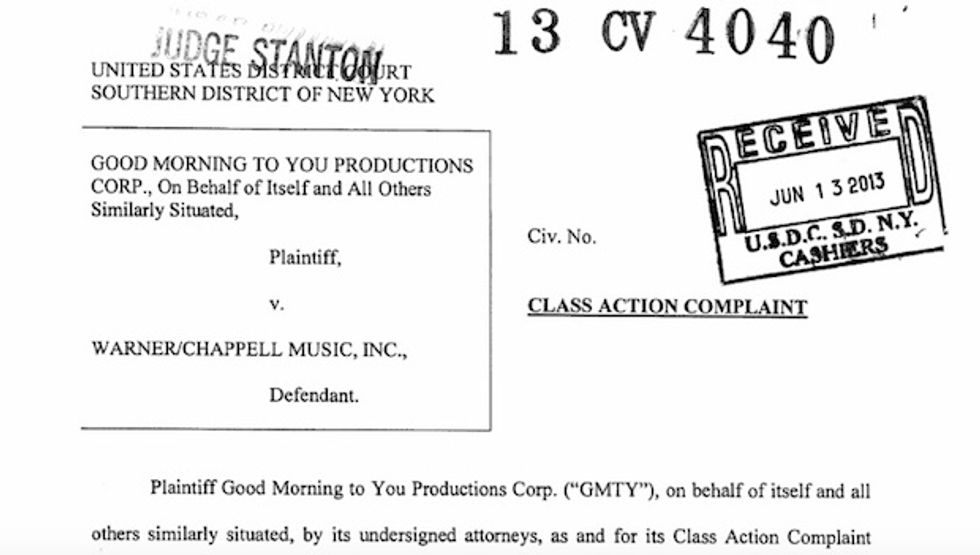 Image source: Scribd.com
There is more to this lawsuit though, and the next phase could be a costly one for Warner/Chappell. One of the last items in the 26-page suit was a request for the court to order the music publishers to establish a "constructive trust" designated to repay any and all monies paid by Nelson's company and the members of the suit.
The plaintiff's attorney, Mark Rifkin released a statement announcing the good news for his clients, adding, "We look forward to moving forward with the rest of the case, in which we will ask the court to order Warner Chappell to return all the money it has wrongfully collected under a claim of copyright ownership."
The music for the song — the tune — has been in the public domain since 1949.
--
Follow the author of this story on Twitter and Facebook:
—
Front page image via Shutterstock.