During a brief segment Tuesday night noting the beginning of Yom Kippur, the holiest day of the Jewish calendar, Chicago news station WGN-TV used an image of a yellow Jewish star with the word "Jude" in the middle — the badge the Nazis forced Jews to wear during the Holocaust.
Holy crap, @WGNNews, this is your stock photo for a Jewish holiday?? Nobody thought that's a bad choice of photo? pic.twitter.com/z7BNuvGybS

— Marc Karlinsky (@MarcKarlinsky) September 23, 2015
According to the Holocaust Memorial Center, "The German government's policy of forcing Jews to wear identifying badges was but one of many psychological tactics aimed at isolating and dehumanizing the Jews of Europe, directly marking them as being different (i.e., inferior) to everyone else. It allowed for the easier facilitation of their separation from society and subsequent ghettoization, which ultimately led to the deportation and murder of 6 million Jews. Those who failed or refused to wear the badge risked severe punishment, including death."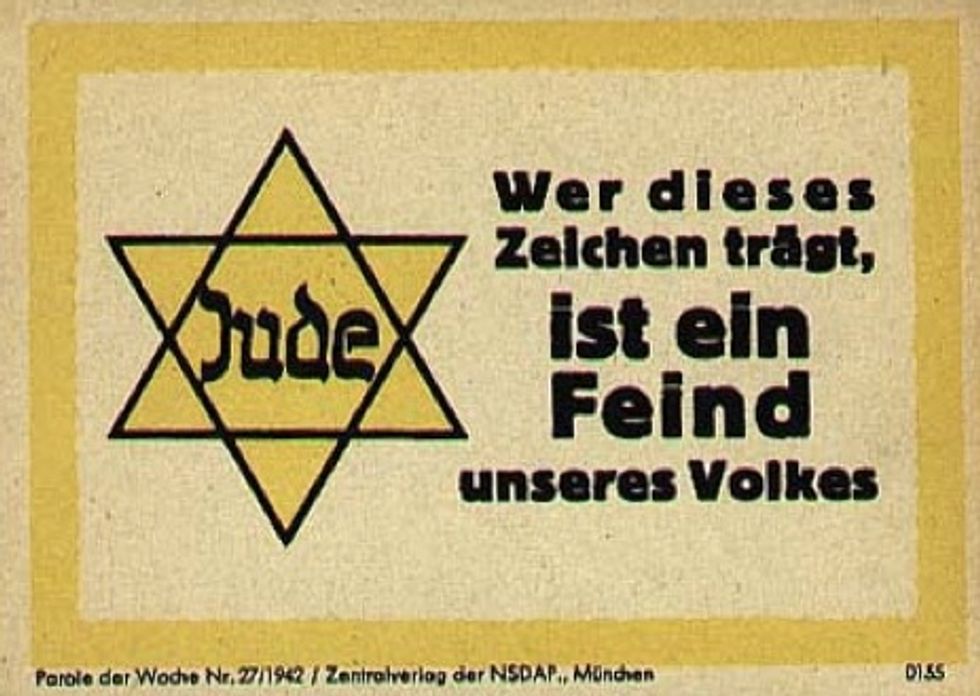 Nazi propaganda leaflet: "Whoever bears this sign is an enemy of our people" (Image source: Holocaust Memorial Center)
About a half hour after the tweet from Marc Karlinsky, interim editor at the Chicago Daily Law Bulletin and Chicago Lawyer magazine, WGN wrote him back and apologized:
@MarcKarlinsky We are truly sorry for inadvertently using an offensive image in our story. We apologize and deeply regret the error.

— WGN TV News (@WGNNews) September 23, 2015
The station added the same apology to Facebook.
Karlinsky noted the apology was "quick" and cautioned journalists far and wide:
To @WGNNews' credit, the on-air apology was quick. Let this be a good lesson to all us editors/producers who pick photos on tight deadlines.

— Marc Karlinsky (@MarcKarlinsky) September 23, 2015
—
Follow Dave Urbanski (@DaveVUrbanski) on Twitter