UFC star Tank Abbott went after champion fighter Ronda Rousey this week, challenging her — and any other woman — to a fight.
Responding to UFC president Dana White's assertion that Rousey would "rag doll" Floyd Mayweather in a fight, Abbott said the champion boxer would actually "knock the living stuffing" out of the dominant female UFC fighter.
"She's a girl," he said on his "Proving Ground" podcast. "It's all about this emotional stuff."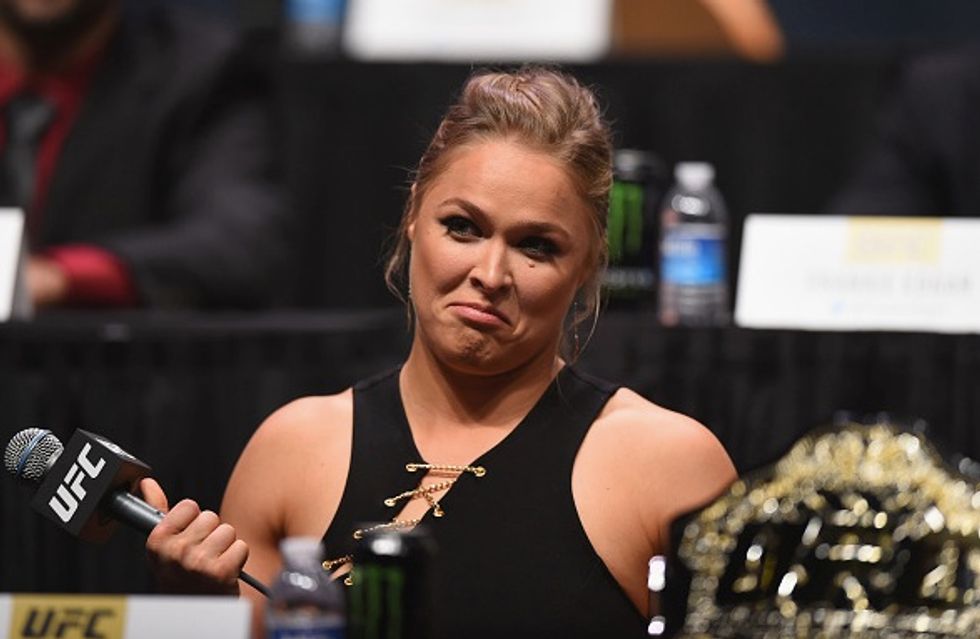 UFC women's bantamweight champion Ronda Rousey speaks to the media and fans during the UFC's Go Big launch event inside MGM Grand Garden Arena on September 4, 2015 in Las Vegas, Nevada. (Image source: Josh Hedges/Zuffa LLC/Zuffa LLC via Getty Images)
He then proclaimed he would fight any woman on earth for "free."
"If I win, which is going to happen -- and you're going to get bashed up good -- you have to make me a sandwich. If you win, I'll give you $100,000," Abbott said.
But he has one condition — "You can't be a tranny ... you gotta be a female. Born a female."
Listen to the audio below via TMZ Sports:
---