Delaware police officers, responding to a call that the man had a self-inflicted gunshot wound, fatally shot this armed man in a wheelchair.
Wilmington Police said in a news release that they encountered the man Wednesday afternoon "armed with a handgun."
Video that claims to have been taken at the scene, posted on YouTube by the channel Photography Is Not a Crime but later removed, showed an officer with his gun drawn.
"He's over here. Give me your hands, show your hands," the officer shouted, followed by firing one shot.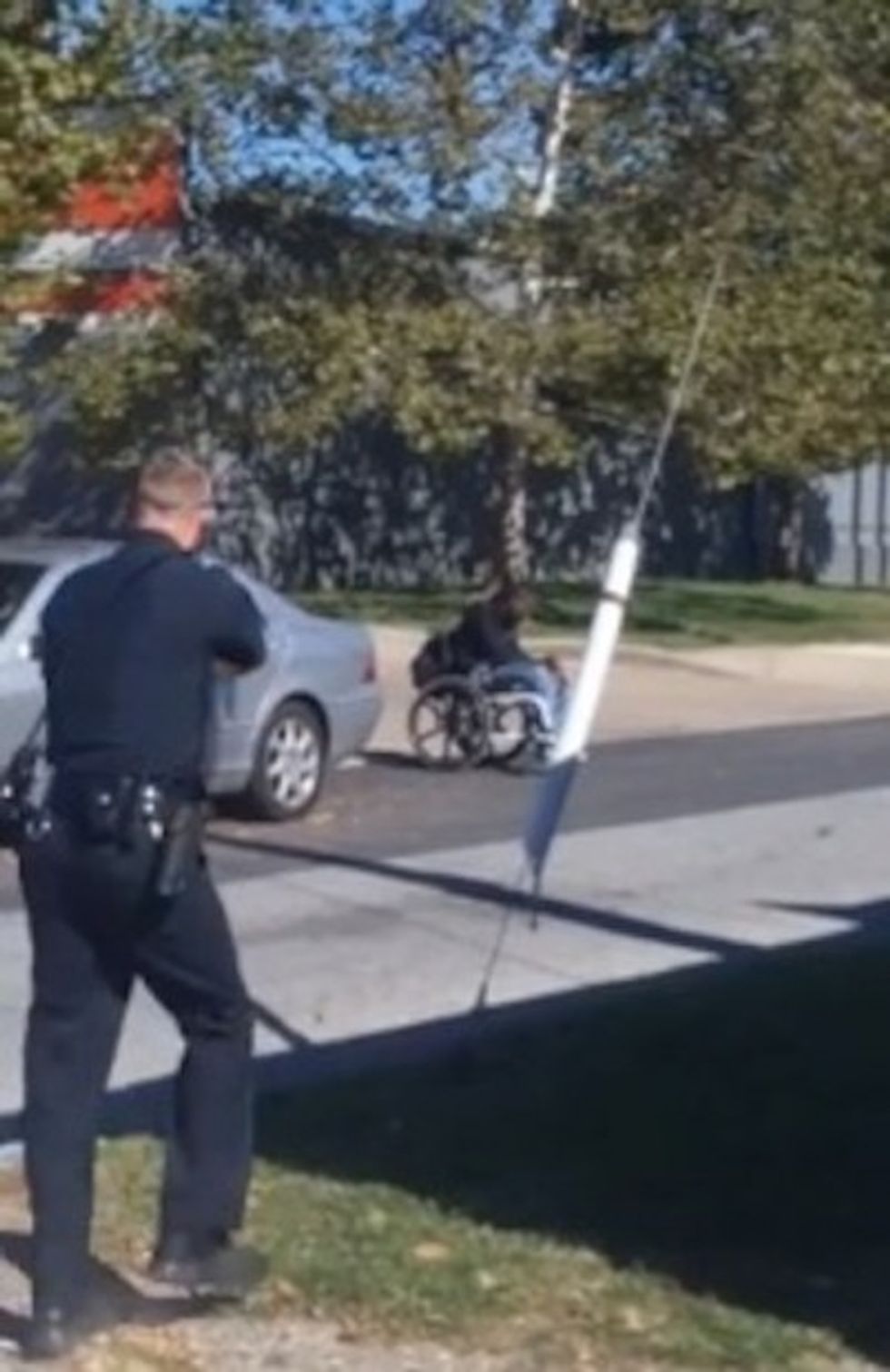 Police in Wilmington, Delaware, fatally shot a man in a wheelchair. They say he had already shot himself prior to them coming to the scene and had a handgun, which they had ordered him to drop. (Image source: YouTube)
"Show me your hands," he repeated, slowly approaching. "Show me your hands. Drop the gun! Drop the gun! Drop the gun!"
More officers arrived on the scene yelling "hands up!"
The person taking the video narrated that the man in the wheelchair, at this point, was bleeding. It showed the man lift himself somewhat in his wheelchair a couple of times and then a dozen or so shots rang out. The man slumped forward and fell from his wheelchair.
YouTube removed this video Thursday morning stating it was a "violation of YouTube's policy on shocking and disgusting content."
The video was, however, uploaded to LiveLeak as well (Content warning: graphic images and strong language):
Authorities called it "a departmental shooting" and said that the man died on the scene. The news release did not elaborate and police would not release any additional information when contacted by telephone by the Associated Press.
According to a city spokeswoman, Police Chief Bobby L. Cummings went to the scene and met with neighbors and relatives.
Wilmington spokeswoman Alexandra Coppadge also said that police told her the man had shot himself Wednesday before they arrived.
The News Journal reported that Alexis Anthony claimed the man was her 28-year-old cousin Jeremy "Bam" McDowell. She said he was in a wheelchair after being shot and paralyzed at 18 years old.
Anthony wondered to the newspaper why the officers shot the man instead of using other means.
"They couldn't [use a Taser on] him?" Anthony told the News Journal. "Instead, they killed him instead. They could have knocked him out of his wheelchair."
—
The Associated Press contributed to this report.