After a conservative college organization had their signs defaced with swastikas and curse words, a university official sent a school-wide email to remind students the college welcomes debate and discussion.
Several flyers advertising the Young America's Foundation student group at Gettysburg College, a private liberal arts school in Pennsylvania, were torn down or defaced with swastikas and curse words, according to images obtained by TheBlaze.
On one flyer, the phrase, "Do you enjoy hugging babies vs killing them?" had the word "babies" scratched out and replaced with "fetuses." That same flyer had the word "racist" written on it as well as other expletives suck as "f**k [you]." At the bottom of the poster, which was an advertisement for YAF chapter meetings, it said, "BEST PART if you disagree ... come for the debates!"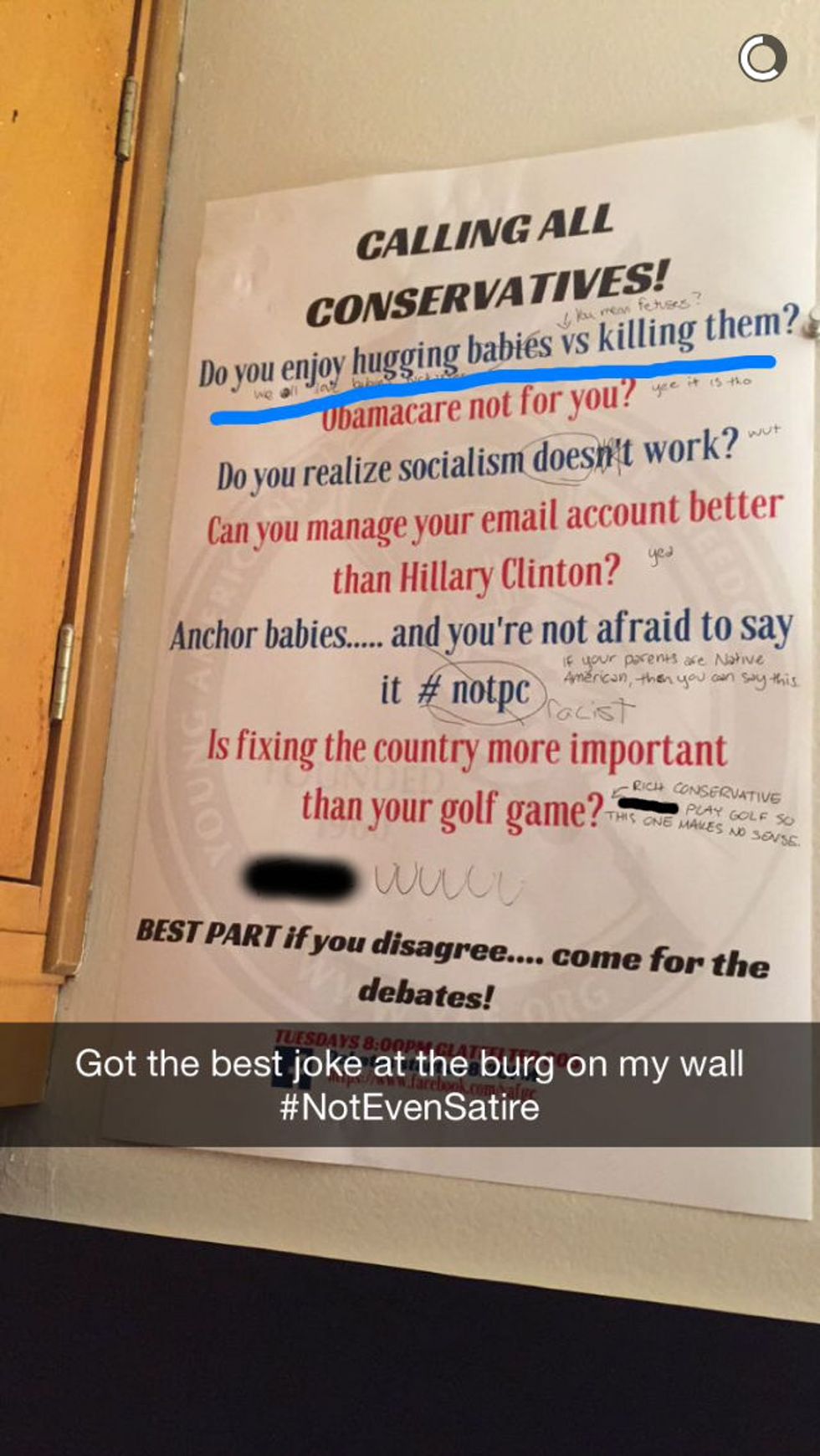 Screenshot of a Snapchat provided to TheBlaze that appears to show a defaced YAF flyer. (Image has been edited to remove expletives.)
"I'm writing today to remind our community that our campus is one that welcomes debate and discussion," Dean Julie L. Ramsey, Vice President of College Life and Dean of Students, wrote in an email to Gettysburg students Friday afternoon.
In her email, Ramsey said she was aware that YAF's viewpoints caused some students "to feel personally offended, attacked, and perhaps even unsafe," but encouraged the campus as a liberal arts institution to "provide an atmosphere that allows students to think critically, evaluate their own ideals and the ideals of others, and from those experiences, acquire new knowledge and broaden their perspectives."
"I encourage you to not shy away from opportunities to hear other points of view," Ramsey wrote in the email obtained by TheBlaze. "Instead, I encourage you to embrace these opportunities. Engage in lively discussions with your classmates and your professors and broaden your perspectives, but please do so without resorting to personal attacks and destruction of materials publicizing opposing points of view."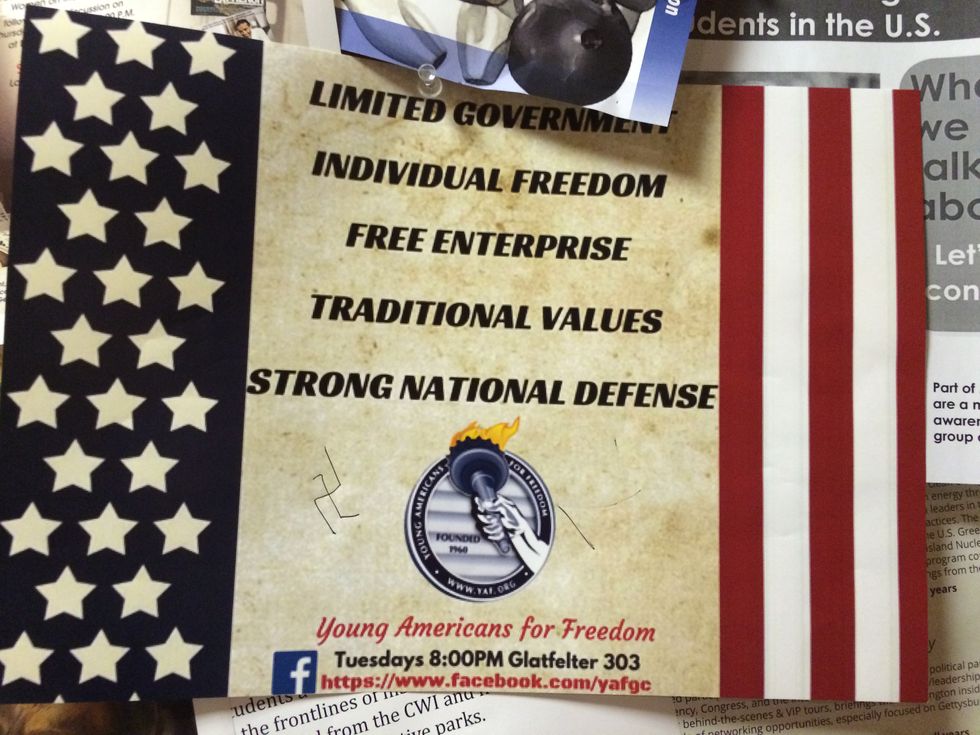 Some YAF flyers, such as this one, reportedly had swastikas drawn on them. (Image provided to TheBlaze)
Will Stechschulte, the Gettysburg YAF president, told TheBlaze that the group's flyers were destroyed within 12 hours. He said the group had also chalked messages on the school's sidewalk that said, "YAF [loves] U" and "Protect Our Veterans" which were also erased or had negative commentary and expletives added to it.
Stechschulte did not provide images of those chalked messages to TheBlaze but did provide a photo of a group of students that appear to be removing a chalked message.
"We go to a school that claims to engage differences so naturally we felt it was our duty and our right to express ourselves, Stechschulte said. "An overarching hate swarmed the campus solely because we brought up issues many didn't want to discuss."
According to a blog post on YAF's website, extra security was provided for the student group at their meeting because of the attacks the group had received in an online anonymous social media app, Yik Yak. The blog post said there was no additional cost for the added security for that first meeting, but it is uncertain if the group will need to come up with additional funding to provide security in the future.
Despite the controversy surrounding the conservative club already, Stechschulte said they still plan to continue with their events.
"We look forward to Gettysburg YAF continuing to open the eyes of their peers to different viewpoints, no matter how much resistance they encounter along the way," Emily Jashinsky, YAF spokeswoman, told TheBlaze. "The image of liberal students literally scrubbing the chapter's conservative message off of the campus sidewalk speaks for itself and serves as a wonderful metaphor for what is happening on campuses across the country."
While it is unclear who is responsible for defacing the flyers, Jashinsky and Stechschulte blamed the "liberals students."
One student addressed YAF's anti-abortion stance in an anonymous post on Surge Gettysburg, the campus blog.
"'Calling all Conservatives,' it read, and the first line said 'do you enjoy hugging babies versus killing them?' The rest went on to spew more ultra-conservative propaganda, none of which bothered me nearly as much as that first line," the student wrote. "The truth is, whoever took the time to write those hateful words and then spread them all around campus didn't have to say the word abortion for me to know what they meant. Abortions kill babies. Women who undergo abortions are baby killers."
She then went on to describe how she found out that she was pregnant when she came back to Gettysburg and her experience with getting an abortion after a nurse practitioner at the college gave her a pamphlet to a clinic that did the procedure.
"I didn't feel guilty exactly, but I felt like a screw up. In some ways, I felt deserving of the physical and emotional pain I was in. I didn't kill anyone; the thing inside of me was just a cell, but I did feel responsible for getting pregnant in the first place," she wrote. "Society tells us girls who get pregnant young, as teenagers, without a husband or serious boyfriend, are bad. Slutty. I had only been sexually active for about a year, with a few partners, and not many times. I didn't feel slutty."
Other students have tweeted that YAF's signage has been "offensive" and "unnecessary."
I may not go to Gettysburg anymore, but what the Gburg YAF is doing is offensive and unnecessary http://t.co/ixYmsuisb1 via @SurgeGettysburg

— D.J. (@DemiNOTLovato_) September 25, 2015
I cannot believe that #gettysburgcollege allows posters like these to be… https://t.co/QwSOaAfoSt

— Connor Daugherty (@Connorcondoc64) September 22, 2015