On Saturday, Amara Darboh caught a pass to complete his second touchdown of the season for the University of Michigan — and his first as a U.S. citizen.
The 21-year-old senior wide receiver became a U.S. citizen Thursday evening after years of living in the country once he and his family fled the civil war in Sierra Leone when he was two-years-old — an event that claimed the lives of both of his parents. According to the Ann Arbor News, Darboh was taken in by relatives after the death of his parents, and thus began his life of fleeing as a refugee to Gambia and Senegal before finally coming to America with the help of a Christian group.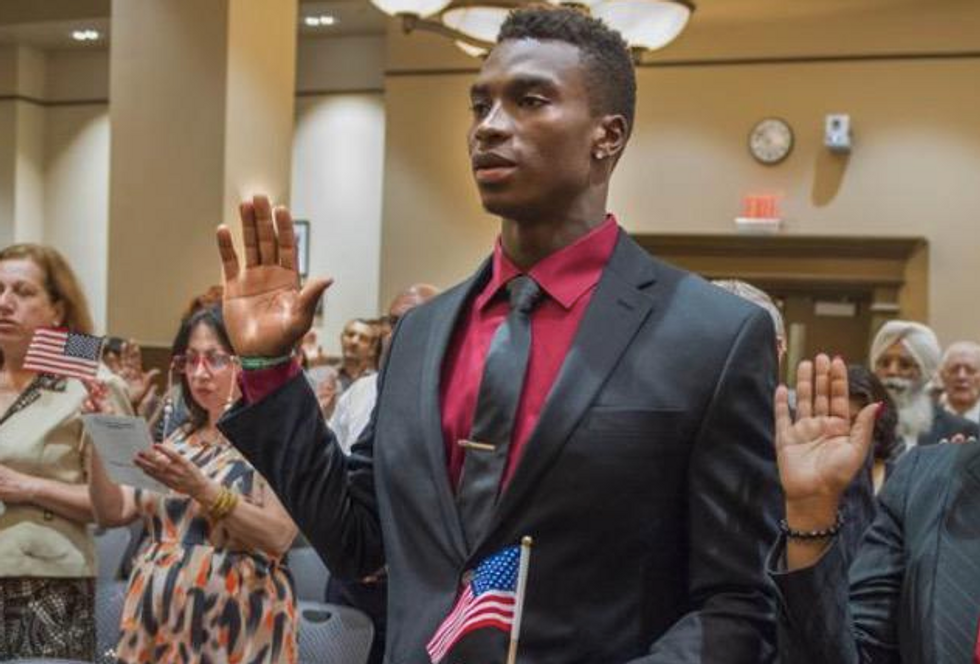 Image via Twitter: @SPORTalkUMich
Darboh was seven when he moved to the U.S. and lived in a house with his older sister and 12 other people. School was difficult for him, he said, as he didn't speak English — at least very well.
"I'd have to repeat words over and over and over for my teachers, so they would understand me," Darboh told the Ann Arbor News. "It was frustrating. You think you're saying it right, but other people are like, 'Where are you from?'"
But on Thursday evening, Darboh, accompanied by U-M's director of internal communications and operations for the head football coach Zach Eisendrath and U-M photographer David Turnley, was able to proclaim the names of local elected officials and say who is third in line for the presidency, according to the Detroit Free Press.
"I take this obligation freely and without mental reservation. So help me God," Darboh, with his right hand raised and his left hand clutching a small American flag, said with the other new citizens.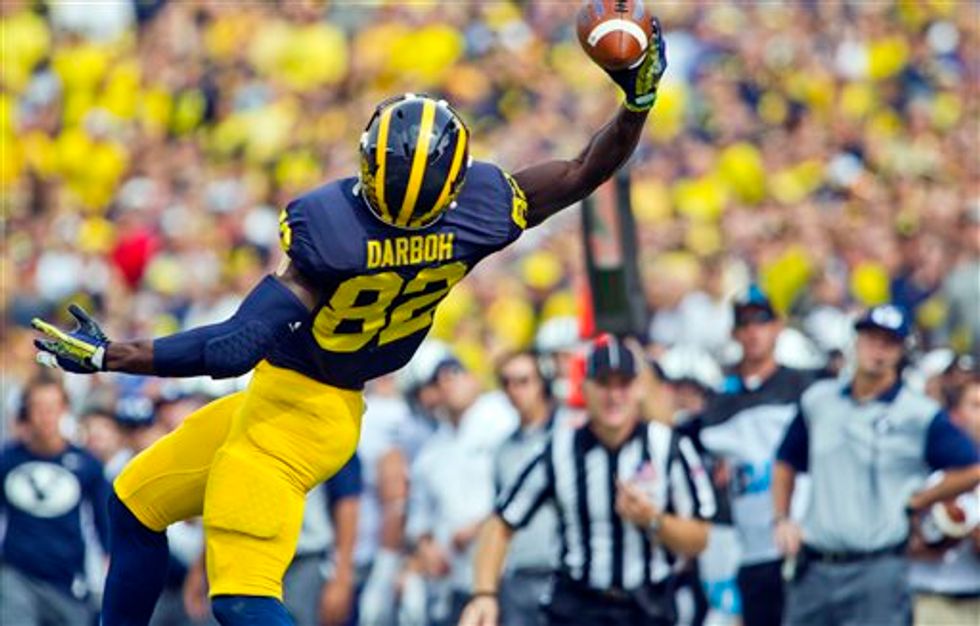 Michigan wide receiver Amara Darboh (82) makes a one-handed catch in the first quarter of an NCAA college football game against BYU in Ann Arbor, Mich., Saturday, Sept. 26, 2015. (AP Photo/Tony Ding)
"It's starting my legacy here. If I have kids, they are going to be first-generation Americans and don't have to worry about anything," Darboh told Steve Kornacki who writes for U-M's blog, MGoBlue.com. "And it's the final step for me being an American because I've been here since I was young." 
The Free Press reported that Darboh had tried before to become an American citizen when he was in high school but his papers were lost then.
"Being a citizen and being part of a great country is hard to put into words," Darboh told MGoBlue.com. "I guess I'm very fortunate. I know where I am from and I'll never forget my past. But to be a citizen is awesome; it means a lot to me."
During U-M's football game Saturday against Brigham Young University, Darboh made a spectacular one-handed catch a few minutes before he scored his first touchdown as a U.S. citizen.
Amara Darboh scored a TD, which is nice, but not as nice as when he unleashed his inner OBJ: http://t.co/w6t944uTHWhttps://t.co/Gu8PunGDnp

— Lost Lettermen (@LostLettermen) September 26, 2015
TOUCHDOWN, MICHIGAN! Rudock finds Amara Darboh for the score. That's Darboh's second of the year, first as a U.S. citizen. #GoBlue

— Michigan Football (@umichfootball) September 26, 2015
AMARA DARBOH OR ODELL BECKHAM?!?!

— Bobby Kunz (@UofMDieHards) September 26, 2015
Amara Darboh: American. Hero.

— Ryan Noonan (@noonanville) September 26, 2015
Read more about Darboh's journey to citizenship at the Ann Arbor News.