Islamic State group supporters posted messages online in recent days condemning American Muslims for participating in Pope Francis' interfaith outreach while visiting the U.S. and accused them of apologizing for the 9/11 attacks.
The SITE Intelligence Group, which tracks jihadist groups, reported Saturday that several Islamic State group supporters active on social media blasted people whom they described as "coconuts," a derogatory jihadist term for moderate Muslims.
One cartoon posted on Twitter depicted a black-hooded militant using a sword to behead a man and whack a row of symbols including the Christian cross, the Jewish Star of David, a Wicca five-pointed star, the yin and yang symbol and a cross-gender male/female symbol.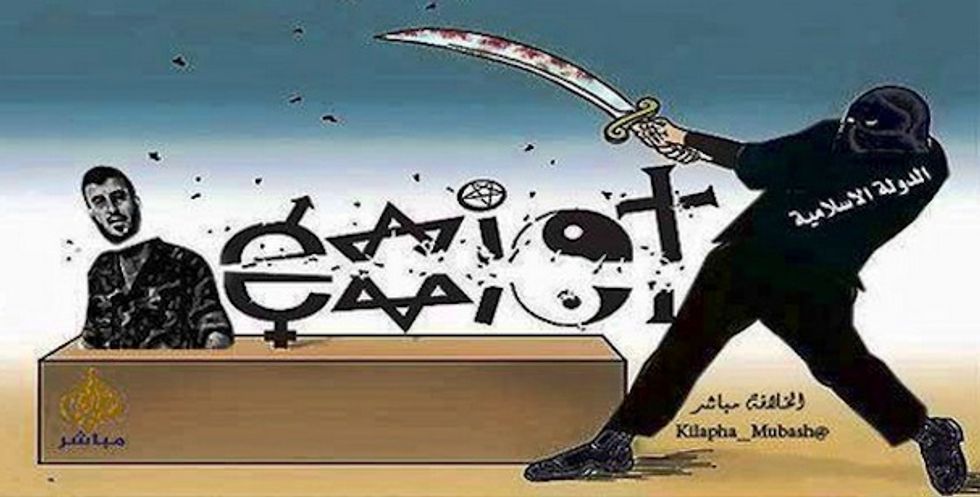 A chilling cartoon an Islamic State group supporter posted on Twitter condemning Muslims in U.S. for interfaith activity. (Image source: SITE Intel Group)
"I wonder how many coconuts attended today's inter-religious prayer service led by Pope in NYC. They all need to take shahadah again," read one post on Twitter, referring to the Islamic testimony of faith.
"Coconuts greet the Pope & apologize for 9/11 & condemns Muslims. Just another day for them," wrote another user.
Pope Francis on Friday visited the 9/11 Memorial and Museum in New York where he participated in an interfaith prayer service along with Muslim and Jewish chaplains. The prayer service included Muslim, Jewish, Hindu, Buddhist and Sikh meditations.
At the event, Francis implored the crowd to reject hate and violence.