UNITED NATIONS (AP) — President Barack Obama on Sunday committed the U.S. to a new blueprint to eliminate poverty and hunger around the world, telling a global summit that a sweeping new development agenda is "not charity but instead is one of the smartest investments we can make in our own future."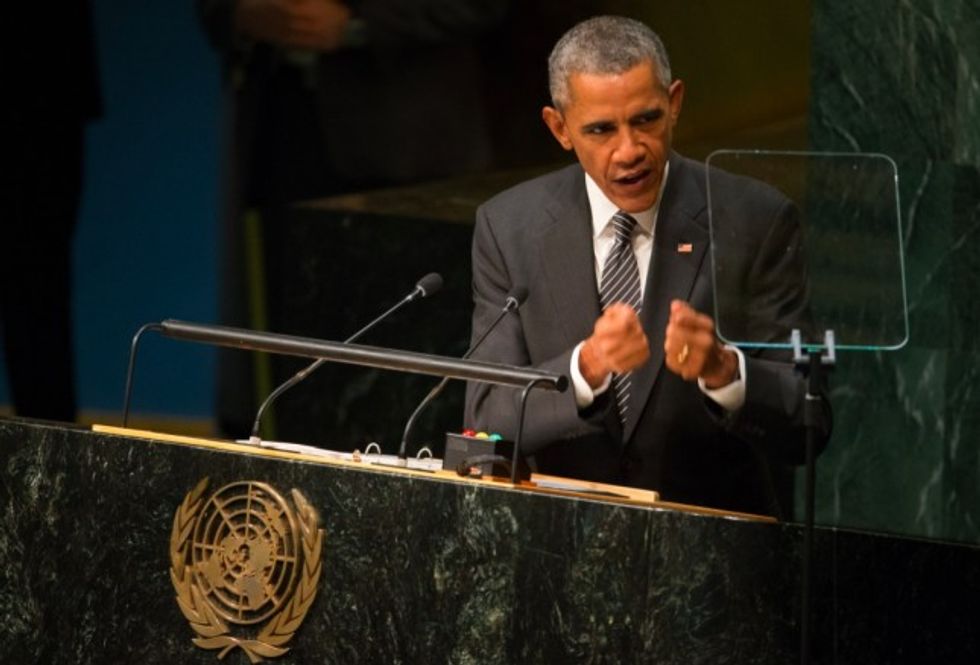 President Barack Obama speaks at the United Nations Sustainable Development Summit, Sunday, Sept. 27, 2015, at the United Nations headquarters. The global meeting is focused on fixing some of the world's greatest problems through a 15-year road map. (AP Photo/Andrew Harnik)
It was the first of two addresses Obama is making at the United Nations. His second on Monday morning, to the annual U.N. General Assembly of world leaders, will be a broader examination of world issues, especially the ever-more complicated conflict in Syria and the related refugee crisis.
As Secretary of State John Kerry put it after a meeting on the sidelines Sunday, "It would be a complete understatement to say that we meet at a challenging time."
Obama offered a powerful defense of a 15-year development agenda and will require trillions of dollars of effort from countries, companies and civil society.
He told delegates that 800 million men, women and children scrape by on less than $1.25 a day and that billions of people are at risk of dying from preventable diseases. He called it a "moral outrage" that many children are just one mosquito bite away from death.
Obama said the goals are ambitious but can be achieved if governments work together.
And, with a possible nod toward his address on Monday, he noted that "military interventions might have been avoided over the years" if countries had spent more time, money and effort on caring for their own people.
"Development is threatened by war," Obama said, and war often arises from bad governance. Addressing the world's greatest refugee crisis since World War II as millions flee conflict in Syria and elsewhere, the U.S. president said countries "that can, must do more to accommodate refugees" but added those efforts "must be matched by hard work of diplomacy."
The leaders of Britain, Japan and Turkey also were to address the final day of the development summit.
Earlier Sunday, President Francois Hollande of France announced his country's first airstrikes in Syria.
World leaders have already begun a whirlwind series of closed-door meetings on Syria on the U.N. sidelines. On Monday, the annual General Assembly high-level debate gives countries a chance to lay out their vision before the world.
A meeting on the sidelines Monday between Obama and Russian President Vladimir Putin, who hasn't shown up to the U.N. meeting for a decade, is one highlight.
Behind-the-scenes diplomacy on Syria's grinding conflict is another. The French airstrikes raise the stakes in a region where a U.S.-led coalition nervously watches a new Russian military buildup near Syria's Mediterranean coast. Putin is expected to make a strong defense of those moves and urge countries to join a Russian-led effort against extremist groups.
Iran is also a major question, with the United States and the United Nations both reaching out in the diplomatic glow of the new nuclear deal for the Islamic Republic's help in finding political solutions in Syria and the newer conflict in Yemen as well.
Iran President Hassan Rouhani is already at the U.N. summit and is set to address the U.N. gathering Monday morning along with Obama, Putin and Chinese President Xi Jinping — who is making his first appearance here.
Amid the bustle of the back-to-back summit speeches Sunday, Brazil's president announced her country's climate commitment ahead of a global summit in December in Paris aimed at a climate treaty. President Dilma Rousseff said Brazil will reduce its greenhouse gas emissions by 37 percent by 2025 from 2005 levels as part of its contribution to a pact to fight global warming.
And the current refugee and migrant crisis is another top issue under feverish discussion. Venezuela's President Nicolas Maduro spun the crisis into a chance to make a thinly veiled critique of the United States, blaming the problem on "unjust wars, imperialist wars, the attempt to control the world, one hegemon trying to impose its view on the world."
Associated Press writer Karl Ritter in Stockholm contributed.