MOSCOW (AP) — President Vladimir Putin said Russia had no plans "right now" to put combat troops on the ground in Syria, but would continue backing the Syrian government.
The Russian leader, speaking in an interview broadcast Sunday on the eve of his meeting with President Barack Obama, also sharply criticized U.S. military support for Syrian rebels, describing it as not only illegal but counterproductive.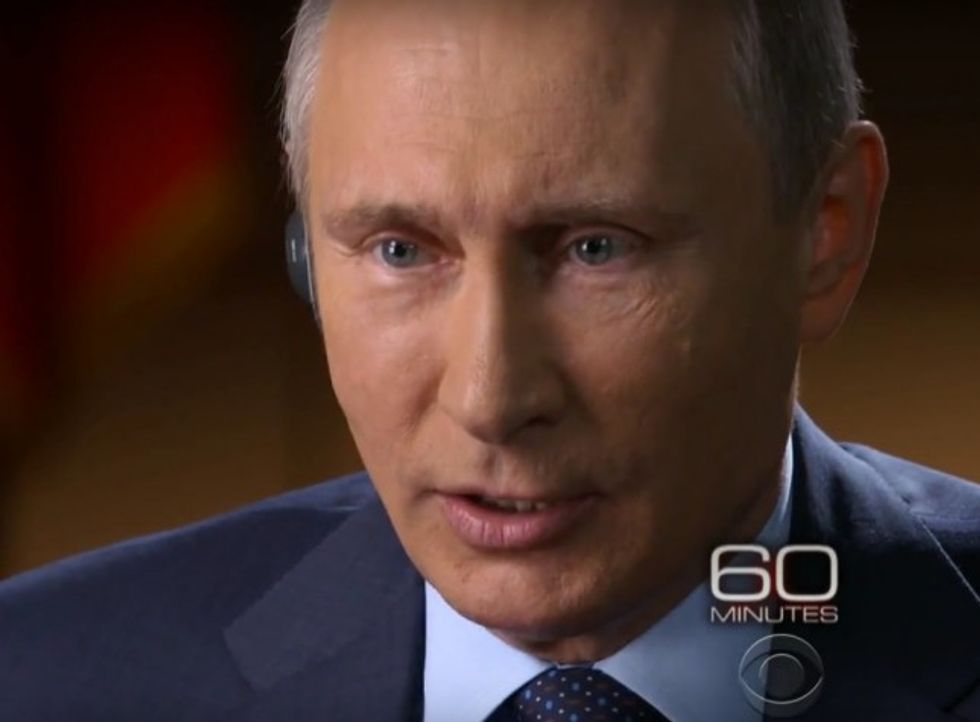 Image source: YouTube
His statements show how far apart Russia and the U.S. remained on Syria going into Monday's meeting between the two presidents. Putin and Obama were set to meet on the sidelines of the U.N. General Assembly, after both address the annual gathering of world leaders.
A Russian military buildup in Syria, a longtime ally, has raised concerns in Washington. Putin and other officials have said only that Russia was providing weapons and training to Syrian President Bashar Assad's army to help it combat the Islamic State group. Asked if Russia could send troops to join the fight, Putin previously said "we are looking at various options."
He was somewhat more definitive in the latest interview.
"Russia will not participate in any troop operations in the territory of Syria or in any other states. Well, at least we don't plan on it right now," Putin said in the interview on CBS' "60 Minutes."
"But we are considering intensifying our work with both President Assad and with our partners in other countries," he added, according to an English-language transcript.
In a dig at the U.S., Putin noted the Pentagon's recent admission that an effort to train more than 5,000 Syrian rebels had yielded only four or five fighters after about 50 others were captured, wounded or fled in their first encounter with extremist militants.
"It turns out that just 60 were properly trained, only four or five with weapons are fighting, while the rest of them simply took the American weapons and ran over to join ISIS," Putin, using an alternate acronym for the Islamic State group, said in an excerpt released earlier in the day by the Kremlin and omitted from the U.S. broadcast.
Defending Russia's military buildup in Syria and support for Assad, he described the Syrian government army as the only legitimate one in Syria and said the U.S. military support for "illegal structures" ran counter to international law and the U.N. charter.
Russian Foreign Minister Sergey Lavrov and U.S. Secretary of State John Kerry met Sunday to prepare the ground for the presidents' meeting.
"We are just at the beginning of trying to understand what the Russians intentions are in Syria, in Iraq and try to see if there are mutually beneficial ways forward here," a senior U.S. official said on condition of anonymity, lacking authorization to speak publicly about a private meeting. "We have a long way to go in that conversation."
Matthew Lee in Washington contributed to this report.
—
Follow Dave Urbanski (@DaveVUrbanski) on Twitter