Republican presidential candidate Carly Fiorina didn't back down on several contentious issues when pressed by Glenn Beck during an interview on TheBlaze TV set to air on Tuesday. Instead, she offered detailed explanations of the logic behind her positions on divisive topics like global warming.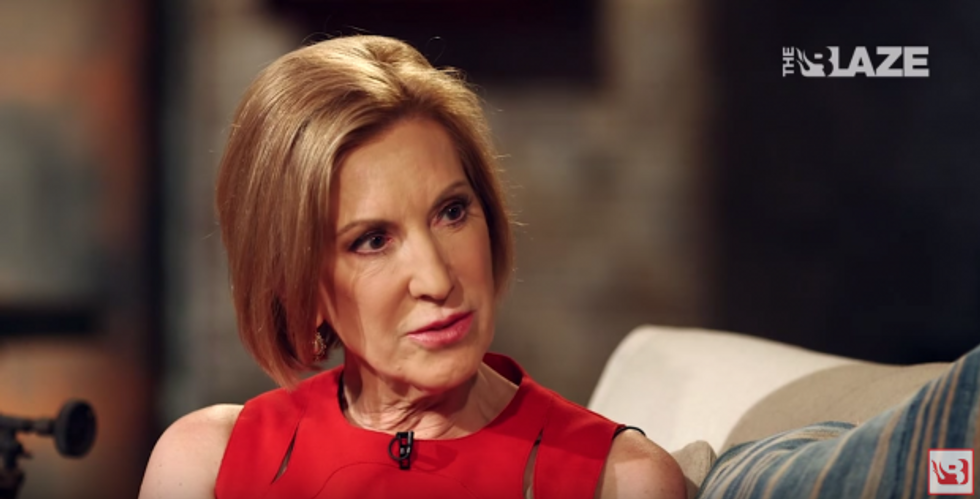 TheBlaze TV
"You believe in global warming and it's man made," Beck told Fiorina during the interview.
"No, I didn't say that," Fiorina quickly responded. "What I said was scientists tell us that global warming is real and man made. Scientists also tell us this: the only way with current technology to solve the problem of global warming is a global, coordinated effort over 30 years, costing trillions of dollars. Now, what do we suppose the chances of that are? Zero."
Beck also noted that the GOP candidate previously stated that the government is not the answer regardless.
"We are not a nation of laws anymore — we're a nation of rules that are propagated by a bunch of uncountable, unelected bureaucrats who answer to no one," Fiorina added.
Here's some of what Fiorina told Yahoo's Katie Couric about climate change in May:
"The scientists that tell us that climate change is real and caused by man made activity, also tell us that a single nation acting alone can make no difference at all. So, when I see a state like California destroy lives and livelihoods with environmental regulations that will make no difference at all to climate change, when I see the Obama administration take that same regulation and apply it nationally – it will make not difference at all. Yet we're destroying people's lives and livelihoods. I wonder, 'why are we doing this? Why are we doing this when it won't have any impact?' So I think the answer to this problem is innovation, not regulation
During the wide-ranging interview, Beck also asked Fiorina to address why she was a John McCain surrogate during the 2008 election, her performance as CEO at Hewlett-Packard and other issues that critics have used to attack her as a presidential candidate.
Watch the short clip below and make sure to catch the full interview on TheBlaze TV at 5 p.m. ET on Tuesday:
---