House Majority Leader Kevin McCarthy (R-Calif.) announced his candidacy for speaker of the House, following John Boehner's surprise announcement that he is resigning from Congress next month.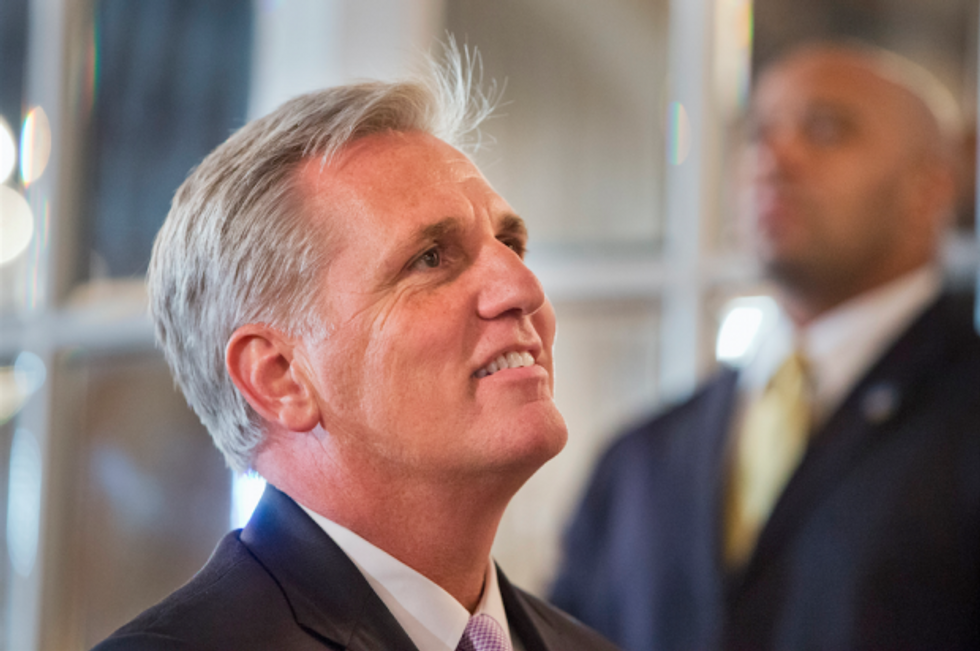 House Majority Leader Kevin McCarthy of Calif. smiles as he is introduced to speak to the John Hay Initiative, Monday, Sept. 28, 2015, at a hotel in Washington. (AP Photo/Jacquelyn Martin)
"You all know me," McCarthy wrote in a letter to House Republican colleagues Monday. "We've spent late nights on the House floor togther. I've visited your districts and met your families and consitutents. More importantly, I have gotten to know your ideas, your goals, and your vision for our conference and our country. I am running to be your speaker because I know that the People's House works best when the leadership you elect listens to members and respectst he legislative process entrusted to committees."
Yet in an acknowledgement of the vocal conservative opposition that sprang up against Boehner, McCarthy said he is "also sensitive to what is happening outside of the Beltway."
"I want us to be much closer to the people we represent, and I want them to once again feel like this is their government, they are in charge, and we are here to serve them," McCarthy wrote. "If elected speaker, I promise you that we will have the courage to lead the fight for our conservative principles and make our case to the American people. But we will also have the wisdom to listen to our constituents and each other so that we always move forward together."
.@GOPLeader has made his bid for Speaker official, in an e-mail to his fellow House Republicans pic.twitter.com/zbVJO5aBp4

— Mike Memoli (@mikememoli) September 28, 2015
McCarthy is widely seen as the favorite to replace Boehner (R-Ohio) after he departs Congress at the end of October. Boehner said in a news conference Friday that he thinks McCarthy would "make an excellent speaker."