PLATTSBURGH, N.Y. (AP) -- A remorseful, tearful former prison worker who helped two convicted murderers escape from a maximum-security lockup by providing them with tools was sentenced Monday to up to seven years behind bars.
Joyce Mitchell wept and apologized as she was sentenced to 2 1/3 to seven years in prison under terms of a plea deal reached with prosecutors this summer. The judge also set a November hearing on the state's claim for about $120,000 in restitution from Mitchell.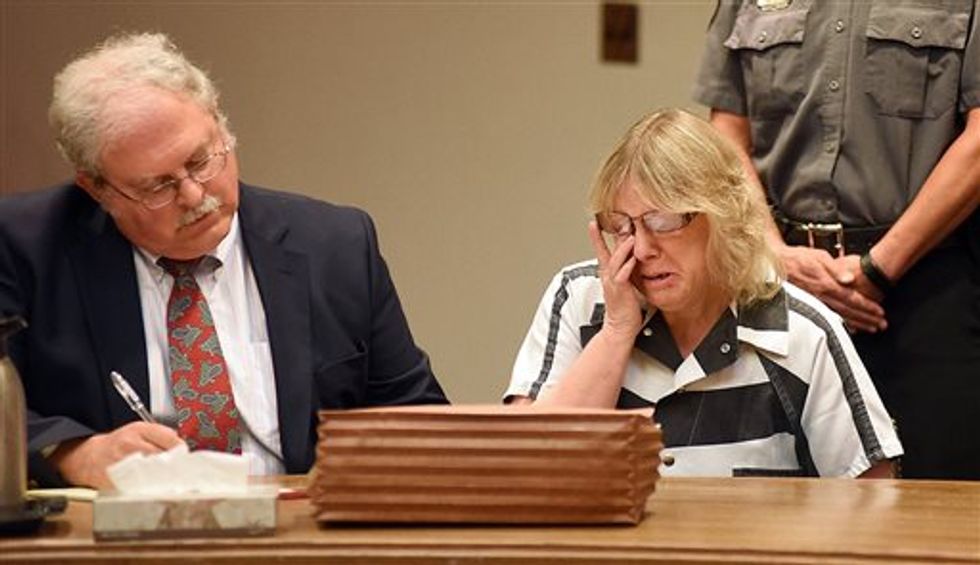 Joyce Mitchell cries as she sits with her attorney Stephen Johnston in court on Tuesday July 28, 2015, in Plattsburgh, N.Y. Mitchell, an instructor in the tailor shop at the Clinton Correctional Facility, pleaded guilty to charges of aiding two inmates convicted of murder by smuggling hacksaw blades and other tools to the pair, who broke out and spent three weeks on the run in June. She faces a sentence of 2 1/3 to 7 years in prison under terms of a plea deal with prosecutors. (Rob Fountain/The Press-Republican via AP)
Mitchell entered the courtroom in tears and continued to cry throughout most of the 35-minute sentencing, and even removed her glasses to wipe her eyes.
She apologized to the community, her former co-workers and the law enforcement officers for the weeks of fear, disruption and inconvenience the search caused.
"If I could take it all back, I would," she told the judge. "I never intended for any of this to happen."
Mitchell, 51, had pleaded guilty to charges related to providing hacksaw blades and other tools to Richard Matt and David Sweat, who broke out of the Clinton Correctional Facility on June 6.
Matt was serving 25 years to life for the killing and dismembering of his former boss. Sweat was serving a sentence of life without parole for killing a sheriff's deputy in Broome County in 2002.
The pair eluded more than 1,000 searchers who combed the thick woods and bogs of northern New York for much of the next three weeks. Matt was killed by a border agent June 26. Sweat was wounded and captured by a state trooper two days later.
Mitchell admitted becoming close with the pair while she worked as an instructor in the prison tailor shop. She told investigators she agreed to be their getaway driver before backing out after suffering a panic attack at the last minute. The escapees were forced to scrub plans to head to Mexico and instead fled on foot after emerging from a manhole near the prison.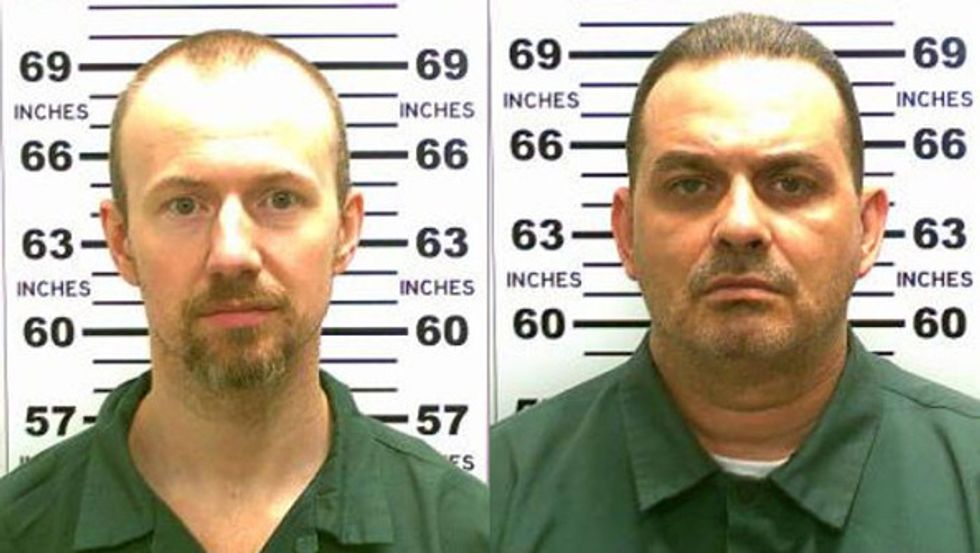 In this handout from New York State Police, convicted murderers David Sweat (L) and Richard Matt are shown in this composite image. Matt, 48, and Sweat, 34, escaped from a maximum security prison June 6, 2015 using power tools and going through a manhole. (Photo by New York State Police via Getty Images)
Clinton County Court Judge Kevin Ryan told Mitchell she "did terrible things" when she helped the inmates and noted how the resulting search disrupted life in a wide swath of the region for three weeks.
"A large portion of the local population were terrorized," he said. "Many were forced to flee their homes."
Mitchell said she didn't tell anyone about the inmates' escape plan because Matt had threatened to harm her family, particularly her husband, Lyle, who also worked in the prison.
"I was fearful of Mr. Matt threatening to kill my husband and wanting to know where my son and mother live," she told the judge.
But the judge rebuffed her claim that she was protecting her family by not divulging the escape plot to authorities.
"I just don't find that explanation credible," Ryan said.
Officials said the convicts used tools to cut their way out of their adjacent cells and get into the catwalk between the cell block walls. They crawled through an underground steam pipe and reached a street near the prison walls through a manhole.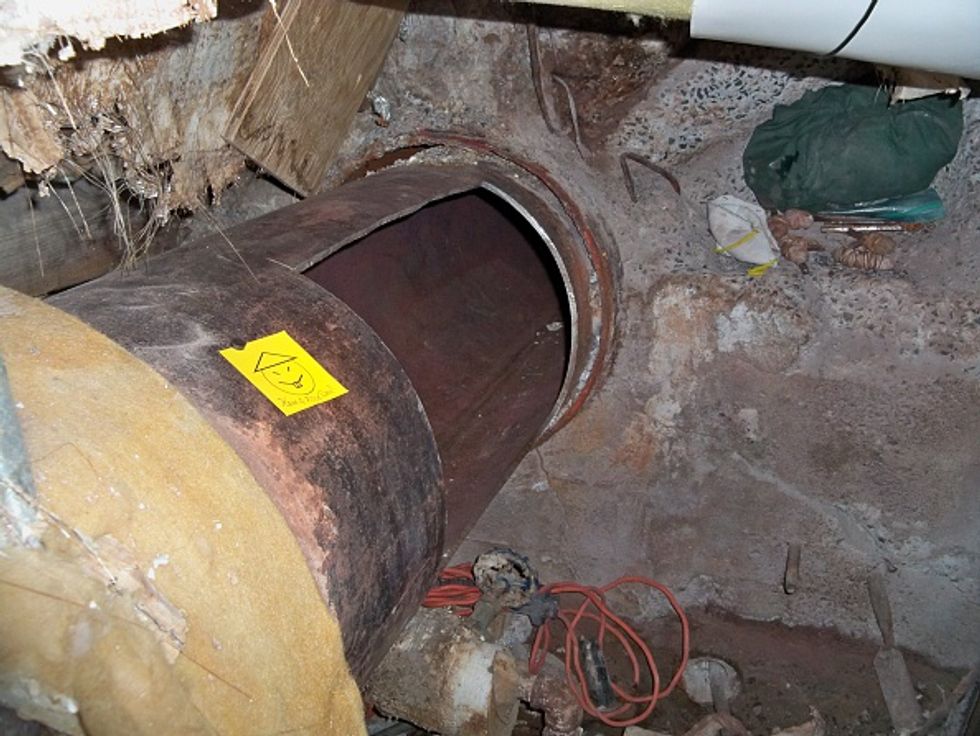 In this handout from the New York State Governor's Office, shows where two convicted murderers used power tools to cut through steel pipes at the Clinton Correctional Facility June 6, 2014 in Dannemora, New York. (Darren McGee/New York State Governor's Office via Getty Images)
Sweat, who is being housed in a solitary cell at a central New York prison, faces charges in the escape.
A prison guard, Gene Palmer, who authorities have said unwittingly abetted the escape plot, has pleaded not guilty to a charge of promoting prison contraband. Officials said he gave the two prisoners frozen hamburger meat Mitchell used to hide the hacksaw blades she smuggled to Sweat and Matt.