Sen. Rand Paul (R-Ky.) took a jab at Sen. Ted Cruz (R-Texas) during a Fox News Radio interview Tuesday morning, offering his perspective on why he thinks the Texas senator struggles to pass legislation.
The remarks came in response to a question from host Brian Kilmeade who asked about an incident in which Cruz was not granted the courtesy of a roll call vote by his fellow Republicans.
"Ted has chosen to make this really personal and chosen to call people dishonest in leadership and call them names which really goes against the decorum and also against the rules of the senate, and as a consequence he can't get anything done legislatively," Paul said.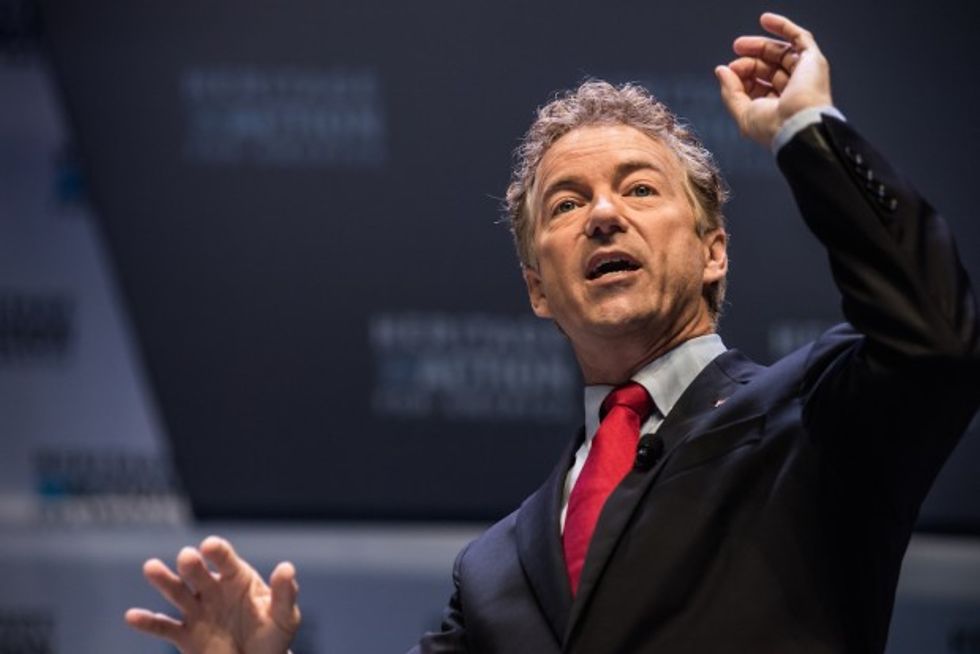 (Photo by Sean Rayford/Getty Images)
"He is pretty much done for and stifled and it's really because of personal relationships, or lack of personal relationships, and it is a problem," the Kentucky senator continued. "I approach things a little different, I am still just as hardcore in saying what we are doing , I just chose not to call people liars on the senate floor and it's just a matter of different perspectives on how best to get to the end result."
[sharequote align="center"]"He is pretty much done for and stifled and it's really because of personal relationships..."[/sharequote]
Both Paul and Cruz are seeking the Republican nomination for president.
A spokesperson for the Cruz campaign declined to respond to Paul's comments when contacted by TheBlaze Tuesday evening.
In the interview, Paul also took a minor swipe at Sen. Marco Rubio (R-Fla.) when asked why he has a better voting record.
"I get paid by the taxpayers and I consider it an obligation to be here and be doing my job so I try to make as many votes as humanly possible, I try to be part of the debate and you know, it's my own personal perspective, I don't think it's right to miss the votes if at all possible," he said.
—