A National Guard soldier said he was refused service at a Waffle House in Kentucky because he was carrying a gun.
Billy Welch said he went to the restaurant early Sunday morning in Nicholasville, Kentucky, wearing his military uniform with a gun holstered to his side. Shortly after ordering his food, Welch said a server and a manager signaled for him to come over, and that's when they told him that he would need to leave his firearm outside, WLEX-TV reported.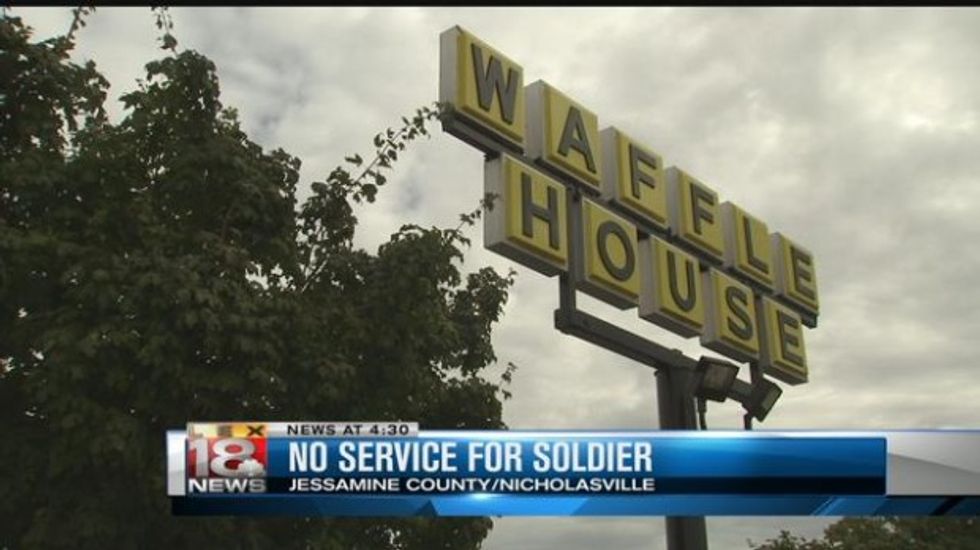 Image source: WLEX-TV
Welch said he told them, "Thank you, but no thank you. I'm gonna have to leave."
"You know, if I can't have my firearm, then I can't be here," Welch said. "I don't feel comfortable taking my firearm away from me. I always keep it with me."
Welch wasn't seeking to publicize the controversy but one witness took to Facebook to share what happened and to stand up for the National Guardsman.
"I have a bunch of family members and friends who have been active military and in the military and retired and it hurts my feelings when people disrespect them," Micaela Shaw told WLEX.
Welch said the employees told him that "it's one of our policies" that none of its customers carry firearms, which the owner of that particular Waffle House later confirmed.
"For many years we have had a 'no firearms' policy in place in our restaurants. We continue to believe this is the best policy for the safety of our customers and associates," the owner said.
(H/T: WLEX-TV)
–
Follow Jon Street (@JonStreet) on Twitter