WASHINGTON (TheBlaze/AP) – The United States and 11 other Pacific Rim countries have agreed to an ambitious and controversial trade pact that cuts trade barriers, sets labor and environmental standards and protects multinational corporations' intellectual property.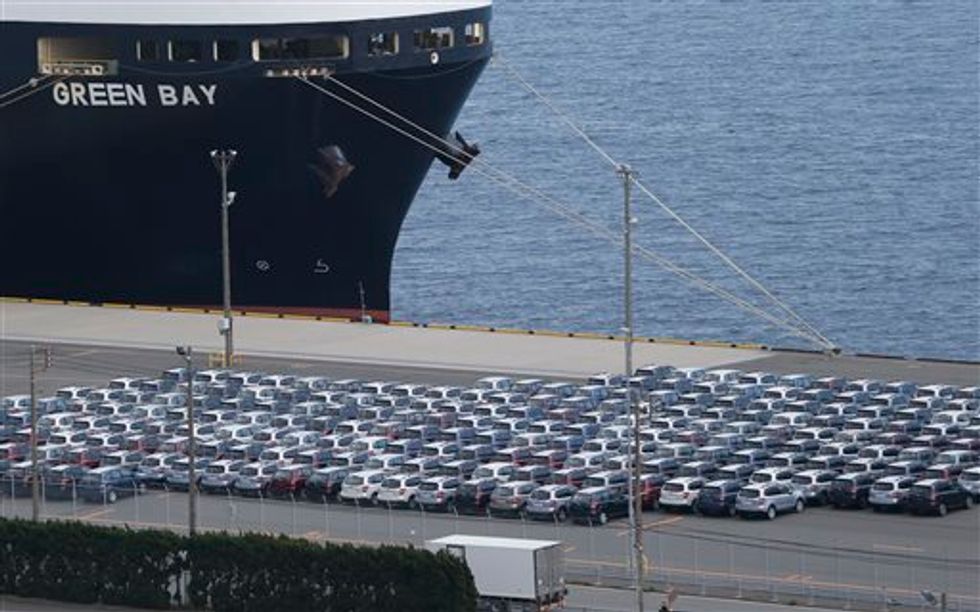 In this March 21, 2013 photo, cars for export line up at a quay to be loaded on a freighter in Kawasaki, south of Tokyo. (AP Photo/Koji Sasahara)
The agreement on the Trans Pacific Partnership was reached Monday after marathon negotiating sessions in Atlanta through the weekend. Congress will have 90 days to review the agreement and will have to give it an up-or-down vote, no amendments allowed.
Japanese Prime Minister Shinzo Abe welcomed the basic agreement as "a far-sighted policy for all participating countries that share the values and try to build a free and fair economic zone."
The TPP is designed to encourage trade between the United States, Australia, Brunei, Canada, Chile, Japan, Malaysia, Mexico, New Zealand, Peru, Singapore and Vietnam; which together encompass more than 40 percent of the world's economy, Agence France-Presse reported.
Former Obama adviser on Asia policy Jeffrey Bader, who is now a visiting scholar at the left-leaning Brookings Institution in Washington, D.C., praised the deal as one that  "binds countries more closely and makes economic interdependence more of a reality."
China is not among the 12 countries included in the trade pact but, because it does have trade relations with several of the countries that are included, the deal is expected to pressure the Chinese into accepting the agreement's higher standards, according to Bloomberg.
"When more than 95 percent of our potential customers live outside our borders, we can't let countries like China write the rules of the global economy," President Barack Obama said in a statement Monday. "We should write those rules, opening new markets to American products while setting high standards for protecting workers and preserving our environment."
Obama added that the agreement would "level the playing field" for farmers, ranchers and manufacturers by eliminating some 18,000 taxes imposed by various countries on American imports.
The agreement is the largest U.S. trade pact since the 1993 North American Free Trade Agreement with Canada and Mexico, according to the Washington Post.