The Minister Louis Farrakhan said that he "represents the messiah that has come to end this civilization" and accused the Jews of having mass control over Hollywood, the media and the banking system during a recent, hour-long appearance on "The Rock Newman Show.
Farrakhan also discussed President Barack Obama's public rejection of some of his past statements during the 2008 presidential campaign, saying that Obama's denunciation didn't hurt him and that he was willing to simply look past it for the greater good.
"There's alway's a bigger picture ... Barack Obama was the bigger picture," Farrakhan said during the September 30 episode. "If he did not denounce me under the prodding of Mrs. Clinton — who's getting hers now — he would never have been president, because the powerful Jewish lobby — Zionist lobby — in America would not have backed him had he not denounced me."
Wach Farrakhan's remarks below (they begin at the 10:00 mark):
Farrakhan said that he kept quiet and told others not to address the denunciation, so that Obama could go where "black America" and where "young Americans black, white and brown want to see him go."
The controversial faith leader went on to say that he believes he's become a "litmus test" for any black American looking to progress, and seemingly blamed the Jews for that sentiment.
"Who owns America, who runs America that everybody has to pass by Farrakhan for the litmus test? You have a small population of Jewish people in America, but they're the most powerful," he said. "Nobody can deny their influence, their power, their money."
Farrakhan then said that three Supreme Court justices are Jewish, and proceeded to outline his take on how Jews control other sectors as well.
"They control Hollywood, they control media, they are the greatest of the bankers," he said. "So, when you want to be something in America in all the fields of human endeavor that have meaning, you've got to pass by them."
Farrakhan then offered up his theory about why he has become a test for "any black person" looking to "rise" up in society. 
"Who am I? I am that man that represents the messiah that has come to end this civilization," he said. "And that's why they want nobody to have anything to do with Farrakhan, but I'm here."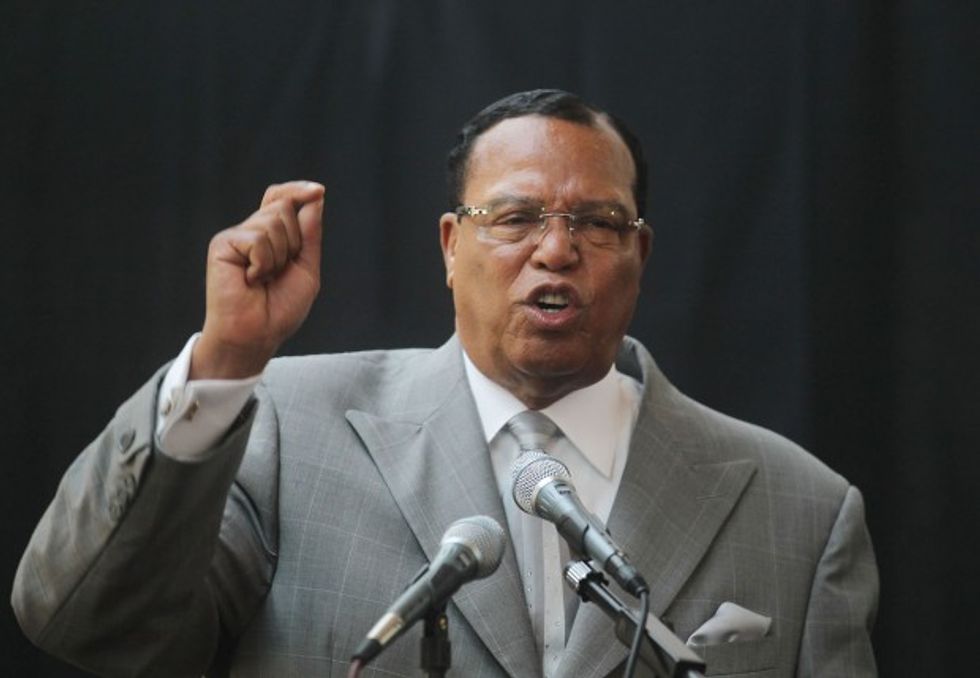 Louis Farrakhan. (Mario Tama/Getty Images)
In the end, he pledged to be the "winner" whether his critics like it or not.
TheBlaze has extensively covered the theology embraced by Farrakhan and the Nation of Islam in the past, detailing core beliefs and views on the messiah — elements that are also detailed on the religious group's website.
The Nation of Islam's roots date back to the 1930s, when Wali Fared (also known as W.D. Fard) set its foundations. At the time, Fard was going door-to-door in Detroit, Mich., selling products and telling African Americans about his theological views.
After he disappeared in 1934 and was never heard of again (the church's official web site refers to his disappearance as a "departure"), Fard passed leadership of the group to a man named Elijah Muhammad (real name: Elijah Robert Poole), who then led the denomination from 1934 until his death in 1975.
Under Muhammad, Fard was revered as "the long-awaited 'Messiah' of the Christians and the 'Mahdi' of the Muslims" — a controversial claim to say the least.
"We believe that Allah (God) appeared in the Person of Master W. Fard Muhammad, July, 1930; the long-awaited 'Messiah' of the Christians and the 'Mahdi' of the Muslims," the Nation of Islam's website explains. "We believe further and lastly that Allah is God and besides HIM there is no god and He will bring about a universal government of peace wherein we all can live in peace together."
Read more about the Nation of Islam here.
Follow the author of this story on Twitter and Facebook: