People were not the only ones trying to escape historic flooding in South Carolina.
Fire ants too were spotted seeking higher ground recently, forming rafts to stick together, float, protect their queen and ultimately survive.
While it might look like a chunk of mud, closer inspection reveals that it's actually a moving mass of insects that can live as a floating collective for weeks until they hit dry land.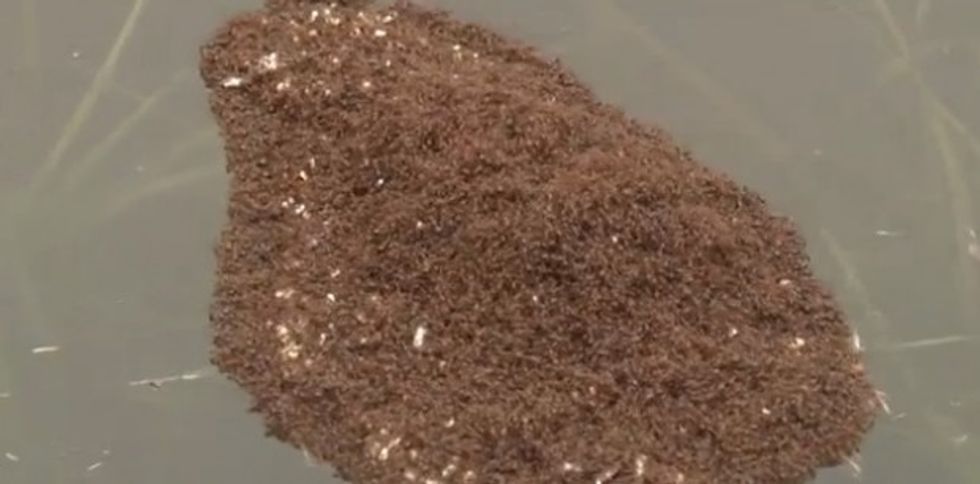 Image source: YouTube/WFLA-TV
Here's how it works according to the Georgia Tech Ant Lab:
Instead of scattering individually, fire ants (Solenopsis invicta) have the unique ability to gather together as a colony and form rafts on the surface of the rising waters using their own bodies.  A layer of ants on the bottom of the raft serves as a base for the rest of the colony to "comfortably" mill around on.  Due to the tightly knit "weave" of the ants, water cannot penetrate the raft allowing the ants to stay dry.  This water-tight nature provides the raft with the buoyancy force necessary to float.  The ants can remain in the raft formation for weeks if necessary or until the floodwaters subside and they are able to establish their colony in a new underground home.
WSAV-TV's Chris Murray took video of one such "floating island of fire ants" while in Dorchester County, South Carolina, this week:
Watch how the ants form a raft in this Georgia Tech Ant Lab video:
This video from the ant lab shows an even closer view of the ants as they interfaced with the water:
The historic rainstorm that dumped 16.6 inches on the capital of Columbia Sunday has caused 16 weather-related deaths.
Adding to the physical damage from the flooding, residents served by Columbia's water system — about 375,000 people — are now under a boil-water advisory due to pipeline ruptures.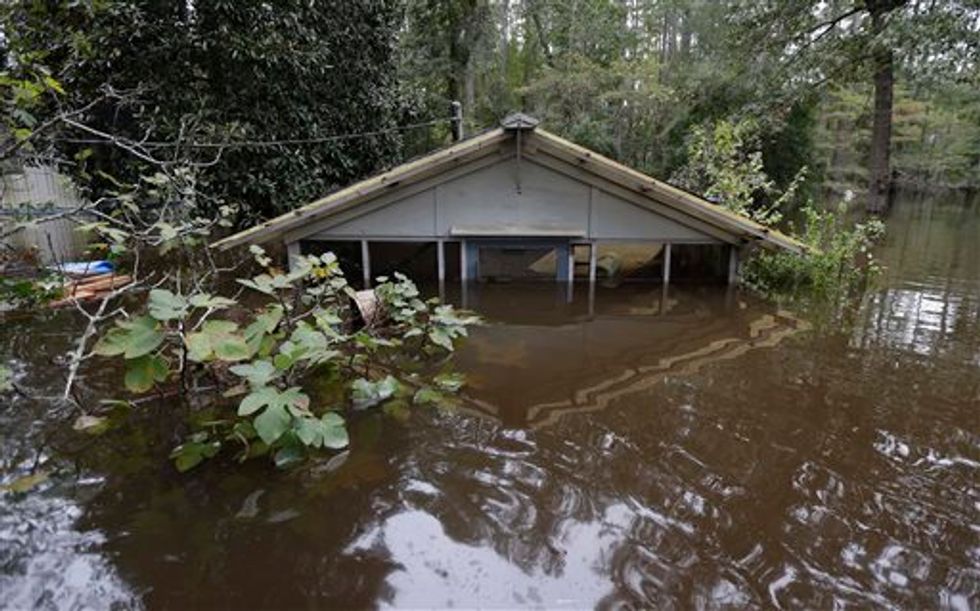 Water surrounds a structure swamped by flooding on Roundtree Road along the Lynches River in Effingham, S.C., Tuesday, Oct. 6, 2015. (AP/Gerry Broome)
Drinking infected water can cause illness similar to food poisoning, with symptoms like nausea, diarrhea, cramps and mild fever, according to the Centers for Disease Control and Prevention. As with any illness, health officials advise that staying hydrated - by drinking clean, disinfected water - is the best remedy.
Officials are warning of other health-related issues as well, such as mold, exposure to sewage and disease outbreaks.
Gov. Nikki Haley said Tuesday after an aerial tour of the area that while the sun was a "good sign," the damage "was disturbing."
(H/T: National Geographic)
—
The Associated Press contributed to this report.