Donald Trump lashed out at CNN's Chris Cuomo Tuesday after the host asked about recent speculation that Trump plans to drop out of the Republican presidential primary.
The GOP front-runner even told Cuomo that his campaign's contracting poll numbers are "in your mind."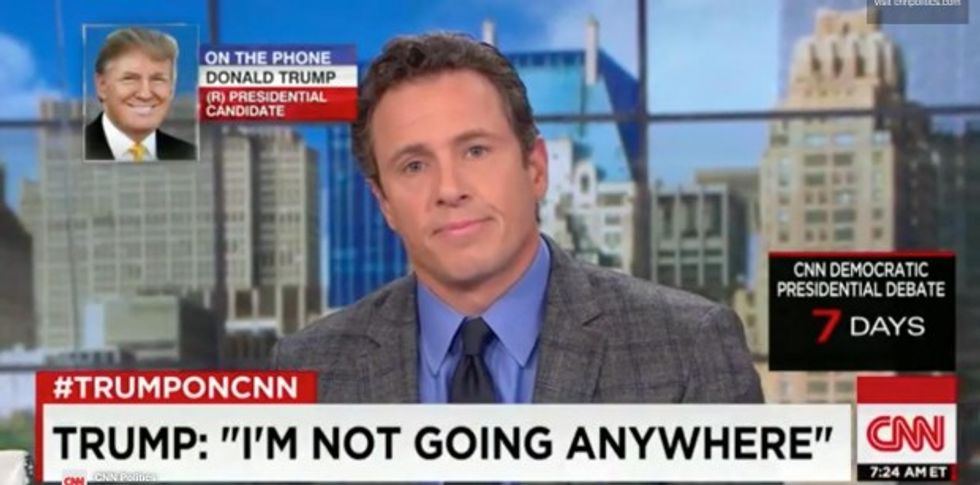 Image source: Twitter/@CNNPolitics
"I'm not going anywhere. I'm leading every poll. I'm going to win, and I'm going to make our country great again," Trump told Cuomo on CNN's "New Day."
Trump went on to say that he's not running for president for "self glorification" and pointed out that he's leading in "every poll in every state." He also criticized the media for citing some polls where his lead has shrunk while not citing other polls where his lead is much larger.
According to CNN, while Trump is still ahead in the polls, his lead isn't as large as it was one month ago. But when Cuomo confronted Trump over that fact, the interview turned increasingly combative.
"There's contraction in your mind, Chris," Trump said, responding to his decreasing poll numbers.
"There's contraction in math. It's math. It's not my mind," Cuomo rebutted.
Watch the tense exchange below:
Donald Trump: I'm not going anywhere, I'm leading every poll & I'm going to win #TrumpOnCNNhttp://t.co/6OZtrfIwimhttp://t.co/uRfBVWSaSJ

— CNN Politics (@CNNPolitics) October 6, 2015
–
Follow Jon Street (@JonStreet) on Twitter